2020 Mini Calendar – Time for Poppies at my Catalogue Launch Parties
Welcome to this month's Pretty Cards & Paper International Blog Hop.
Our Design Team is made up of Stampin' Up! Demonstrators from throughout the world – one from each of the countries/markets that Stampin' Up! has a presence in.
Each month we will be featuring a different card or designer series paper (DSP)  in our projects.
We're featuring the stunning Peaceful Poppies DSP in January.  This paper is flying off the warehouse shelves – so get it quick!
Here's all the important info:
Peaceful Poppies Designer Series Paper 151324  
Peaceful Poppies Designer Series Paper features handpainted blooms and watercolour washes that make beautiful backgrounds or focal points for cards, scrapbook pages, and other paper crafts. Patterns include floral prints, stripes, polka dots, and more. Ask me about all the coordinating products – there's lots of them!
* 12 sheets of designer paper: 2 each of 6 double-sided designs
* 12″ x 12″ (30.5 x 30.5 cm)
* Acid free
* Lignin free
Product colours: Basic Black, Blackberry Bliss, Calypso Coral, Crushed Curry, Flirty Flamingo, Mossy Meadow, Old Olive, Pool Party, Poppy Parade, Rich Razzleberry, Whisper White
Time for Poppies – Mini Calendar 
At my 2020 Mini Catalogue Launch parties, one of my planned Make'n'Takes was a cute wee mini Calendar featuring products from the Peaceful Poppies Suite – including  the Peaceful Poppies DSP.
While the DSP is not the main feature of the project – its presence ties all the colours together – something DSP is prefect for!
Project Details
(Note: see the Product List below for images & links to more information about the items)
Stamp sets: Painted Poppies, Beautifully Braided
Paper/card:
Real Red – Base 10cm x 21cm, on the long side scored at 5.2cm and 10.5cm
Old Olive – mat on Inside 9.7cm x 5.5cm
Whisper White – inside 9.4cm x 5.2cm
Rich Razzleberry – large punched shape ~ 7cm x 7cm
Whisper White – punched shape for sentiment 6cm x 4cm
Peaceful Poppies DSP –
From My Heart Specialty Designer Series Paper (DSP)- 5cm x 3.7cm
Ink: Poppy Parade, Rich Razzlberry
Accessories: Peaceful Poppies Elements, Peaceful Poppies Sequins
Tools: Label Me Lovely Punch, Label Me Fancy Punch
 Additional Project Photos
The Old Olive cardstock is popped up on Stampin' Dimensionals and this acts as a stopper for the folded part of the calendar keeping it upright.
When the calendar part is lifted out from behind its stopper, the cardstock folds flat. Perfect for posting.
They are a bit hard to see in the other photos, but I've added some of the Peaceful Poppies Sequins for some extra texture.
Now hop of through and see what projects the other talented members of the Pretty Cards & Papers Design Crew have created with this month's Designer Series Papers.

Until next time

The New 2020  Mini Catalogue is now Live.  Click on the photo below to see all the fabulous items now available. If you live in New Zealand and don't have a catalogue – contact me now.
Shop online or contact me to place your order.
SaleABration – Join
You can earn a FREE product every time your spend reaches a set threshold during Sale-A-Bration.
There will be two thresholds.
Most of the FREE product can be earned at the Level 1 threshold of $110 (NZD),  with a couple at the higher Level 2 threshold of $220 (NZD)
| | |
| --- | --- |
| LEVEL 1 | LEVEL 2 |
| $110 | $220 |
You will have flexibility in what you would be able to choose.
For example, if you spend $330 (NZD), you can then choose three level 1's, or one level 1 and one level 2.
SaleABration – Join
Joining Stampin' Up! by purchasing the Starter Kit is always a great idea and a fabulous deal – but during Sale-A-Bration the deal is even sweeter than usual!
More FREE product is included in each fully customisable Starter Kit – for $189 you will be able to choose the usual $285 worth of Stampin' Up! product.
You will also get:
a FREE Mini Guillotine Trimmer
a FREE pack of 6×6″ Designer Series Paper (48 sheets)
a FREE Stamp Set of your choice (excludes SAB & Hostess Sets)
I'd love to have you as part of the Team!
SaleABration – Host
Whenever an order reaches $300, you begin to earn Stampin' Rewards.
For example, if your order totals $330 during Sale-A-Bration (SAB), you will earn both regular Stampin' Rewards of $33 (10% of $330) – and you'll also earn the equivalent of three FREE Level 1 SAB items as outlined above.
But during SAB there is the chance to earn a gorgeous exclusive Stamp Set – Little Ladybug as an additional Host reward when an order totals $575 or more.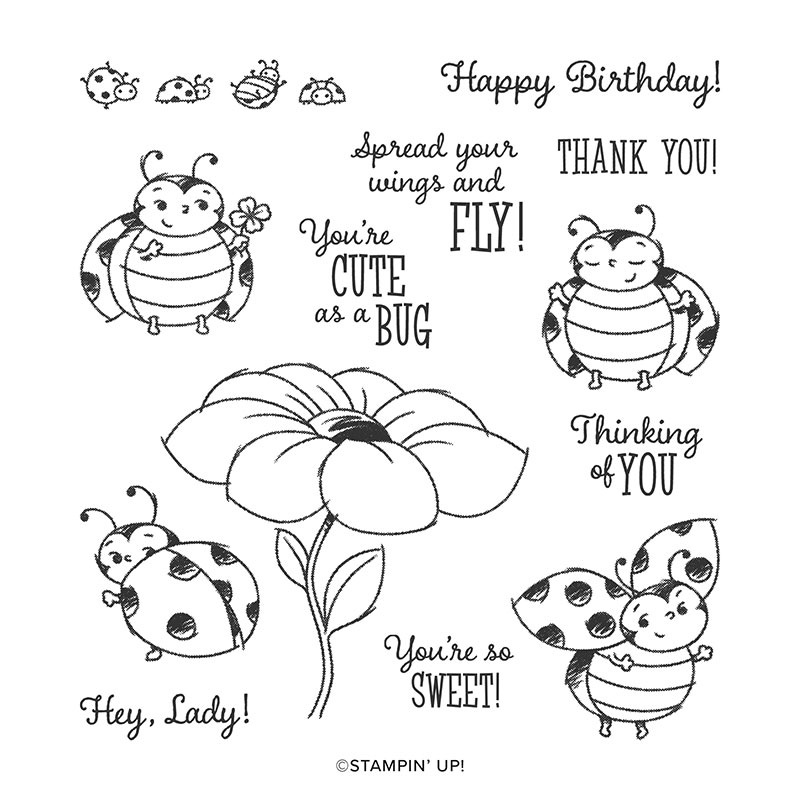 An order this size also qualifies for $69 in Stampin' Rewards which you can spend on any Stampin' Up! product – including Host Stamps – but not SaleABrations sets. But the order could have earned up to 5 SaleABration items already!
You could earn this set (and all the resulting Stampin' Rewards) if your personal order qualifies, or if you host a party and total sales from your party qualify, or if your gather orders from your friends which combined reach the qualifying amount.
Talk to me about hosting during SaleABration!
 REMEMBER
If you live in New Zealand and would like a copy of the new catalogue, please contact me.
If you live in New Zealand and would like a demonstrator to order through – I'd love to have you join my group of crafty customers. Let's journey together! – Shop Now or contact me.
If you live in New Zealand and would like to know more about becoming a demonstrator – Check out the info HERE.  I'd love to have you join my thINK Creative Team!
As always – if you wish to know anything more about info in this post, or to get a catalogue, or to join my thINK Creative Team, or to buy any of the items mentioned in the post – please contact me. 
Or you can shop 24/7 at my online Stampin' Up! shop – the table below shows you what products I used. Just click on each to see more information.
Product List

Please do use the hostess code to support creativeJax if you are ordering online!  
Entering the Hostess code combines the value of online orders – which assists me to offer events and thank you's for my customers and support charities  and local events where I donate product and/or classes.
The current Hostess Code can be found at the top right of my webpage.
If your order is over $300, please
do not use this code
as You become the hostess and get the Rewards!
If you would like to find out about joining my Stampin' Up! Team (thINK Creative) –
Please do get in touch – I would love to chat with you about that.