Join During Sale-A-Bration and get even more FREE items in your starter Kit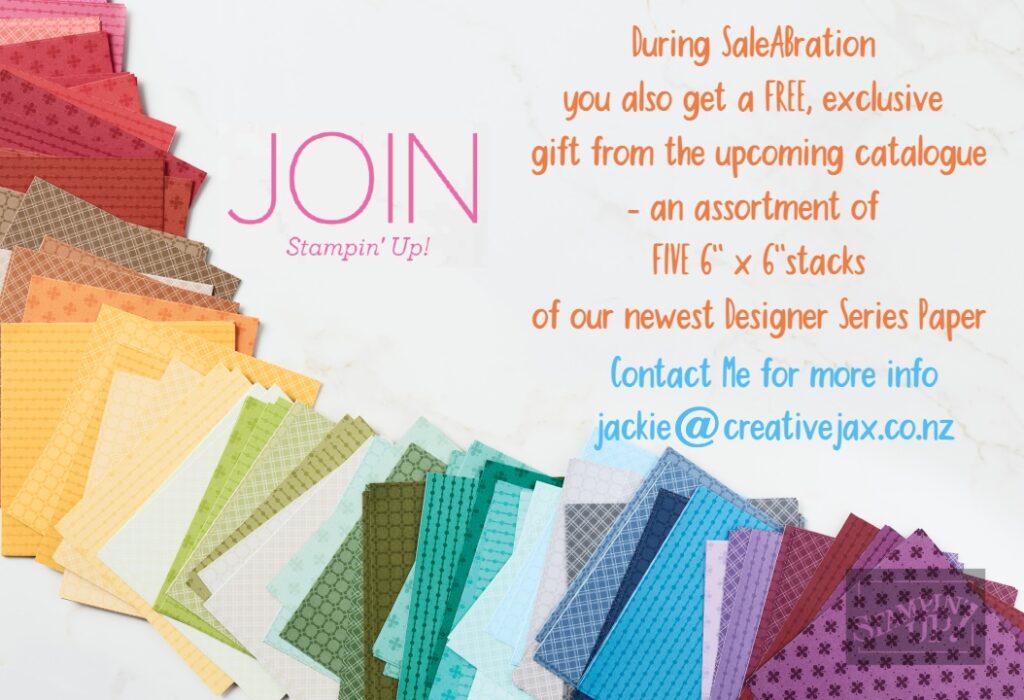 I'd love to have you in my thINK Creative Team of Stampin' Up! Demonstrators who are spread around New Zealand.
or
call me  ( 027 348 3901 )  to chat about becoming a Stampin' Up! demonstrator.
or
if you're ready now – just press the Join image below

Being a Stampin' Up! Demonstrator is unique to each person who joins.
Whether you want to
buy products for yourself at a great discount
sell products to friends or others
earn money from stamping/scrapbooking
have a job or career (part-time or full-time) that fits around your hours and commitments
have early access to products
teach crafting to others
– then becoming a Stampin' Up! demonstrator could be right for you!
When you join Stampin' Up! you purchase a fully customisable Starter Kit for $189.
Each Starter Kit contains
Up to $285 worth of Stampin' Up! products – the choice is yours

any current catalogue
clearance Rack
specially priced bundles
basically if we sell it, you can include it in

a business supplies pack (valued at $90) – things that every demonstrator needs to start their business
You can choose from any of the current high-quality Stampin' Up! products up to a value of $285, to create a kit valued at $375.  And all that that ships for FREE!
As a Stampin' Up! Demonstrator you will receive:
a 20% discount on all product purchases – this becomes your instant income on sales
great promotions that help you reach your easy-to-achieve quarterly sales targets
a free catalogue sent to you directly when they become available and advance access to new and exciting products
online access to demonstrator-only websites with an extensive array of business tools, resources and creative inspiration
a corporate newsletter with tips to help with your business, product knowledge and ideas
free stamps, awards, trips and other rewards for your hard work
With Stampin' Up!, being a demonstrator means you'll enjoy all of this and more. 
Joining my team of demonstrators means:
getting the type and amount of support you would like to be the type of demonstrator you would like to be – "hobby" or "business" – and anything in between
invitations to get together with other demonstrators for sharing, training and to support you as a demonstrator

opportunities for swaps, fun dinners, classes, group events, team training, stamp camps, and more
Joining Stampin' Up! is a great choice, whether you are interested in buying or selling…or both!
Contact me (jackie@creativejax.co.nz) for a no obligation informational pack 
or
call me (027 348 3901) to chat about becoming a Stampin' Up! demonstrator.

Or – if you are ready to sign up now – click the Join Now button.