Hello again
Well my week-long series of posts showing how the Patio Party DSP formed the basis for Beth's 21st party didn't quite go as planned – i.e. it didn't go at all after the first one! That trip to North America got in the way along with some technical difficulties – may have had something to do with the person sitting in the chair!
I am now organised to continue the series and, as I said, I hope you enjoy what we did and get some ideas that you can use.
So as a reminder from the last post (Patio Party Meets 21st – The Invitations) images of the 12 DSP paper patterns are below and while they are now retired, they are still available on the Clearance Rack (Patio Party).
And of course the Make A Cake stamp set which is just so cute and featured on her invitations!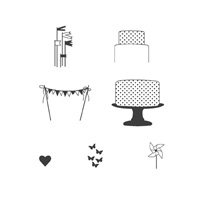 Beth had a really clear idea of what she wanted her cake to look like based around which elements and colours she wanted incorporated from the Patio Party suite of products.
So we took Beth's sketches to Becs Lake of Stiletto Studios to make the cake. Beth regular attends classes with Becs and we are always impressed by the magnificent and individualised creations she makes for people – and she didn't disappoint us! Thanks so much Becs we know there were one or two challenges!
So … the cake … Dada …
It was just gorgeous!
As well as giving Becs some card stock and Patio Party DSP for the colours, we also supplied her with the digital file for the DSP from MDS (My Digital Studio) which she used to make the pinwheels and bunting around the bottom layer of cake. We used MDS for several items – you'll get to see more digitally made items in a future post.
Beth made the bunting for the cake topper from paper DSP.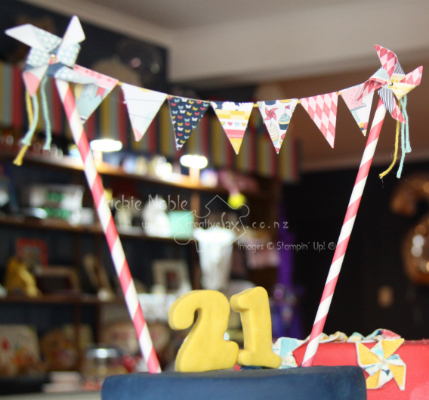 We had to deconstruct a little to cut the cake.
And each layer was a different flavour – Strawberry & White Chocolate, Passionfruit & White Chocolate & Dairy Milk Mud Cake – guess who likes chocolate! It was delicious – nomnom!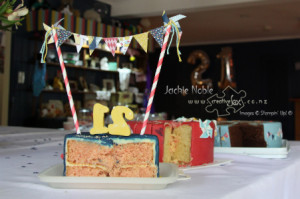 Thanks again Becs for a cake that so beautifully meet our brief – looked great, fitted in so well with the party's theme and tasted fantastic too.
Check out Stiletto Studio's webpage here (www.stilettostudio.co.nz) or the Facebook page here
As always – if you wish to buy any of the items mentioned in the post, please contact me or you can order at my online Stampin' Up! shop – just click on any of the product names that are highlighted and you should find yourself at the page with information about the product.
Looking forward to sharing some of our decoration ideas with you next.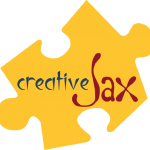 Until next time
Jackie