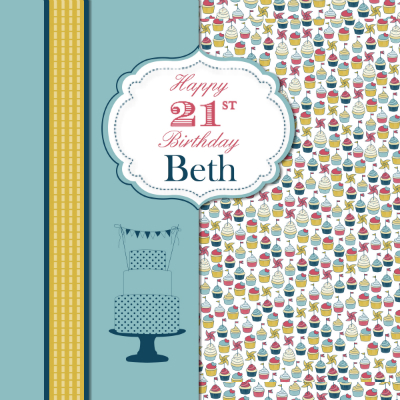 This weekend we got to celebrate our daughter Beth's 21st Birthday.
Traditionally the 21st has always been the "big" birthday here in New Zealand and while it no longer holds the same place as the age of passage into adulthood, the party tradition continues.
When we first talked seriously about having a party for her 21st about a year ago, Beth asked if the party could be themed around a Stampin' Up! DSP (Designer Series Paper) that she had fallen in love with – Patio Party. Of course I agreed – great choice and so many options!
This is the first in a week-long series of posts showing how the this DSP formed the basis for the party. I hope you enjoy what we did and get some ideas that you can use.
The 12 paper patterns are below – Beth makes cupcakes and does cake decorating as an interest, so the papers were so appropriate for her. She also loves pinwheels and lanterns and blue is her favourite colour, so this set really was a dream come true for her.
As the paper was in last year's catalogue we stocked up on it before the catalogue finished. Of note this paper is currently available on the Clearance Rack (Patio Party) so if you're inspired to use it is still currently available – yay!
The colours in the paper are Midnight Muse, Summer Starfruit, Primrose Petal, Whisper White and Baja Breeze. With Baja Breeze retiring we made sure we had plenty of that too! Of course one of the great things about MDS is that colours don't retire and digital files are available long after they have retired. As well as hard copy, we made good use of the digital files associated with Patio Party too.
Beth made her invitations using the Label Card Thinlits, with the front having Baja Breeze & Midnight Muse card stock , Patio Party DSP, mini silver brads, Summer Starfruit Stitched Satin Ribbon and the Memorable Moments Stamp set.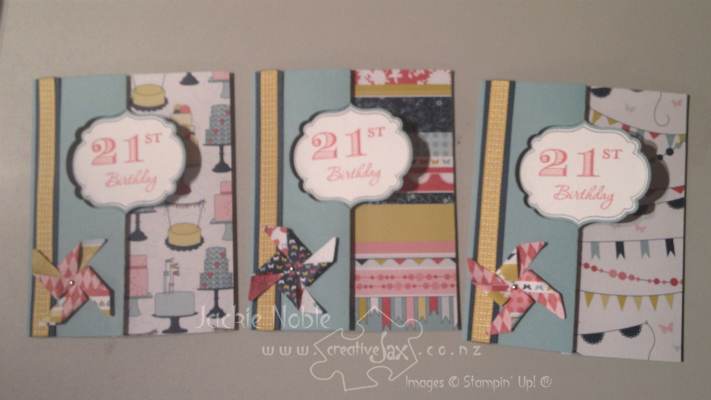 She made the insert in MDS and used the Make A Cake stamp set on the inside and back of the card. She also stamped her envelope with the cake so that everyone got to see all three cakes – each with a different topper option.
The Make A Cake stamp  set is just so cute – I can see why Beth loves it!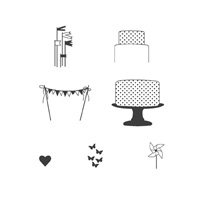 These images inspired her actual party cake – more detail in a later post.
As always – if you wish to buy any of the items mentioned in the post, please contact me or you can order at my online Stampin' Up! shop – just click on any of the highlighted text and you should find yourself at the page with information about the product.
Looking forward to sharing some of our decoration ideas with you next.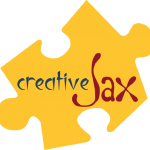 Until next time
Jackie