Hello again
We had Beth's 21st here at home and had lots of fun planing and making the decorations. and I'm really excited to share how we used  the Patio Party DSP as inspiration for our decorations.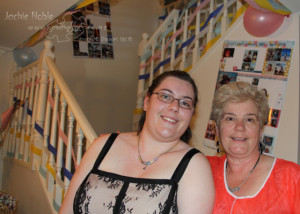 This is Beth and I standing in the hallway with a few things in the back ground.
We'd had the idea for decorations for a long time, so had several months to source items that matched the colour scheme.
We continued with the pinwheels. As mentioned in my earlier posts (Patio Party Meets 21st – Invitations & – Cake), we had put little pinwheels on the invitations and cake so wanted to carry them through to decorations.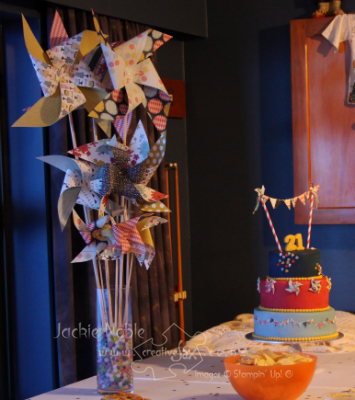 Beth made 3 sizes of Pinwheels to have in vases.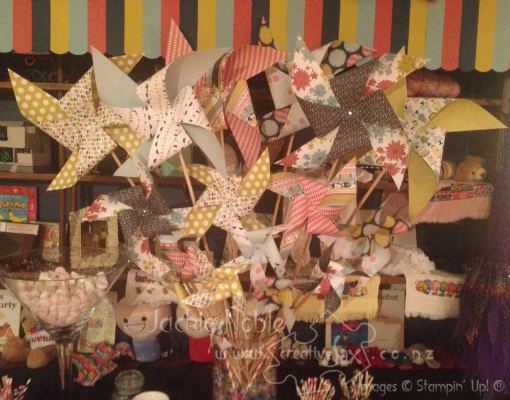 They were made from 12″, 9″ and 6″ squares of DSP and attached to dowelling of different lengths – they looked really cool!
We also put a few up on the walls with the streamers.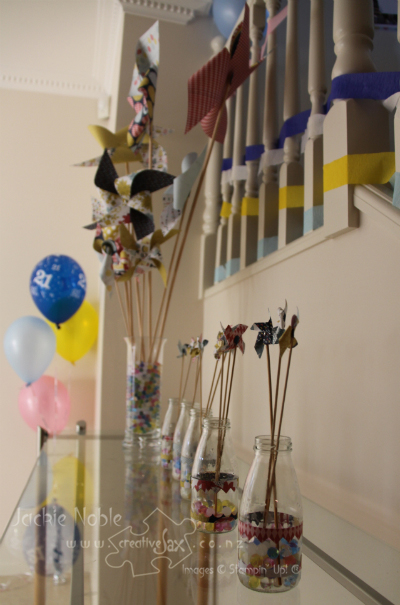 There were also cute little small ones to give to each guest as they left at the end of the evening – the mini milk bottles made cute wee vases too!
If you are wondering what the coloured balls are in the vases – they are 'Gel Balls' aka 'Crystal Water Pearls' or 'Magic Balls'. They were originally used by florists – especially clear ones which "disappear" in water. They are available in a range of colours and from several outlets online. Oodles of fun – but be warned – they bounce far & wide and are very difficult to pick up if you knock a jar over!
Beth had planned on having a Candy Bar at her party for a long time –  the idea was seeded at an older cousin's 21st  about 8 years ago!
We placed it in front of a book-case which we filled with childhood memorabilia.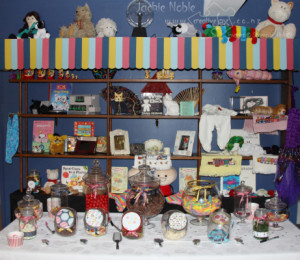 We used card stock to make the top banner of the Candy Bar – retired colour Baja Breeze, and the  2012-2014 In-Colors of Summer Starfruit, Primrose Petals and Midnight Muse.
The strips were curved at one end using the Extra-Large Oval Punch.
We are sure going to miss these colours when they retire at the end of the current catalogue.
The lids of the jars on the Candy Bar had circles of Patio Party DSP that had been cut with the Circle Framelits.
I'd purchased one of the Banner Kits from the last Holiday Catalogue with future birthdays in mind and had lots of fun making it up.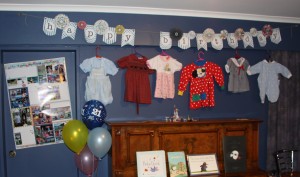 It needed something extra to add a WOW factor though – so out came the trusty Patio Party DSP again!


To make Rosettes.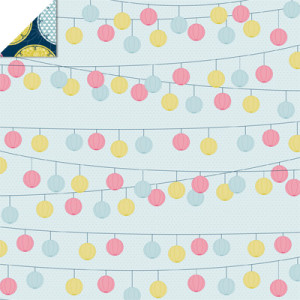 Beth had found some lanterns that were just like these ones in the DSP … but they were white ….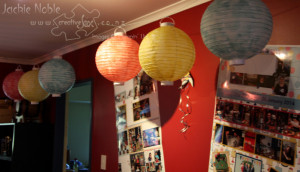 so they got sponged with re-inker to match the colour scheme.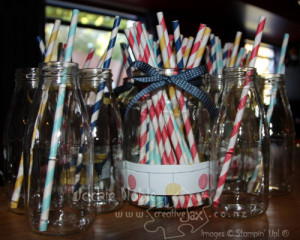 Ribbon and DSP were used to decorate the vases and jars.
I'll be missing the Stitched Satin Ribbon when it retires soon too.
You may have noticed the posters in the banner and lantern pictures above – a digital project from MDS which I'll talk about in the next post.
If you are based in the Wellington area and would like assistance planning your party decorations – I am available to discuss options with you. Contact me by email jackie@creativejax.co.nz
Stampin' Up! has a wide range of products that are just great to make decorations with.
As always – if you wish to know anything more about, or to buy any of the items mentioned in the post, please contact me. Or you can shop 24/7 at my online Stampin' Up! shop – just click on any of the product names that are highlighted or in the table, and you should find yourself at the page with information about the product.
Looking forward to sharing how we used those digital products with you.
SUPPLIES:
.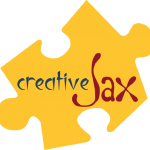 Jackie