It's hard to think Convention was more than 6 weeks ago – it only seems like the other day I was in Melbourne!
I had a great time – catching up with so many demonstrator friends, seeing and trying out new products, getting some excellent business training and tips, dancing the night away to ABBA Mania and participating in Swaps.
I made 50 swaps to take and they were gone so quickly I could easily have swapped double that. I came home with 50 wonderful creations from other demonstrators. Thanks to all who took part.
The swap I made for the South Pacific Convention was a hybrid card using Perfect Pennants – both as a physical stamp and a digital file from MDS. I made sure I used items that were carrying through to the new catalogue as I wanted the swap to be useful as a sample even after the new catty got released.
The physical stamp is repeated down the left side of the card. I wanted to show how the matching digital file (an svg file) can be manipulated in a couple of ways.
One of the great features of digital images is that they can be resized to whatever size you want. To show this I made the ampersand and words larger than the physical image.
When you cut something out using an e-cutter you obviously get the shape that you cut out (the positive), but you are also left with the space that the shape came out of (the negative). I could have used the positive image of these ampersand and words, but I kind of love negative spaces and wanted to use that in my swap. I wanted to put the negative shape up on dimensionals and have some of the cool colour collections DSP behind it.
Wanting to do this did mean I had to do some editing of the svg file – a steep learning curve! Thank goodness for YouTube. There are lots of great videos when you simply search – MDS and Silhouette Cameo.
If I had cut the file out just as it was, my ampersand would have been in one whole piece and what was left would have been in 3 pieces (the big outside piece and the 2 loops of the ampersand).
To get around this and make my negative space just a single piece I edited the ampersand so it was in 3 pieces with little connections alongside the ampersand – you can see some of them in the close-up below.
This was just the effect I was after as it made the negative one single piece, which meant when I constructed the card I was only placing one piece of whisper white cardstock rather than 3 individual pieces. I only did this editing because I was going to use the negative.
I sure had lots of fun making the swap and loved the swapping. It's great to see what everyone else comes up with.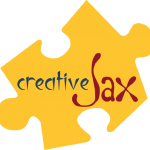 Until next time
Jackie
ps
This was my swap from last year – an MDS / chalkboard / subway art card.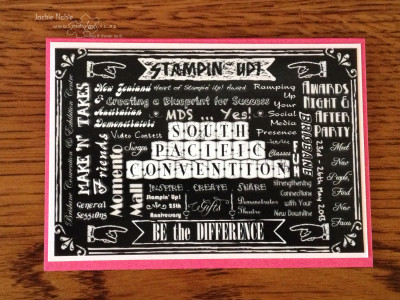 As always – if you wish to know anything more about any info in this post, or to get a catalogue, or to buy any of the items mentioned in the post, please contact me.
Or you can shop 24/7 at my online Stampin' Up! shop – just click on any of the products in the table below, and you should find yourself in my online shop at the page with information about the product.
If you would like to find out about joining my Stampin' Up! team, get in touch – I would love to chat to you about that.