Last week Bronwyn Eastley launched a new Stampin' Up! Challenge Site – CASE-ing the Catty – aka CTC Challenges.
What a fantastic idea! We all get so much inspiration from the gorgeous samples and ideas in the Stampin' Up! Annual catalogue that doing so as part of a challenge is a natural progression! Each week the challenge will focus on a different part of the Stampin' Up! catalogue. Challenge #1 starts with the Gift and Packaging Section (pages 6 – 23 in the AU/NZ catty).
I haven't really done challenges but have decided to participate in the CTC Challenge regularly.
So here's my take on the gift bag that is found on page 13.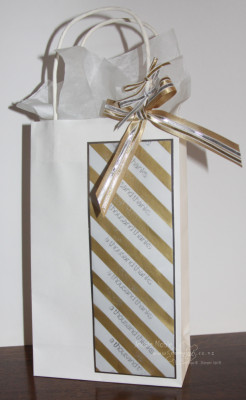 I am loving the new gold ribbons – they are great alone, together, with silver – so many options.
I used the gold and silver 1/8″ ribbon over the gold satin ribbon to create a striped effect. Also added a smaller bow in each of the gold and silver above the large bow. The sentiment is embossed in silver on the gold fancy foil designer vellum which has a sliver foil sheet mat.
As I have a purpose for this bag, I stamped a Thank You sentiment – "a thousand thanks" from the Lots of Thanks stamp set. But this colour and paper combo would also make a greet gift bag for a wedding gift.
Here's a closeup
I've enjoyed taking inspiration from the catalogue and look forward to next week's challenge.
Until next time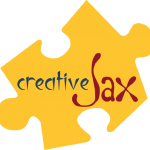 Jackie
ps. Most fantastic news – I was Top Case in CTC Challenge #1 – werhoo – how exciting! Thank you so much!