Good Thursday to you!
I have a several pictures to share with you today from my recent Stampin' Up! 2014-2015 catalogue launch.
I am sure that if you have a copy of the new Stampin' Up! 2014-2015 catalogue you have found something to love! My wish list is huge! If you don't have a copy, then drop me an email to find out how to get one (jackie@creatviejax.co.nz).
As demonstrators we do get to pre-order from a selection of products a month before the catalogue goes live – just one of the many benefits of being a Stampin' Up! demonstrator! By getting early access to about-to-be-released products we can have a practice, make some samples, prepare for classes & parties, and maybe get ready to hold a catalogue launch party. This year I decided to hold a launch party and I had such fun making samples and sharing the new Stampin' Up! catalogue with my stamping friends.
For attendees at the launch, and for my regular class members, I made bookmarks in the new "In Colors"  using the gorgeous Metro Type photopolymer stamp set which I had tried at Convention. It went right to the top of my wish list and I was so pleased it was available to purchase during the sneak peek period! Below are a few bookmarks for class members who couldn't make it to the launch – and for myself too of course!
As I had participated in a team swap and had made several samples using items I'd purchased during the pre-order period I was able to have a couple of displays for people to drool over! (Piano & bookshelves come in handy!)
Here are a couple of closer views of the table displays.
As well as a doing a catalogue scavenger hunt – with prizes of course – everyone got to do two Make'n'Takes.
Can you spot Carina (the cat) in the background. She loves photo-bombing!
So …  the cards themselves … I'll be posting them over the weekend.
In the meantime, here are some of my crafters hard at play!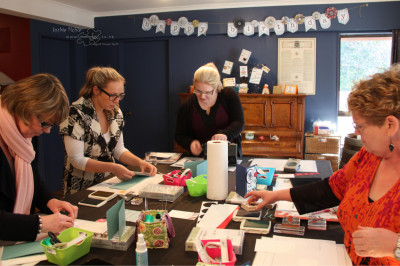 As I have said before, I am so lucky to have my amazing daughter, Beth – who among other talents not only paper crafts, but also loves cake decorating. You may remember that Beth made a Stampin' Up! themed cake for my 50th earlier in the year (Check it out here). Beth had just attended a class with Becs at Stiletto Studio Cakes in the days before the launch and made this soooo cool frog cake! So we got to cut, and eat it at the launch. It not only looked good but was very tasty too. The cake is long gone but the fondant frog is just too cute to discard!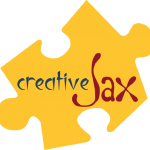 Until Next Time
Jackie
As always – if you wish to know anything more about info in this post, or to get a catalogue or to buy any of the items mentioned in the post, please contact me.
Or you can shop 24/7 at my online Stampin' Up! shop – just click on any of the products in the table below, and you should find yourself in my online shop at the page with information about the product.
If you would like to find out about joining my Stampin' Up! team get in touch – I would love to chat to you about that.