One of the great things about being a Stampin' Up! demonstrator is being part of a wider team and getting to participate in swaps with fellow demonstrators.
I wanted to share the projects I created for two swaps I have "recently" participated in – swaps at the South Pacific Stampin' Up! Convention and a team swap.
Today I'll share what I created for the team swap. For this swap 25 members of the wider Creative Inkers' Team signed up, so each person made 25 of the same card (or project) and then we swapped these with the other participants to end up with 25 different items.
This is such a fun thing to do, and is a great way to share in the creativity of the all the participants and to get a wide range of samples to share with others. Our theme was the new catalogue – what else could it be at this time!
My swap focussed on the 5 new In-Colors and were a 3D item using the Cool Like that Giftable Templates digital files from MDS and a digital e-cutter – my Silhouette Cameo.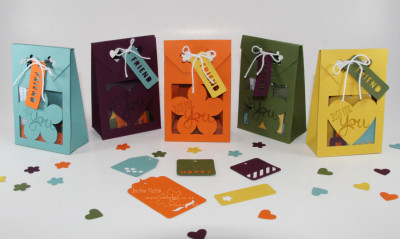 Inside each box were the 5 little embellishments/tags.
At the end of the post you will see all the supplies I used and be able to click on the included links for more information.
Here are the individual boxes:
The sentiment was from Work of Art and was stamped in the same colour as the cardstock – except the Blackberry Bliss box. For that one I used the Black Momento ink as Blackberry Bliss is such a rich, deep dark colour stamping onto it in Blackberry Bliss didn't show up enough.
In the Cool Like That Giftable Templates digital download there are several really cool boxes that can be individualised in many ways and resized to suit your purpose. Being a swap I made mine all the same size but chose to decorate them with two of the other shapes included in the download – hearts and flowers. Again, each element can be resized and positioned where you want. I'll be sharing some other creations from this download over the next few weeks.
In the photos below you can see that I have used the flower shape as an opening where I threaded the bakers twine through to tie the box shut. The little hearts and flowers you see scattered in the other photos are from these openings.
I created the boxes in MDS using one of the box templates included in the Cool Like That Giftable Templates. I could have printed each box pattern out from MDS and hand-cut the boxes, however I really wanted to show how well an e-cutter can interface with MDS so I exported my boxes rather than printing them.
As these MDS files are SVG files,  I can import them into the Silhouette Studio Designer Edition Software and then send the file to my Silhouette Cameo to cut them out.
What you can't see in any of the photos is that I put clear window sheet squares into the front of the boxes so none of the included embellishments would fall out. And of course being a 3D project I used red Sticky tape to construct them.
So here they are again – all lined up in a row.
I had such fun planning and creating these and even more fun sharing them with fellow demonstrators.
And I got such fantastic swaps in return!
Thanks so much to everyone who participated and especially to Kathryn for organising the swap.
Until Next Time
Jackie
As always – if you wish to know anything more about info in this post, or to get a catalogue or to buy any of the items mentioned in the post, please contact me.
Or you can shop 24/7 at my online Stampin' Up! shop – just click on any of the products in the table, and you should find yourself in my online shop at the page with information about the product.
If you would like to find out about joining my Stampin' Up! team get in touch – I would love to chat to you about that.