Good Sunday Evening
I've had a great day downstairs crafting with Beth – a fantastic way to spend the day. I finished off some left over class cards which I had prepped for last month, Beth made some new cards to sell when we are at the market, I had a bit of a tidy-up (though you wouldn't know that now!) and I got to use a new stamp set – yay!
One of the things I found while cleaning up were some tags I created using the digital download – Cool Like That Giftable Templates.
I had made several projects for a presentation I did at Team Training in June about MDS and e-cutters. I had cut out a sample for each attendee and had a few left over, so decided to put them to good use today in the Mojo Monday Challenge. This is the first time I have done this challenge but have admired other people's takes on the challenge for some time now and decided it was time to join the fun – rather than just stalking!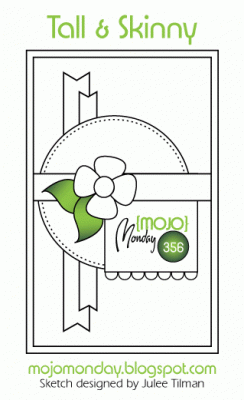 So challenge number 356 – isn't that a big number. It did make me wonder how long this challenge has run, so I read a bit more about it on the challenge's blog. WOW – Julie Tilman started this challenge in 2007! That's really impressive!
So my take on the challenge started with the Night of Navy tag which I'd found during my tidy up. I thought of the smiling octopus from Sea Street when I read the sentiment "You're so cool like that" – 'cos he really is so cool! The Maritime DSP features the octopus and has Night of Navy as one of its colours so it was an easy choice for me to work with that. The Burlap also ties in well with the nautical theme and the card just really created itself once I had pulled everything out onto my desk.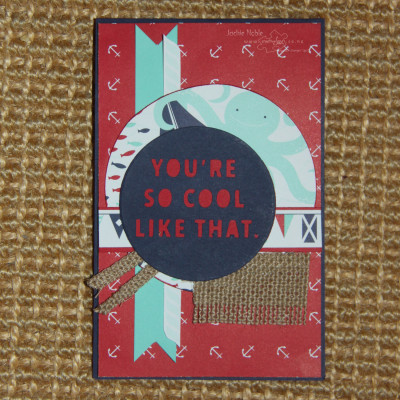 It is amazing how the different dimensions (this was a tall & skinny layout) change the look of the card and the way the elements work with each other.
Not sure if you notice, but there is not a stamped image in sight on the front of the card! Using a Stampin' Marker I did put a little Real Red ink around the larger circle for definition. However the inside saw some ink.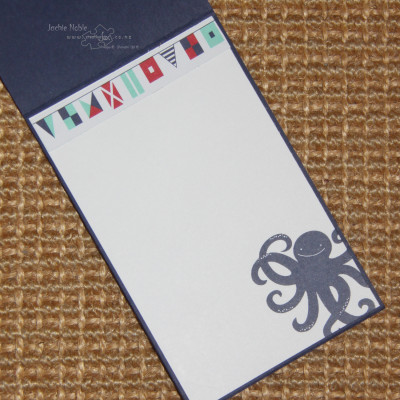 He really is cute don't you think? This is the third card I've designed using this set since I got it, and while I still have several other new stamps that I'm yet to use, I'm sure Sea Street will see plenty more action!
Until next time.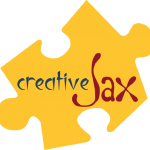 Jackie
As always – if you wish to know anything more about info in this post, or to get a catalogue or to buy any of the items mentioned in the post, please contact me.
Or you can shop 24/7 at my online Stampin' Up! shop – just click on any of the products in the table below, and you should find yourself in my online shop at the page with information about the product.
If you would like to find out about joining my Stampin' Up! team get in touch – I would love to chat to you about that.