Hi There!
I've been doing lots of crafting lately and am working at posting my creations more regularly.
One of my fun things this week was to create something for the CASE-ing the Catty Challenge – and get it submitted on time!
I have been crafting entries for the CASE-ing the Catty (CTC) challenges on and off since it started last year. I think there is so much inspiration in the Catty and have loved case-ing the projects for this challenge. The following was posted on the CTC challenge web site last week:
On Friday, 10th April we are switching to a Blog Hop Site and moving away from the 'challenges'.  So this is your last opportunity to join us at CTC.  We hope you will hop along each Friday night to see what the DT have CASED from the Catty.  Thank you to all those that have participated in our challenges over the last 11 months. It's been a blast and a few of you are joining us as Guest Designers for the Blog Hops.
So I just absolutely wanted to make something for the last challenge before the site changes format into a Blog Hop Site.
Here's the CTC #24 challenge brief:
we are looking at the Easter section of the Occasions Catalogue (page 34 and 35) for our challenge inspiration this week.

You can directly CASE a project (Copy and Share Everything) or use a sketch/layout, colour combo, embellishment, just to name a few examples, as a springboard for your own creations. 
Or simply use some new Stampin' Up! Easter supplies from the Occasions Catalogue.
I'm busy getting organised for a SALE-A-BRATION Celebration on Friday evening and was looking for inspiration for Make 'n' Takes.
When I saw the card using DSP and the chalkboard paper on page 34 I knew I had found a card that I could use as inspiration for this last CTC Challenge and for my Make 'n' Takes!
While the card in the catty is spritzed with another colour – I wanted to keep to just one colour and contrast it with black and white. Here's how it turned out.
The base is Crisp Cantaloupe cardstock, the next layer is one of the two DSP sheets from the Sweet Dreams DSP that are only Crisp Cantaloupe & Whisper White, and the contrasting black Chalkboard Paper is on top.
I stamped the sentiment (from the Lots of Thanks stamp set) in Rose Coral ColorBox Chalk Ink, punched each end with the Ornate Tag Topper Punch and tied the label on with the white twine from the Painted Blooms Cotton Twine set.
Crisp Cantaloupe is one of the 2013-2015 In-Color colours which are due to retire when the current annual catalogue finishes on the 2 June. I will certainly miss these five colours but am excited to see what the new In-Colors will be.
To finish off the notecard, I have added some Crisp Cantaloupe flowers (punched using the flower from the Itty Bitty Accents punch pack) which have a Pearl at their centre.
I'm hoping my guests will enjoy this and the other Make 'n' Takes I have for them to do on Friday!
As it the last challenge – let's recap – here are all my past entries for the CTC challenges.
CTC #1 – Gift and Packaging (Top CASE)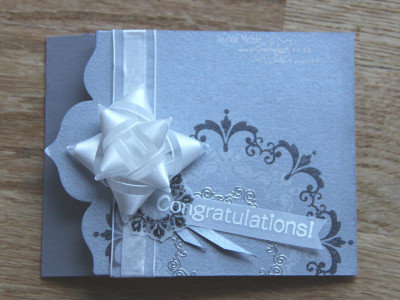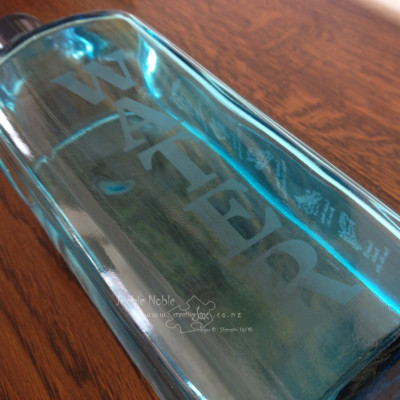 CTC # 8 – Card Giving (Top CASE)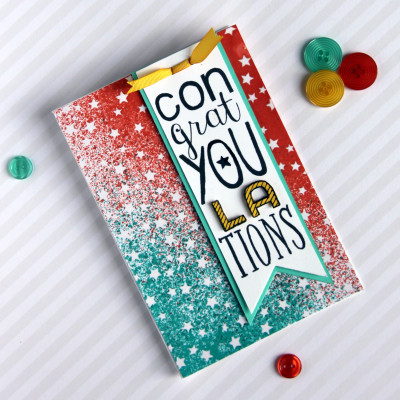 CTC #22 – A Stampin' Up! Sketch
So today's post is my 12th entry – that's half of the 24 challenges there have been!  I've loved participating when I could. This challenge has certainly helped me to stretch my crafting – and my blog posting! Thanks!
Until next time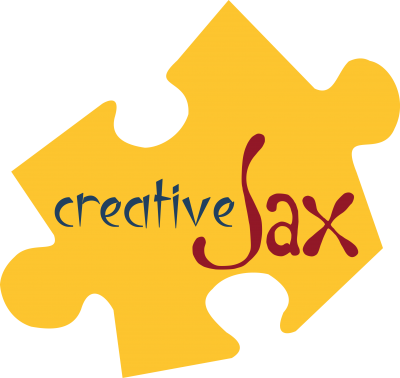 Jackie
As always – if you wish to know anything more about info in this post, or to get a catalogue or to buy any of the items mentioned in the post, please contact me.
Or you can shop 24/7 at my online Stampin' Up! shop – just click on any of the products in the table below, and you should find yourself in my online shop at the page with information about the product.
If you would like to find out about joining my Stampin' Up! Team (thINK Creative) –  Please do get in touch – I would love to chat to you about that.
You can receive my Blog Posts directly by email or join my monthly Newsletter group –  you can subscribe using the buttons at the right of my page.