Hi There
Yay – it's Friday and it's great to be back at CASE-ing the Catty Blog Hop!
This week the crew is using the "For Kids" section of the 2015-2016 Stampin' Up! Catalogue as our creative springboard
You may have started the hop here with me, or you may have come from the talented Rebecca Scurr – either way – Welcome! – I hope you enjoy all the blogs in our CTC Blog Hop. (A full list of the Crew this week is listed at the end of the post.)
My card is a nautical themed birthday card. 
and my inspiration was this delightful card from page 40 of the catty.

The card sure took my eye and I love the bright colours. When I was planning the card I first chose to swap the block castle image from the Boys will be Boys stamp set, for the happy octopus image from Sea Street.
The colour combo (Delightful Dijon, Blackberry Bliss, Bermuda Bay, Rich Razzleberry and Island Indigo) was sorted as soon as I decided I wanted to put the Bermuda Bay/Island Indigo paper from the Bohemian Designer Series Paper (DSP) behind the smiling octopus rather than a neutral.  My hardest choice was which of the other papers to use from the set!  DSP is obviously a lighter weight than cardstock and as I have put this up on dimensionals so the twine could pass behind it I decided it wasn't strong enough by itself.  While you can't see it – I did put a piece of cardstock behind the blue dotted DSP to give is some strength so that it doesn't warp.
The greeting is heat embossed in gold onto a strip of Blackberry Bliss that has been punched with the Triple Banner Paunch – isn't that a handy punch! The little star fish images have been stamped several times in Delightful Dijon to make a background.
With the flags, I've used one of my favourite techniques – using Stampin' Write Markers to ink up a stamp with several different colours. These flags tie all the colours together.
The Very Vanilla Thick Bakers Twine was ideal for my card – but a bow just didn't suit!   A good old reef knot is much more in keeping with the nautical theme!
The layout of this card is really versatile and one that I am sure I will use again!
I'm not sure if you noticed – but that cheeky octopus managed to get his smile into all my photos!
Next blog is Emma Palonek – so hop on over and check it out!
If you get lost along the way, here is a list of all the CASE-ing the Catty Crew who are in this week's Blog Hop: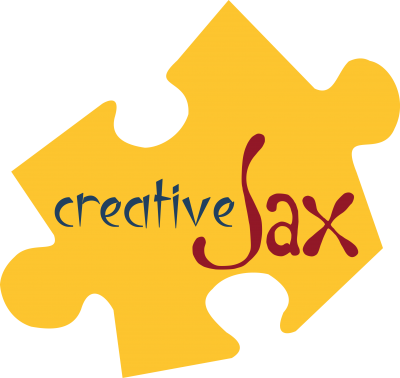 Until next time
Jackie
I hope you enjoyed this post,
As always – if you wish to know anything more about info in this post, or to get a catalogue or to buy any of the items mentioned in the post, please contact me.
Or you can shop 24/7 at my online Stampin' Up! shop – just click on any of the products in the table below, and you should find yourself in my online shop at the page with information about the product.
Please do use the hostess code to support creativeJax if you are ordering online!  Entering the Hostess code combines the value of online orders – which assists me to offer events and thank you's for my customers and support charities such as Ronald MacDonald House and local events where I donate product and/or classes.

The current Hostess Code can be found at the top right of my webpage.

If your order is over $300, please do not use this code as You become the hostess and get the Rewards! Flick me an email if you are not sure about this.
If you would like to find out about joining my Stampin' Up! Team (thINK Creative) –  Please do get in touch – I would love to chat to you about that.
You can receive my Blog Posts directly by email or join my monthly Newsletter group –  you can subscribe using the buttons at the right of my page.