Hello There
Welcome to this week's CASE-ing the Catty Blog Hop!
You may have started the hop here with me, or you may have come from the talented Julia Quinn – either way – Welcome! – I hope you enjoy all the blogs in our CTC Blog Hop. (A full list of the Crew this week is listed at the end of the post.)
CASE stands for Copy and Share Everything. 
The CASE-ing the Catty (CTC) Blog Hop is all about using the amazing Stampin' Up! Catalogues to help you create.  The catalogues are a great source of inspiration and the many projects and pictures give an excellent springboard for crafters to create. The CTC crew get to share projects we have created that were inspired from the catalogue.  
We are nearly at the end of the Annual Catalogue and this week we are looking at the Hostess stamps (pages 178 – 181). You can only purchase these stamp sets with Stampin' Rewards which you earn when you hold a Stampin' Up! party and place a qualifying order. They represent exceptional value as they are priced at below retail value.
The Stamp set I've chosen to use is Floral Wings
 And I loved the gift bag on page 181.
I decided to make a gift box instead. In fact these are my thank you gifts for people who placed orders with me last month. Usually I do cards, but we made these treat boxes at last month's class so thought they would be ideal.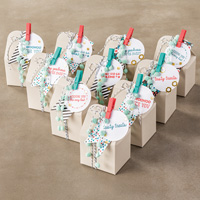 That's it from me for this week. Hop on over to
Alison
's and check out her creation.
Enjoy the rest of the Blog Hop. If you get lost the list of the this week's crew is below.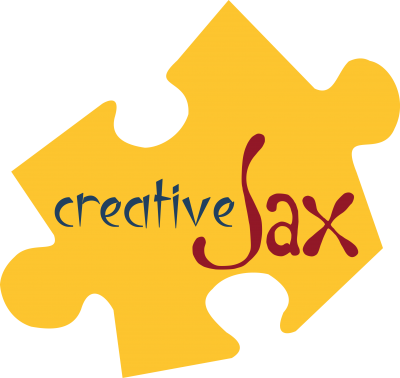 Until next time
Jackie
I hope you enjoyed this post,
As always – if you wish to know anything more abound  info in this post, or to get a catalogue or to buy any of the items mentioned in the post, please contact me.
Or you can shop 24/7 at my online Stampin' Up! shop – just click on any of the links in the post above, and you should find yourself in my online shop at the page with information about the product.
Please do use the hostess code to support creativeJax if you are ordering online!  Entering the Hostess code combines the value of online orders – which assists me to offer events and thank you's for my customers and support charities such as Ronald MacDonald House and local events where I donate product and/or classes.

The current Hostess Code can be found at the top right of my webpage.

If your order is over $350, please do not use this code as You become the hostess and get the Rewards!
If you would like to find out about joining my Stampin' Up! Team (thINK Creative) –  Please do get in touch – I would love to chat to you about that.
You can receive my Blog Posts directly by email or join my monthly Newsletter group –  you can subscribe using the buttons at the right of my page. 
Stasia Sloma – http://stampzone.blogspot.com/2015/08/caseing-hostess-samples.html
Helen Heil – http://h2designs.blogspot.com/2015/08/case-ing-catty-45-hostess-section-with.html
Emma Palonek – http://vintagegraffiti.com/2015/08/28/everyone-loves-a-good-hostess-with-case-ing-the-catty/
Julia Quinn – http://handmadebyjuliaquinn.blogspot.com/2015/08/best-thoughts-case-catty-blog-hop.html
Jackie Noble – http://www.creativejax.co.nz/2015/08/stampin-up-ctc45-hostess/
Alison Barclay – http://gothdovedesigns.blogspot.com/2015/08/stampin-up-australia-stampin-up-happy.html
Kathryn Mangelsdorf – http://klm55.blogspot.com/2015/08/case-ing-catty-hostess-ctc45.html
Rebecca Scurr – http://thepaperandstampaddict.com.au/2015/08/28/ctc45-its-a-whole-lot-of-lovely-going-on/
Jessica Williams – http://thepapercaper.com.au/2015/08/28/lovely-benefits-and-caseing-the-catty
Elizabeth Gross – http://lillylovespaper.blogspot.com/2015/08/ctc45-hostess-sets.html
CTC Blog –    http://caseingthecatty.blogspot.com/2015/08/caseing-catty-45-hostess-stamp-sets.html