Welcome to another Colour INKspiration Blog Hop! You may be starting here – or you might have hopped on over from the amazing Paula Dobson! Love, love, love her card – and that gorgeous stamp!
We continue to be excited by the response we've had to The Colour INKspiration Facebook Group and Challenge. The group has broken the 1000 members threshold! WOW!
Did you see the Top 5 Pick? Their photos were put into an album and a poll set up for Group Members to vote. You can check out the album Here I'll be heading there shortly to see which of those amazing projects was voted WINNER as people's choice!
So – a quick reminder as to how Colour INKspiration works – Every second and fourth Wednesday of the month at 9pm New Zealand Daylight Savings Time (7 pm AEDT), a new Pinterest Inspired colour swatch will be uploaded to the Colour INKspiration Facebook Group, and the Colour INKspiration Design Team will get the ball rolling by providing inspiration for each challenge with a blog hop.
There's also a Colour INKspiration Facebook Group for Stampin' Up! ® enthusiasts who would like to share their paper craft projects using the colour combinations.
Members of the Facebook group have the option to join the Colour INKspiration 'Challenge' by uploading photos of their projects. The Challenge closes a day before the new one starts. The group members get to vote for their favourite from the Top % Pick (as selected and voted on by the Design Team) – the project with the most votes wins the Challenge.
I don't know about you – but I've been feeling like a winner every week so far as there have been such enthusiasm and so many fabulous projects shared – there is just so much INKspiration on the page!
Our Pinterest Inspired Colour Swatch for Colour INKspiration number 3 is: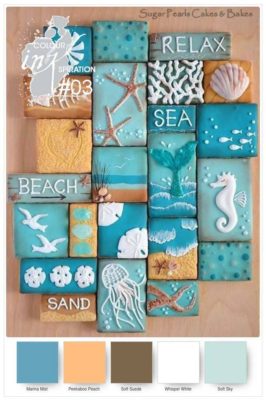 I'm a little in love with the t-shirt Builder dies, and the co-ordinating stamp sets at the moment, and wanted to use one of the stamping themed sentiments for my team swap which was last week.
Here's what I came up with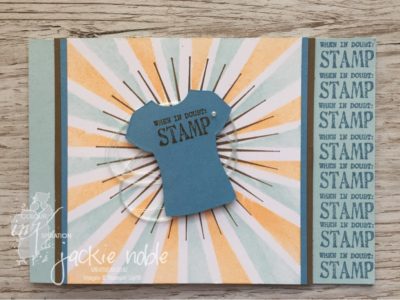 "when in doubt STAMP"!
I like that sentiment! – so much that I needed to repeat it – over – & over – like a personal Mantra!
This is one of the stamps in the Designer T stamp set which is a Sale-A-Bration Set. So remember it's only available until 31 March.
On the inside of the card I used images from the co-ordinating Custom Tee set.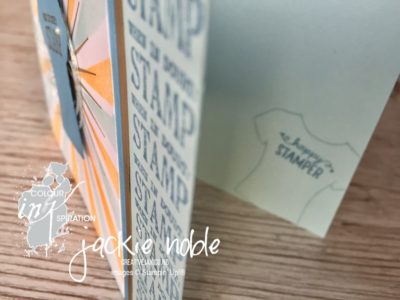 If you are wondering about the background behind the shirt – I first stamped the sun image from Kinda Eclectic in Soft Suede. I used the Sunburst Framelit on a piece of Window Sheet to cut out a template. I then used this as a stencil to brayer some peek-a-boo Peach Ink.
I then rotated the stencil so it was masking the Peek-a-boo Peach and added soft Sky with the sponge brayer.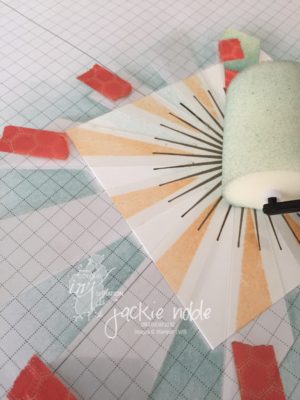 I had such fun creating in these colours – I hope you play along too!
If you haven't already – make sure to join Colour INKspiration, add the group to your favourites and share it with your crafty friends. Then enjoy all the INKspiration coming your way – and don't forget – you can join in the challenge too – you don't have to have a blog – but you do need a Facebook account!
Now – hop on over to Kathryn – You are going to love her card!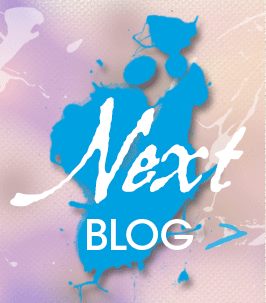 If you would like any information about the products I've used in my project – as always they're listed in the table below.
If you live in New Zealand and would like a demonstrator to order through – I'd love to have you join my group of crafty customers – let's journey together!
Jackie
As always – if you wish to know anything more about info in this post, or to get a catalogue, or to join my thINK Creative Team , or to buy any of the items mentioned in the post, please contact me.
Please do use the hostess code to support creativeJax if you are ordering online!

Entering the Hostess code combines the value of online orders – which assists me to offer events and thank you's for my customers and support charities such as Ronald MacDonald House and local events where I donate product and/or classes.

The current Hostess Code can be found at the top right of my webpage.

If your order is over $300, please do not use this code as You become the hostess and get the Rewards!
If you would like to find out about joining my Stampin' Up! Team (thINK Creative) – Please do get in touch – I would love to chat to you about that.
You can receive my Blog Posts directly by email or join my monthly Newsletter group – you can subscribe using the buttons at the right of my page.
Product List