Welcome to the Thailand Incentive Trip Achievers Blog Hop for June.
Those hopping today are all Stampin' Up!® Demonstrators from all around the world who have met the requirements, and earned the amazing Stampin' Up! Incentive trip – while everyone can try, only a limited number of demos (less than 1% of all demonstrators) reach the level required to earn the trip each year.
Eeek – June – that means we are very close to actually departing on our Incentive Trip to Thailand. Beth and I leave in 2 weeks today!!!
In fact our travel wallets from Stampin' Up! arrived yesterday!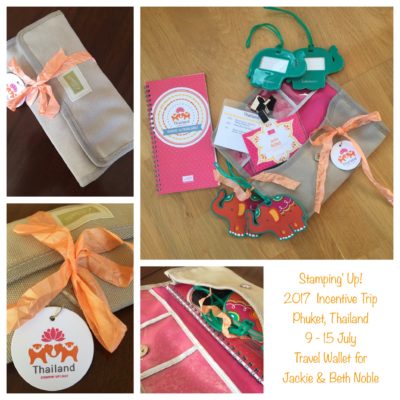 Aren't those elephant tags the cutest!
This month on the hop we are featuring our favourite items from the new Stampin' Up! Annual Catalogue – which is chocked full of goodies!
We ALL get excited about new product and we want to showcase some of the new products for you to give you ideas and inspire you.
You may just be starting the blog hop here at my blog – Jackie Noble | creativeJax –  or may have come from the person previous to me on the list. If you get off track at any time, the full lineup below will help you move along from blog to blog so you see all the projects. At the moment you are visiting Jackie Noble | creativeJax. 
There are soooo many "favourites" in the new catty but I've narrowed it down and chosen to use two new stamp sets for my card. Hello Friend – which co-ordinates with the Hello Friend Heat Embossing Card kit – but which is great to use on its own. And the Background Bits which is a Hostess set. You can only purchase this Hostess set with Stampin' Rewards.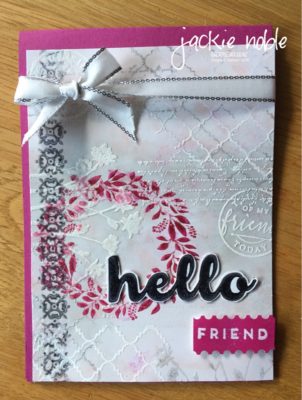 Other new favourite goodies featured are the Glossy White card and the Silver Metallic Edge Ribbon.
Here's a close-up where you can see there is lots of embossing and layers in Clear, White, Black and Berry Burst – all on top of a subtle polished stone background in Powder Pink.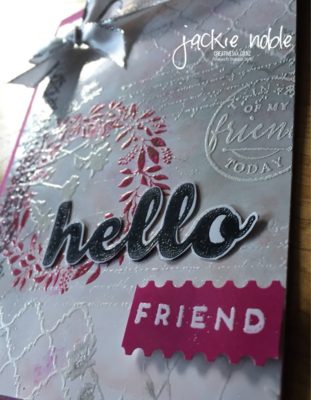 Thanks for taking part in our blog hop, there are so many amazing ideas and inspiration you don't want to miss. Remember that currently, you are at my blog Jackie Noble | creativeJax, so check the blog hop lineup list to see who is next in the list.
If you would like any information about the products I've used in my project – as always they're listed in the table below.
Feel free to leave me a comment below – I love hearing from you!
If you live in New Zealand and would like a demonstrator to order through – I'd love to have you join my group of crafty customers – let's journey together!
Jackie
As always – if you wish to know anything more about  info in this post, or to get a catalogue, or to buy any of the items mentioned in the post, please contact me.
Please do use the hostess code to support creativeJax if you are ordering online!  

Entering the Hostess code combines the value of online orders – which assists me to offer events and thank you's for my customers and support charities such as Ronald MacDonald House and local events where I donate product and/or classes.

The current Hostess Code can be found at the top right of my webpage.

If your order is over $300, please do not use this code as You become the hostess and get the Rewards!
If you would like to find out about joining my Stampin' Up! Team (thINK Creative) –  Please do get in touch – I would love to chat to you about that.
You can receive my Blog Posts directly by email or join my monthly Newsletter group –  you can subscribe using the buttons at the right of my page.