Hello from New Zealand – It's your friendly Kiwi here!
All Star Tutorial Bundle Design Team
It's great to be with the All Star Tutorial Bundle Design Team – we are ready to help you create beautiful handmade projects featuring Stampin' Up! products. We have a September Tutorial Bundle and a Blog Hop for you.
All Star Tutorial Bundle
Our Design team has created a bundle of 12 tutorials using Stampin' Up! products.
This month the bundle contains tutorials for projects using lots of product we received from 2019 Stampin' Up! Holiday Catalogue which was released yesterday. Here's a Sneak Peek of what you will receive in the bundle.
September Bundle Sneak Peek
The Tutorial Bundles are based on currently available supplies from Stampin' Up! and will have both metric and imperial (inches) measurements. So no matter where you live in the world, you can purchase these tutorials and use them to create great projects!
The Tutorial Bundle is $NZ21 – or place an order over $NZ50 this month with me to receive this month's tutorial for free. See the details at the end of the post to find out how you can get this exclusive bundle of tutorials.
All Star Tutorial Bundle Design Team Blog Hop
Remember, the projects in the Blog Hop are not the same projects as in our tutorial – the projects in the Tutorial Bundle are exclusive and not shown anywhere else. Here's a better sneak peek of the project I've done for the Tutorial Bundle.
While the project being shared today and my Tutorial Project both use papers from the Noble Peacock Suite and some embossing of foil – there's really nothing else in common between them.
September Project
I have used several products from the Noble Peacock Suite- Specialty Designer Series Paper, Foil Sheets, ribbon and embellishments in my project. I've also used the colour palette of the Noble Peacock Rhinestones – blueberry Bushell, Gorgeous Grape, Melon Mambo, Old Olive and Pretty Peacock. You can see the whole suite online HERE
I haven't used the stamps from the suite though. In the close up below, in the background behind the circles, you can see some colourful leaves and a tiny script – both stamps are from the Very Versailles set – it's very versatile!
The colourful leaves were achieved by making my own inkpad on a wet-wipe with drops of ink of all five colours dropped randomly over the wetwipe. I often do the wet-wipe inkpad technique in autumn colours, which looks great, but I think this is my new fav colour combo!
Here the all the images from the stamp set.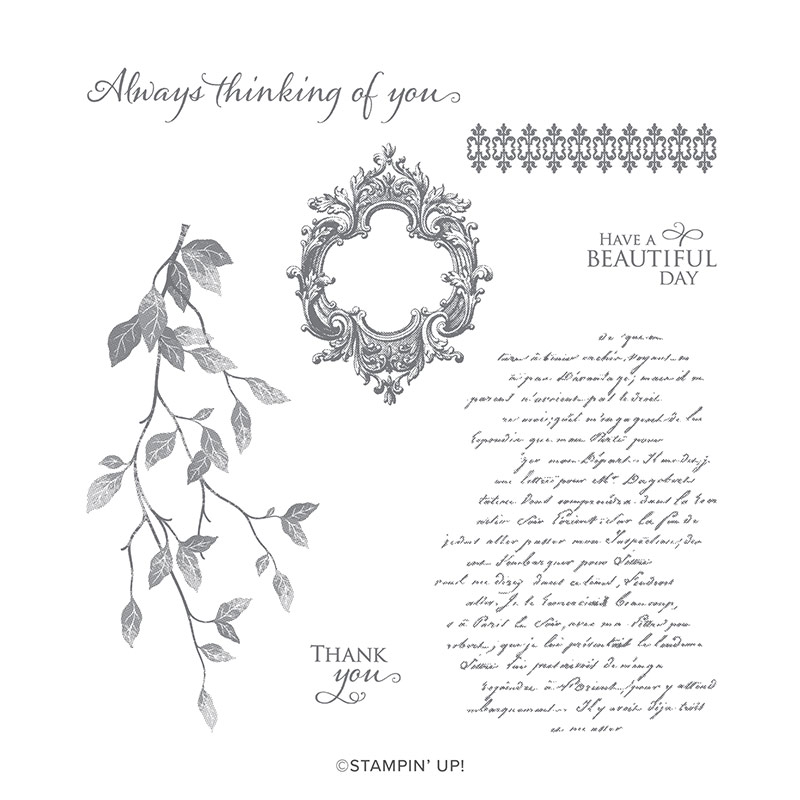 The Blueberry Bushel foil circle was punched out before running it through the embossing machine in the Mosaic 3D folder. You can see the amazing effect again in in this closeup (it was so pretty I just wanted to add another pic!)!
As well as the mosiac shaped pattern, the detail is some amazing in these folders, there is even texture on each individual little tile!
The other circles are smaller and one is the Pretty Peacock coloured Speciatly DSP and the smallest from the Old Olive Foil Sheets.
I've carried the coloured leaves through to the inside of the card of course!
Both greetings ("my friend" and "Happy Birthday") are from the "I Say Hello" stamp set. Lots of useful sentiments here!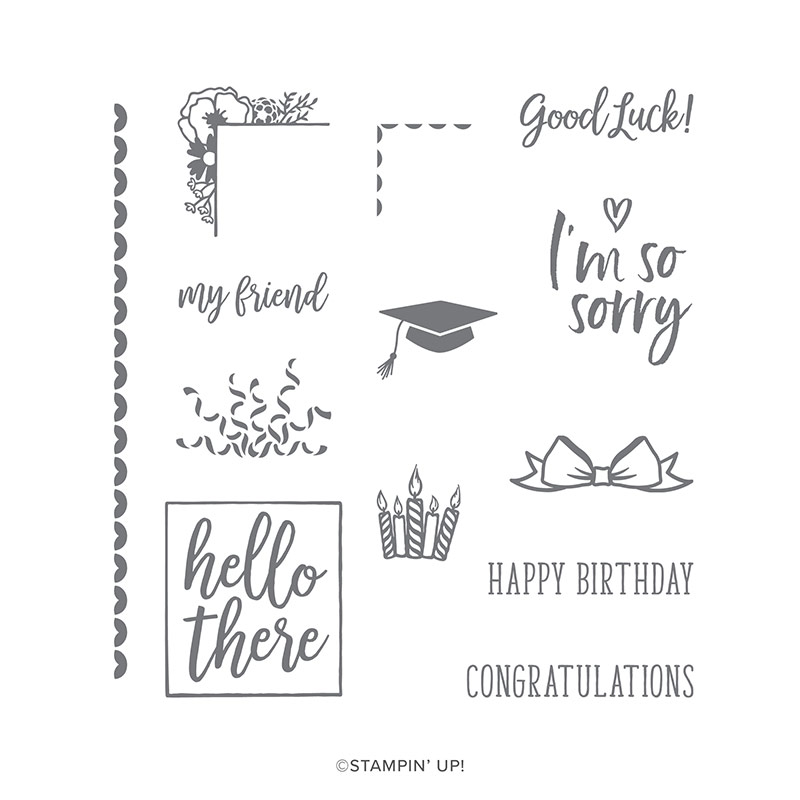 I had lots of fun making this card and so did attendees at my monthly Technique Class in August!
While I haven't used any new goodies in the project – remember – the new 2019 Stampin' Up! Holiday Catalogue is now live. View it all at my ONLINE STORE. If you live in New Zealand and would like a copy – please message me.
Now, it's time to enjoy the other fabulous creations by the All Star Design Team.
Please visit each of the incredible All Star Designers:
How to get the Tutorial Bundle
There are three ways you can receive the February 2019 All Star Tutorial Bundle:
SHOP WITH ME
If you live in New Zealand, you can shop with me, and as part of my customer loyalty rewards program, you will receive this month's tutorial Bundle absolutely FREE with an order of $50 or more with me during the month.
That can be as simple as placing an order in my
New Zealand Online Stop
and using the current hostess code – see the top right for the current code. Your order will be delivered directly to your door.
BUY THIS MONTH'S TUTORIAL BUNDLE
Purchase the September Tutorial Bundle for $NZ21
All currencies accepted, PayPal will do the conversion for you.
If you are in my New Zealand Team of Stampin' Up! Demonstrators, you'll be receiving all of the tutorial bundles for FREE!
Keep an eye out in your inbox!
If you'd like to be part of my thINK Creative Team, I'd love to have you join us.
REMEMBER
If you live in New Zealand and would like a copy of the new catalogue, please contact me.
If you live in New Zealand and would like a demonstrator to order through – I'd love to have you join my group of crafty customers. Let's journey together! – Shop Now or contact me.
If you live in New Zealand and would like to know more about becoming a demonstrator – Check out the info HERE. I'd love to have you join my thINK Creative Team!

As always – if you wish to know anything more about info in this post, or to get a catalogue, or to join my thINK Creative Team, or to buy any of the items mentioned in the post – please contact me.
Or you can shop 24/7 at my online Stampin' Up! shop – the table below shows you what products I used. Just click on each to see more information.
Product List
Please do use the hostess code to support creativeJax if you are ordering online!

Entering the Hostess code combines the value of online orders – which assists me to offer events and thank you's for my customers and support charities such as Ronald MacDonald House and local events where I donate product and/or classes.

The current Hostess Code can be found at the top right of my webpage.

If your order is over $300, please

do not use this code

as You become the hostess and get the Rewards!
If you would like to find out about joining my Stampin' Up! Team (thINK Creative) –
Please do get in touch – I would love to chat with you about that.