Ah Paris … a cute bookmark & ruler feating the Parisian Blossoms Suite
Hello from New Zealand – It's your friendly Kiwi here!
All Star Tutorial Bundle Design Team
It's great to be hopping with the All Star Tutorial Bundle Design Team – we are ready to help you create beautiful handmade projects featuring Stampin' Up! products. It's time for a new Tutorial Bundle and Blog Hop for you.
Here's the Design Team – that's a whole lot of awesome!
All Star Tutorial Bundle
Our Design team has created a bundle of 12 tutorials using Stampin' Up! products and all featuring the Parisian Blossoms Suite.
Here's a Sneak Peek of the projects you will receive in the bundle.
March Bundle Sneak Peek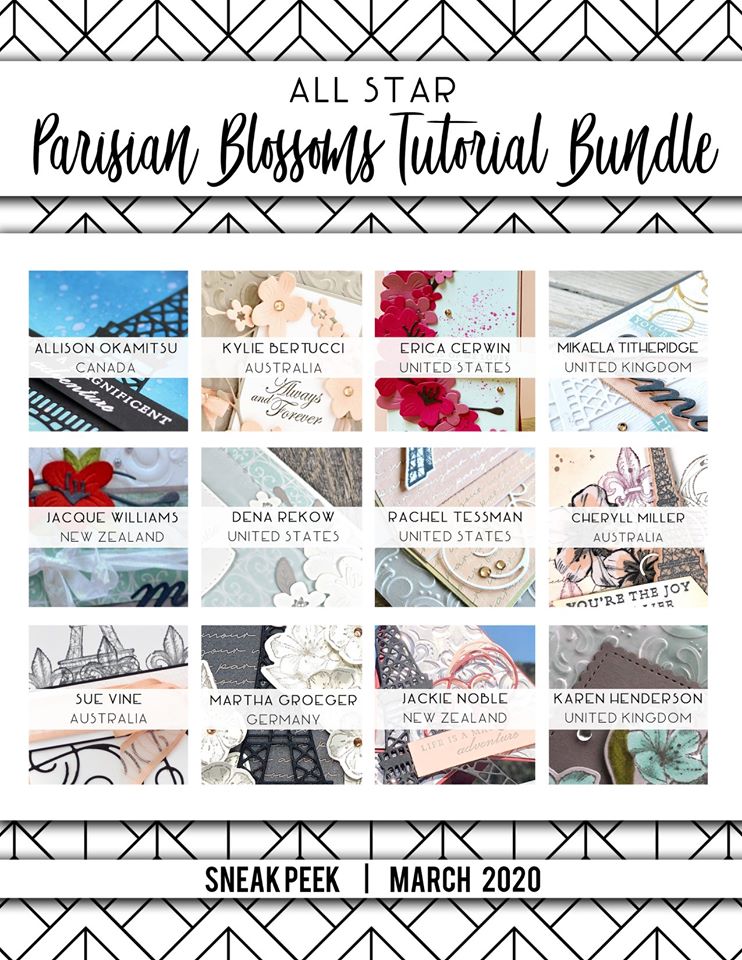 The Tutorial Bundles are based on currently available supplies from Stampin' Up! and will have both metric and imperial (inches) measurements. So no matter where you live in the world, you can purchase these tutorials and use them to create great projects!
The Tutorial Bundle is $N22.50 – or place an order over $NZ50 this month with me to receive this month's tutorial for free. See the details at the end of the post to find out how you can get this exclusive bundle of tutorials.
All Star Tutorial Bundle Design Team Blog Hop
Remember, the projects in the Blog Hop are not the same projects as in our tutorial – the projects in the Tutorial Bundle are exclusive and not shown anywhere else.
While the project being shared today and my project in the Tutorial Bundle are both made using the Parisian  Beauty Stamp set – they are different projects.
Blog Hop Project – Team Bookmark
This project was a team gift.
Here's the back:
I had purchased the rulers at the Palais Garnier in Paris where we visited after the Greek Isles Incentive Trip Last year. (remember only a limited number of demos (less than 1% of all demonstrators) reach the level required to earn the trip each year. )
I usually find a gift for team members while I'm away. I love music and was delighted to find the rules at the theatre where the story of the Phantom of the Opera is set! They are perfect for crafters – centimetres and inches – with musical notes as the markers!
Project Details
Paper/card: Petal Pink, Parisian Blossoms Specialty Designer Series Paper
Stamp sets: Parisian Beauty
Ink: Black Momento, Cherry Cobbler
Accessories: Petal Pink Metallic Edged Ribbon
Adhesives: Multipurpose Glue
More Project Photos
This is the front of the bookmark outside of the sleeve…
… and the back
The ruler …
… and a close up of those cute note markers! What a fun way to measure!
I got the sleeves for the bookmarks online at the Photo Booth Nook.
If you live in New Zealand and would like a copy of either the Annual or Mini catalogues or the SaleABration Brochure – please message me.
Now, it's time to enjoy the other fabulous creations by the All Star Design Team.
Please visit each of the incredible All Star Designers:
How to get the Tutorial Bundle
There are three ways you can receive the October 2019 All Star Tutorial Bundle:
SHOP WITH ME
If you live in New Zealand, you can shop with me, and as part of my customer loyalty rewards program, you will receive this month's tutorial Bundle absolutely FREE  with an order of $50 or more with me during the month.
That can be as simple as placing an order in my 
New Zealand Online Stop
 and using the current hostess code – see the top right for the current code. Your order will be delivered directly to your door.
BUY THIS MONTH'S TUTORIAL BUNDLE
Purchase the February Tutorial Bundle featuring the Peaceful Poppies Suite for $NZ22.50
All currencies accepted. Paypal will do the conversion for you.
BE a thINK CREATIVE TEAM MEMBER
If you are in my New Zealand Team of Stampin' Up! Demonstrators, you'll be receiving all of the tutorial bundles for FREE! Keep an eye out in your inbox!
If you'd like to be part of my thINK Creative Team, I'd love to have you join us.
Read about join HERE or email me: jackie@creativejax.co.nz
If you live in New Zealand and would like a demonstrator to order Stampin' Up Product through – I'd love to have you join my group of crafty customers.
Online Store Available 24/ 7
As always – if you wish to know anything more about info in this post, or to get a catalogue, or to join my thINK Creative Team, or to buy any of the items mentioned in the post – please contact me. 
Please do use the hostess code to support creativeJax if you are ordering online!  
Entering the Hostess code combines the value of online orders – which assists me to offer events and thank you's for my customers and support charities and local events where I donate product and/or classes.
The current Hostess Code can be found at the top right of my webpage.
If your order is over $300, please do not use this code as You become the hostess and get the Rewards!
If you would like to find out about joining my Stampin' Up! Team (thINK Creative) –
Please do get in touch – I would love to chat with you about that.