Good Thursday Evening to you!
"Baby, How the week has flown" –  rhymes with "Baby, We've Grown" – the gorgeous baby themed stamp set which I've used for this week's CTC Challenge.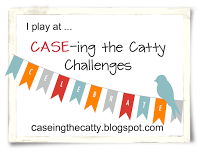 CTC #5 is based on the Baby section (pages 72 to 81) in the Annual Stampin' Up! catalogue, and I have CASE'd one of the cute cards on page 80.
I've chosen Crisp Cantaloupe as my base and made a band with one of the patterns from the Lullaby DSP collection.
Apart from Whisper White, the only other colour I have included is Pistachio Pudding – in the bakers twine, the washi tape and ink for the sentiment, heart background and little flags.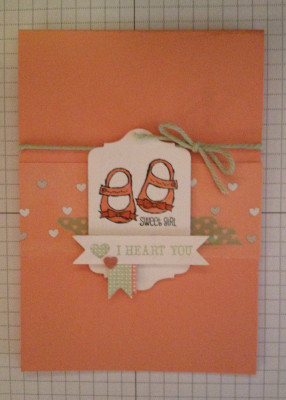 Loved this Pistachio Pudding coloured roll of washi from the Sweet Sadie Designer set which has little hearts on it – just like the paper I've chosen from the Lullaby DSP. I kept this "heart" theme going with the In Colour sequin, the punched out heart and the words of the sentiment itself.
The shoes are coloured in Crisp Cantaloupe and the bows are darker as I have coloured them a couple of times so laid extra colour down. You can get great variety with just one marker.
Just as well my phone takes photos as the camera is out of the house today!
Don't forget to check out the CTC Design Team's creations and the other entries – click HERE or the badge below to go tot he CASE-ing the Catty Blog.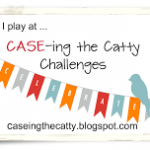 Maybe you could play along next week – it's lots of fun!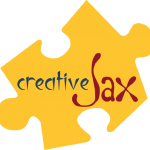 Until next time
Jackie
As always – if you wish to know anything more about info in this post, or to get a catalogue or to buy any of the items mentioned in the post, please contact me.
Or you can shop 24/7 at my online Stampin' Up! shop – just click on any of the products in the table below, and you should find yourself in my online shop at the page with information about the product.
If you would like to find out about joining my Stampin' Up! team get in touch – I would love to chat to you about that.