Good Friday Evening!
A quick post to share another Christmas card that I made for my Holiday Catty Open House.
There is a stamp set in the new catty that I love – Visions of Santa. There is a suite of matching products – how cool is that!
But not everyone in my house likes it. I think it appeals to my somewhat warped sense of humour – but I appreciate that its non-traditional quirkiness won't appeal to everyone.
I was mulling over how I was going to use the set while I was punching out some tags with the Note Tag Punch for another project.
As I was working, I noticed that the punched a piece of cardstock that was left had what looked like arches in it – and the design of my Visions of Santa formed in my head. I could just see him dancing in the archways!
Here's the card that resulted from that flash.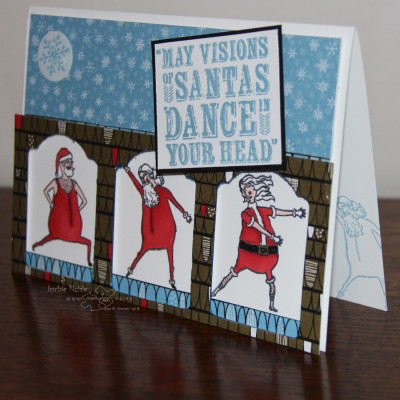 Getting him in the archways took a little effort – and precise measuring!
I first cut the piece of Santa and Co DSP to the size I wanted on the card front, stuck it to a  piece of whisper white of the same sized for strength and then measured out where I wanted the "arches". I punched them out and then carefully stamped the three Santas on a strip of Whisper White so that they would be visible in the archways and coloured them with Blendabilities.
I added some Santa & Co washi Tape to the top and bottom of the strip before adhering it to the whisper white card base, and then adhered another design from the Santa & Co DSP set at the top of the card base.
The archways were popped up with dimensionals to give the archways depth – though it's a bit hard to see that in the photo. The sentiment was stamped in Marina Mist and matted onto basic black before being stuck onto the card with dimensionals too.
So definitely a non-traditional Santa! In fact DH reckons he looks like Billy Connolly (Google him if you're not familiar with this Scottish comedian who is married to a Kiwi Lass!)
I'm loving him and now pondering what I'm going to do with his friend –  the reindeer who looks sort of like a moose – remember we have neither here in New Zealand!
Until next time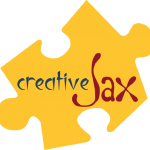 Jackie
As always – if you wish to know anything more about info in this post, or to get a catalogue or to buy any of the items mentioned in the post, please contact me.
Or you can shop 24/7 at my online Stampin' Up! shop – just click on any of the highlighted text above (which are links), and you should find yourself in my online shop at the page with information about the product. 
If you would like to find out about joining my Stampin' Up! team get in touch – I would love to chat to you about that.