Hi All
Hello and welcome to this week's CASEing the Catty Blog Hop. It's been a while!!!

Whether you're joining the Hop here, or if you've hopped on over from Monique or Elizabeth – a HUGE hello – or Hola or Bonjour or Hallo or Caio! I've used them all in the last few weeks!
Remember to click on through this week's CTC crew to see plenty of inspirational projects that the crew have created for you – there's a full list on the CTC blog page if you get lost along the way.
I have not posted here for more than a month as I have been aways so there's a few topics to cover – maybe grab a cuppa and relax!
This week's  CTC Challenge – of course!
Last week's CTC Challenge – oops missed that week passing!
Invitation to my Online Facebook Party – Celebrate the Catty the Mediterranean Way!
Call for CTC Design Team Members (open to New Zealand and Australian Demos)
The New 2016 – 2017 Annual Catalogue
Roy (hubby) and I flew out for Barcelona on Friday 20th May – less than 48 hours after our daughter graduated from Victoria University here in Wellington. That was super exciting and a very proud afternoon. And what a month we have had since then.
The "Thanks" theme of this week's challenge is very relevant to me at the moment – I am so very grateful to all those who helped me earn my first Stampin' Up! Incentive Trip – aka the Grand Vacation. Again thanks to my family, friends, team, Stampin' Up! and all my wonderful customers and class attendees – I could not have earn this reward without your support – so thank you, thank you, thank you.
The Grand Vacation 2106 was a 7 day Mediterranean Cruise where demonstrators and our guests were treated so well. The generosity of Stampin' Up! was overwhelming and I will be forever grateful.
One of the exciting things that happened every day was the "Achievers" (that was on our name badge and how we were collectively referred to) could spin-the-wheel in the Hospitality Suite and receive product from the new catalogue. Here I am spinning on our first day – Sunday 22 May.
We were spinning for one of the three Ombre Stampin' Pads – and I got Rich Razzleberry! If you are wondering why there are four colours on the wheel – the fourth was a "Choose your own Colour"!
This Week's CTC Project
I'm featuring the ombre Stampin' Pad that I won on the Cruise in this week's CTC project.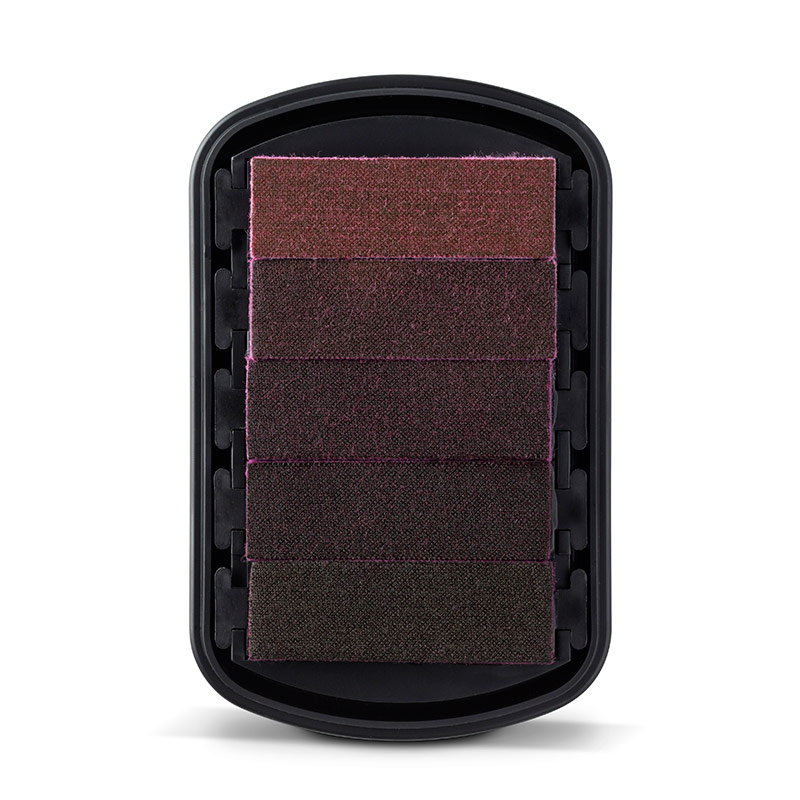 This is the card I'm CASEing – it's on page 41 of the Annual catalogue. It's a quick and easy card – just what I needed.
And here's my take on the card –
I've used the original  layout and left it almost unchanged but mixed up the colours of course – a base of Rich Razzleberry cardstock to tie in with the stamping I was going to do with my ombre Stampin' Pad.
The sentiment is from the Scenic Sayings stamp set  and I've stamped this onto Whisper White card stock using the Ombre Stampin' pad. There is definitely a technique to getting an even gradient of colour and the video below(by Stampin' Up!) explains and demonstrates the technique simply.
If you don't already follow the Stampin' Up! You Tube Channel – you should! It contains lots of informative videos. Here's the link to it.
This closeup shows the gradient of colour a little more clearly.
The other elements on the card include Washi from the Affectionately Yours product suite, the Cucumber Crush thick Bakers Twine and the star is one of the punch out elements from the Oh Happy Day Card Kit. Love how there are always extra components left over from the kits that I can use in another project!
Last week's CTC Project!
I mentioned at the beginning of my post that I was pleased this was a quick and easy card. I've been pretty busy since we landed back in New Zealand at midnight on Monday night.
I had my Catty launched yesterday so have been busy getting things ready for that – as well as catching up on jobs that pile up after 3 1/2 hour away! I was super keen to join the CTC Blog Hop this week and so on Friday I CASEd one of the gift packages from page 26 of the catty.
I obviously had lost track of the weeks as I thought we were doing Christmas today … but no … that was last week! Which seems to have completely slipped past my consciousness!
Anyway – I love, love, love the music paper in the This Christmas Specialty DSP and thought those cute Clear Tiny Treat Boxes would look good hanging in the Christmas Tree. I may have to make some more!  I've included all the products I used in the project in the table below.
Facebook Party – Online now!
As I said earlier – the Incentive Trip was simply fantastic!
As we travelled through Europe for the two weeks after the trip, I was away for when the catalogue went live. I wanted to share a few things about the trip – including the incredible gifts Stampin' Up! gave us.
So I've created an Online Party – a Facebook event.
If you have a Facebook account – please join the party event – you'll get to see the new catty with a mediterranean twist! It started earlier today and runs for 7 days.  There will be product reveals, samples, info about where were on the corresponding cruise day, some games and a spot prize or two! I'll post a few time per day and you can just call in anytime it suits you. Hope you can join me for a little fun!
Here's the link – Check it out!
I did my first ever Live Feed this afternoon and will be doing more over the week so they should improve!
You can see another couple of cards i made using the Ombre Stampin' Pad in the event page – done without moving the stamp around on the ink pad. What a different result!
Design Team spots now available:
Are you interested in joining a design team featuring Stampin' Up! products? We are looking for Australian or New Zealand demonstrators to join the CASE-ing The Catty Crew. Simply join in the challenge this month (click HERE or the image below for the link) and let us know you are interested! 
New 2016-2017 Annual Stampin' Up! Catalogue
If you haven't already seen the new catalogue there is a link on the right hand side of the page the will download a digital copy (pdf). If you are in New Zealand and would like a copy – please email me or use the Contact me button above and we can arrange to get one to you.
Now depending on the direction you're hopping –  hop to the next blog – Elizabeth – or back to the Previous Blog – Monique
And remember if you get lost along the way – head to the CTC Blog Home Page where you will see all those involved in this week's CASEing the Catty Blog Hop and make sure you haven't missed any of the great creations!
Thanks for stopping by and hope you enjoy all the other posts in the hop!
Until next time
Jackie
I hope you enjoyed this post,
As always – if you wish to know anything more about  info in this post, or to get a catalogue, or to buy any of the items mentioned in the post, please contact me.
Or you can shop 24/7 at my online Stampin' Up! shop – just click on any of the products in the table below, and you should find yourself in my online shop at the page with information about the product.
Please do use the hostess code to support creativeJax if you are ordering online!  Entering the Hostess code combines the value of online orders – which assists me to offer events and thank you's for my customers and support charities such as Ronald MacDonald House and local events where I donate product and/or classes.

The current Hostess Code can be found at the top right of my webpage.

If your order is over $300, please do not use this code as You become the hostess and get the Rewards!
If you would like to find out about joining my Stampin' Up! Team (thINK Creative) –  Please do get in touch – I would love to chat to you about that.
You can receive my Blog Posts directly by email or join my monthly Newsletter group –  you can subscribe using the buttons at the right of my page. 
Product List