Follow my blog with Bloglovin

If you follow me on Facebook, you will have seen that I have recently started offering Classes-to-Go for people who live anywhere in New Zealand.
I'm super excited to introduce these Classes-to-Go in 2017!
I have customers and followers all over New Zealand, and being able to give people the option of pre-ordering a class to make 6 – 8 projects (two each of 3 – 4 different projects) in their own home and in their own time, has been an aim of mine for some time.
My Classes-to-Go are not considered to be a kit, or cash & carry.
Each of the CreativeJax Classes-to-Go will be based around particular Stampin' Up! products.
You pre-order and pay for the class, and then I place your order with Stampin' Up!.
All the class orders are sent to me.
I package them with the FREE items to make all the projects and send the class to you.
I email you a pdf tutorial and a video link that you can watch as many times as you'd like – showing you how to make the projects.
Apart from everyday craft supplies (scissors, adhesives etc), Classes-to-Go includes everything thing you need to complete your projects – except stamp pads/markers unless otherwise stated.
If you don't have the suggested colours, you can add them to your order as an Optional Add-On – or use other colours you do have.
You can then complete the Class-to-Go at your own convenience, anytime you would like!
Classes-to-Go are suitable for any level of crafter!
I will advise what products will be included in each of my Classes-to-Go when the pre-order opens.
The projects to be made will usually be revealed to you when you receive you Classes-to-Go.
Each class will be available to pre-order for approximately one week.
CTG #01 – Beautiful You
CTG #01 is based around the stunning Beautiful You stamp set and the Stampin' Up! Watercolor Pencils.
This was the set I was a Showcase Stamper for at On Stage Live in Brisbane. The Class-to-Go projects are some of the cards that I designed for that presentation – so for this class, you will get to see the projects as I've already shown them publicly.
Here's what you will receive in CTG #01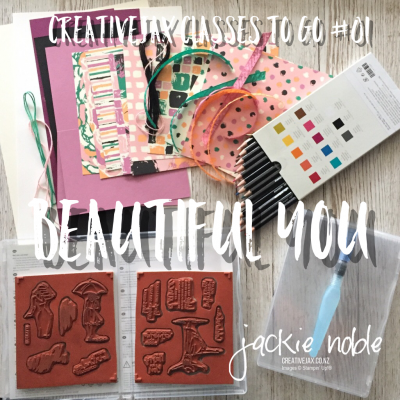 And this graphic includes the Projects: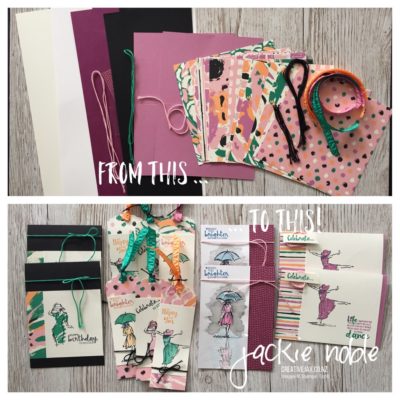 Classes-to-Go details will be included in the CreativeJax Newsletters, so sign up to receive my monthly email Newsletter right to your Inbox. There's a signup box to the right.
During SAB I have priced the Classes-to-Go at a level that ensures you will be able to earn a FREE Sale-A-Bration item in addition to all the other fabulous products you will receive! Check out the SAB Brochure
HERE
I look forward to hearing from you by email to Pre-order this fabulous Class-to-Go!

If you live in New Zealand and would like a demonstrator to order through – I'd love to have you join my group of crafty customers – let's journey together!

And if you're interested in purchasing the starter kit and either build your own craft business – or buy Stampin' Up! at a discount for at least 6 months – I'd be delighted to welcome you into my thINK Creative Team!
As always – if you wish to know anything more about info in this post, or to get a catalogue, or to join my thINK Creative Team, or to buy any of the items mentioned in the post, please contact me.
Please do use the hostess code to support creativeJax if you are ordering online!

Entering the Hostess code combines the value of online orders – which assists me to offer events and thank you's for my customers and support charities such as Ronald MacDonald House and local events where I donate product and/or classes.

The current Hostess Code can be found at the top right of my webpage.

If your order is over $300, please do not use this code as You become the hostess and get the Rewards!
If you would like to find out about joining my Stampin' Up! Team (thINK Creative) – Please do get in touch – I would love to chat to you about that.
You can receive my Blog Posts directly by email or join my monthly Newsletter group – you can subscribe using the buttons at the right of my page.