Hello and welcome to CASEing the Catty – Sunday Blog Hop!

Whether you're joining the Hop here at CreativeJax with Jackie Noble, or if you've hopped on over from Monique at Stamping with Moni-Q  – or back Judy at Just Judy Designs  – a BIG hello!
Welcome to the  Sunday CASEing the Catty Blog Hop where we CASE a particular section of the catalogue, and as always, everyone is encouraged to join in the Challenge at  CASEing the Catty Blog Hop and Sunday Challenge Facebook Group.
We love taking inspiration from the great projects in the catalogues and are sure you will too! So if you haven't already joined the group don't forget to pop in and ask to join us HERE
Once you've had a look through this week's Blog Hop to see plenty of inspirational projects that the crew have created for you –  get your crafty mojo out and join the challenge –  just check out all the amazing creations from the other group members.
Last week we had people 27 people join the challenge – thanks so much for sharing your creations! We've loved seeing what you CASE'd. This week's "People's Choice" and "Crew's Choice" were revealed in the Group page an hour ago. Check them out!
This week the crew is taking inspiration from the Sale-A-Bration brochure.
If you are not familiar with Sale-A-Bration (SAB) – let me just say it the most amazing part of the Stampin' Up! year! You earn FREE exclusive SAB items – one (1)  for every $NZ110 of product that you order. There are 12 different items you can choose from – stamps or designer series paper or a card kit or a storage tin! You can see them all in a pdf HERE.
Like many – I just couldn't resist the gorgeous Hey Chick stamp set found on page 17 of the SAB brochure. It was one of my first choices!
I've CASE'd the card at the top right of page 16.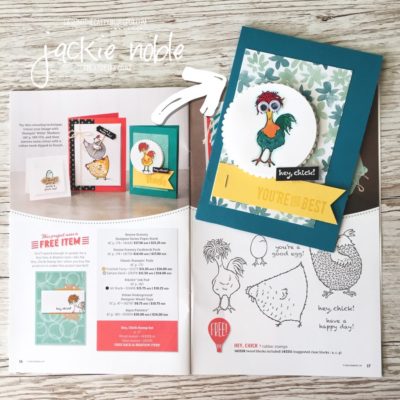 That wild-haired chick is my favourite!
As soon as I saw it I knew exactly who "he" was going to be – Hei Hei  – the rooster in the recently released Disney movie – "Moana"!

https://youtu.be/vlzcRnhzcyo
Although the Hey Chick bird doesn't quite have the rooster comb – I think "he" is perfect to cast in the role of Hei Hei in the cardmaking world!
Note: In parts of Europe the movie has been released under the name of "Oceania" or as "Vaiana" as "Moana" was either trademarked – or was the name of a porn star! I don't want to imagine the images those Disney fans would have found googling that!
If you haven't seen the movie yet – do go! It's a fabulous movie in true Disney musical style – though this Disney "Princess" is a chief's daughter from the South Pacific! Very relevant to us Down-Under – and several New Zealanders were involved or "star" in the movie. Further in the post you can click on Hei Hei to watch the movie trailer.
Here's a collage of my Hei Hei card along with a couple of movie images. Can you see the similarity!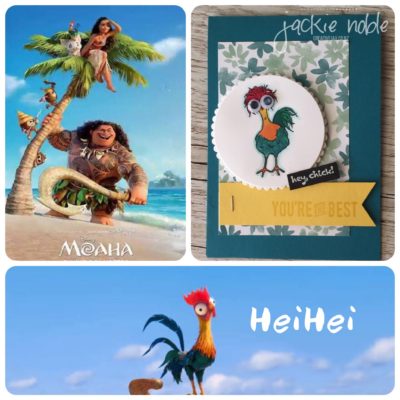 I chose this Designer Series Paper from the Blooms & Bliss DSP pack as it reminded me of tropical flowers. Not quite as bright as the amazing scenery in the movie though!
The card base is Island Indigo (what an appropriate name) with a Daffodil Delight banner. The "You're the Best" sentiment is from the masculine stamp set – "Urban District". I think this is a fabulous set and love, love, love this sentiment!
Like the original card I've embossed the "hey, chick" sentiment in White on Basic Black and I've layered the image up onto circular diecuts (scalloped and smooth) cut with the Layering Circles Framelits.
It's always important to use your Embossing Buddy when you are embossing – but this is even more important when heat embossing on black card (or any dark colour). Helps avoid extra speckles of embossing.
Here's a close-up of Hei Hei – googly eyes and all!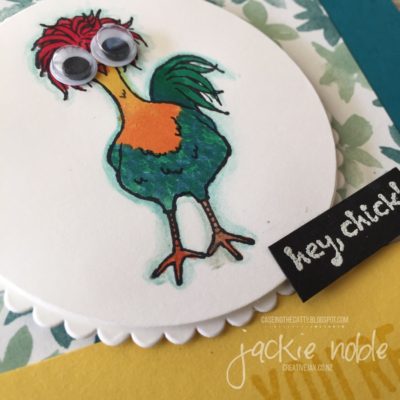 I've used my Stampin' Markers to colour Hei Hei – Real Red, Daffodil Delight, Pumpkin Pie, Tangerine Tango, Emerald Envy and Island Indigo. I've outlined him very lightly in Pool Party. If you don't have any Stampin' Write Markers – you may want to consider joining a Markers Club. If you are in New Zealand you can join my Many Marvelous Markers Club – see more details HERE
… and here's the inside of my card – with Hei Hei popping in again!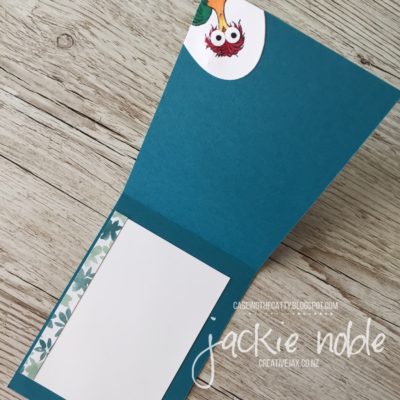 And just because I think Hei Hei is the coolest dude – here's another pic of him!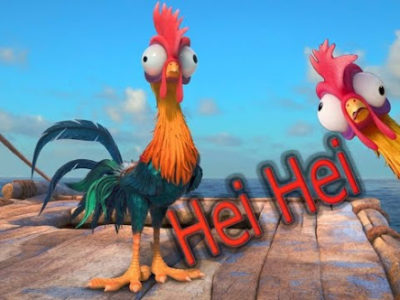 If you click on this picture of Hei Hei you can watch the movie trailer! (Hei Hei may just make an appearance!)
So … one card just isn't quite enough is it? Okay … here's another!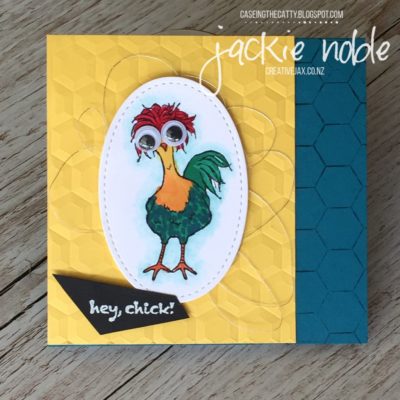 Same colours – but this is a 10 x 10cm card.
I've used the Hexagons Dynamic Embossing folder as a stamp to get the chicken wire background, and as an embossing folder on the Daffodil Delight cardstock to get the texture. A little silver metallic thread to link in with the chicken wire, that cute sentiment and we're done!
Rather than layering Hei Hei on multiple diecuts- in this card I've used the Stitched Shapes Framelits. I am sooooo pleased these are going to be available to order again soon – hopefully tomorrow! I'll come back and add a link as soon as they are order-able!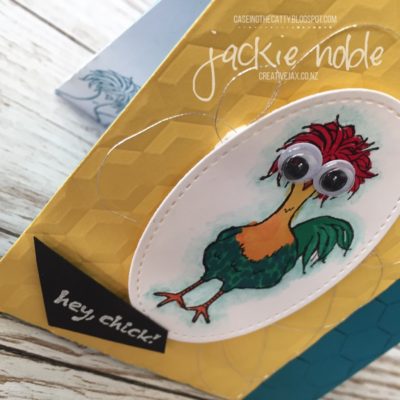 Can you see my favourite rooster inside again?
I do hope you've enjoyed my project this week! I had such fun creating with the Hey Chick stamp set. I know many others are too as these chicks are all over Pinterest!
You could choose this stamp set (or another SAB stamp set) as your FREE Sale-A-Bration item if you pre-order my inaugural Classes-to-Go class: CTG01 – Beautiful You!  Check out the detail HERE
Please feel free to leave me a comment in the section below – I love hearing from you – and if you live in New Zealand and would like to purchase any of the products I've mentioned – I would welcome you as a customer.
As I mentioned at the beginning of my Post – CASEing the Catty has a weekly Challenge hosted in our CASEing the Catty Blog Hop and Sunday Challenge Facebook Group.
We'd love you to share your own project that takes inspiration from pages 4 to 7 of the Occasions Catalogue, Just click on the Join Challenge Button below and you will find yourself at the Facebook group where you can add your project to the album for this week's Challenge.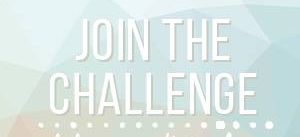 If you're not a member of the group – just ask to join and we will see you there!
You have all week to create and join in. Make sure you put your photo in the challenge album by 7pm (NZDT) Saturday 21st January to be included.
Now depending on the direction you're hopping –  hop on forward to the next blog with Judy – or go back to the Previous Blog with .Monique.
And remember if you get lost along the way – head to the CTC Blog Home Page where you will see all those involved in this week's CASEing the Catty Blog Hop and make sure you haven't missed any of the great creations!
Thanks for taking part in our blog hop, there are so many amazing ideas and inspiration you don't want to miss. Currently, you are at my blog  – Jackie Noble | creativeJax
If you would like any information about the products I've used in my project – as always they're listed in the table below.
REMEMBER
If you live in New Zealand and would like a copy of the new catalogue, please contact me.
If you live in New Zealand and would like a demonstrator to order through – I'd love to have you join my group of crafty customers – let's journey together! – Shop Now or contact me.
If you live in New Zealand and would like to know more about becoming a demonstrator – Check out the info HERE – I'd love to have you join my thINK Creative Team! And during SAB you get to choose 2 extra Stamp sets – FREE – up to $216 in combined value! WOW!
Until next time
Jackie
As always – if you wish to know anything more about info in this post, or to get a catalogue, or to join my thINK Creative Team , or to buy any of the items mentioned in the post, please contact me.
Or you can shop 24/7 at my online Stampin' Up! shop
Please do use the hostess code to support creativeJax if you are ordering online!  

Entering the Hostess code combines the value of online orders – which assists me to offer events and thank you's for my customers and support charities such as Ronald MacDonald House and local events where I donate product and/or classes.

The current Hostess Code can be found at the top right of my webpage.

If your order is over $300, please do not use this code as You become the hostess and get the Rewards!
If you would like to find out about joining my Stampin' Up! Team (thINK Creative) –  Please do get in touch – I would love to chat to you about that.
You can receive my Blog Posts directly by email or join my monthly Newsletter group –  you can subscribe using the buttons at the right of my page.
Product List