http://wp.me/p3uTCr-1uN
Welcome to the Thailand Incentive Trip Achievers Blog Hop for January.
This month we are focussing on the goodies in the Sale-A-Bration Catalogue.
Sale-A-Bration (SAB) is that wonderful time of the Stampin' Up! calendar where everyone can earn FREE stuff with our orders.
You may just be starting the blog hop here at my blog – Jackie Noble | creativeJax – or may have come from the person previous to me on the list. If you get off track at any time, the full lineup below will help you move along from blog to blog so you see all the projects.
I've gone a bit retro today!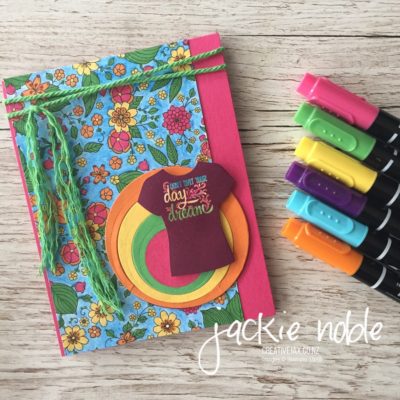 There are two SAB products in my card.
The sentiment – "Don't quit your day dream" in the "Designer Tee" stamp set which co-ordinates with the t-Shirt Framelits from the Occasions Catalogue.
The background is one of the papers in the "Inside the Lines" designer series paper (DSP). I've coloured all the flowers and leaves with Stampin' Write Markers as I wanted bright, vibrant colour on the card. The background has been done with the Watercolor Pencils and a blender pen. You can also use aqua painters, sponges, brayers or daubers to do your colouring – so versatile!
I though they looked groovy together!
A little frayed twine and a bright multicoloured spot were added to keep with the retro theme.
The sentiment on the t-shirt was done using the "Joseph's Coat' Technique. A fab emboss-resist technique!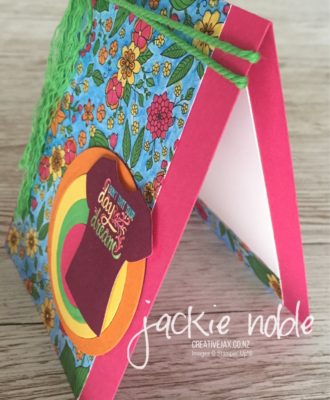 And of course I carried the theme through to the inside of the card – this time by added a strip of that coloured DSP.
Thanks for taking part in our blog hop, there are so many amazing ideas and inspiration you don't want to miss. Remember that currently, you are at my blog Jackie Noble | creativeJax, so check the blog hop lineup list to see who is next in the list.
Feel free to leave me a comment below – I love hearing from you!

Here are all the Sale-A-Bration Items! If you click onto the links you can read a little more about each one. Remember – these are FREE items that you can order – one for every $NZ110 you spend on product. You'll be asked to add them to you order when you order online.
Product List
REMEMBER
If you live in New Zealand and would like a copy of the new catalogue, please contact me.
If you live in New Zealand and would like a demonstrator to order through – I'd love to have you join my group of crafty customers – let's journey together! – Shop Now or contact me.

If you live in New Zealand and would like to know more about becoming a demonstrator – Check out the info HERE – I'd love to have you join my thINK Creative Team!

As always – if you wish to know anything more about info in this post, or to get a catalogue, or to buy any of the items mentioned in the post, please contact me.
Please do use the hostess code to support creativeJax if you are ordering online!

Entering the Hostess code combines the value of online orders – which assists me to offer events and thank you's for my customers and support charities such as Ronald MacDonald House and local events where I donate product and/or classes.

The current Hostess Code can be found at the top right of my webpage.

If your order is over $300, please do not use this code as You become the hostess and get the Rewards!
If you would like to find out about joining my Stampin' Up! Team (thINK Creative) – Please do get in touch – I would love to chat to you about that.
You can receive my Blog Posts directly by email or join my monthly Newsletter group – you can subscribe using the buttons at the right of my page.
Product List