http://wp.me/p3uTCr-1wZ

Welcome to another Colour INKspiration Blog Hop and Challenge – where every second and fourth Wednesday of the month, a new Pinterest Inspired colour swatch will be uploaded to the
Colour INKspiration Facebook Group
, and the Colour INKspiration Design Team will get the ball rolling with a blog hop. You can join the challenge with your own creation – or just enjoy all the fab projects that are being shared!
You may be starting here – or you might have hopped on over from Simone Bartrum at Stamping with Simone – either way – WELCOME! Enjoy the Hop!
Our Pinterest Inspired Colour Swatch for Challenge #5 is:
I can hear the ooh's & ah's – but I have to say that I'm not really a pastel sort of a gal! However – joining in challenges is a fabulous way to push us outside of our comfort zones – guess that's why they're called Challenges! And these colours do work so well together nad lend themselves to a range of different card types.
My project for Colour INKspiration #5 started with a card I made for a team member who promoted to Bronze Elite. I'm sure she is going to love the extra 5% discount that comes with that new title – definitely something to celebrate. Her card was in Blushing Bride, Pool Party and Crumb Cake as I didn't have access to checking the Challenge colours at the time – so did it from memory! Hmm – close – but not quite right! So She has that one and I made another in the challenge colours!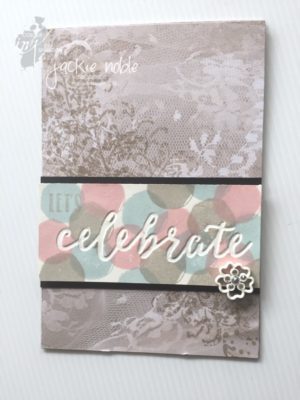 I'm loving these Celebrations Duo "debossing" folders! There are two in the set – saying Celebrate and Happy – and they give such a cool effect.The coloured dots are from the coordinating Happy Celebrations stamp set.
You run your card stock and Embossing folder through the Big Shot before you do any stamping. I have found that the Thick Whisper White is better for these folders than the regular Whisper White. The extra thickness gives the card more rigidity and helps avoid any ink getting into the debossed area.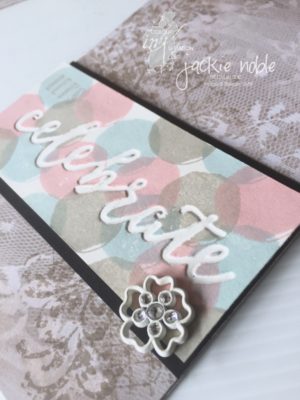 The Basic Black mat was to make the soft colours around the sentiment contrast with the soft colours of the Falling in Love Designer Series Paper that is on the card front.
I've stamped a few images from Timeless Textures onto the DSP in Sahara Sand to give it more interest.
And how cute are those Falling in Love embellishments?!
Hop on over to Rebecca at The Paper and Stamp Addict – you just might get to see a different piece of the fabulous Falling in Love DSP!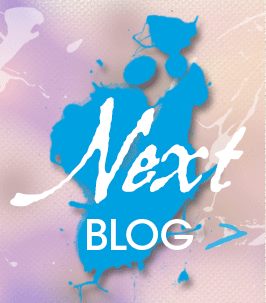 Thanks for taking part in our blog hop, there are so many amazing ideas and inspiration – so make sure you hop on through them all. Remember that currently, you are at my blog Jackie Noble | creativeJax
You've now got until the 9pm (NZT) on Monday 20th to create something using the Colour INKspiration colours (Sahara Sand, Blushing Bride and Soft Sky) and upload it to the Challenge Facebook Group. The challenge is open to all Stampin' Up! enthusiasts – both demos and non-demos. We'd love to have you join in at the Colour INKspiration Facebook Group.
If you would like any information about the products I've used in my project – as always – they're listed in the table below.
REMEMBER
If you live in New Zealand and would like a copy of the new catalogue, please contact me.
If you live in New Zealand and would like a demonstrator to order through – I'd love to have you join my group of crafty customers – let's journey together! – Shop Now or contact me.

If you live in New Zealand and would like to know more about becoming a demonstrator – Check out the info HERE – I'd love to have you join my thINK Creative Team!
Sale-A-Bration is an especially good time to join – you can choose any two extra stamp sets for free in your Starter Kit – that's up to $216 more for FREE! That's on top of the standard awesome deal of getting $285 worth of product for only $185. TALK to ME Sale-A-Bration finishes on 31st March so don't miss these extra bonuses.

Jackie
As always – if you wish to know anything more about info in this post, or to get a catalogue, or to join my thINK Creative Team, or to buy any of the items mentioned in the post, please contact me.
Please do use the hostess code to support creativeJax if you are ordering online!

Entering the Hostess code combines the value of online orders – which assists me to offer events and thank you's for my customers and support charities such as Ronald MacDonald House and local events where I donate product and/or classes.

The current Hostess Code can be found at the top right of my webpage.

If your order is over $300, please do not use this code as You become the hostess and get the Rewards!
If you would like to find out about joining my Stampin' Up! Team (thINK Creative) – Please do get in touch – I would love to chat to you about that.
You can receive my Blog Posts directly by email or join my monthly Newsletter group – you can subscribe using the buttons at the right of my page.