I have lots to be thankful for and it's great to pass on that thanks with colourful creations.

Welcome to Colour INKspiration Challenge number 15 and this week we have a fabulous colour palette to work with courtesy of Nicole Wilson!
The crew is kicking off with a Blog Hop this evening and it is great to have Erin Gunson join us as a guest designer.
If you have been hoppin' along – you will have come from the awesome Mel Pagano. What a beauty of a project – didn't you love how Mel did the sentiment? Awesome!
A reminder that if you are not part of the Colour INKspiration Facebook Group please do join the group. It's a place where crafters from throughout the world can share their creativity all inspired by a Pinterest Inspired Colour Swatch.
And here's this week's colour swatch!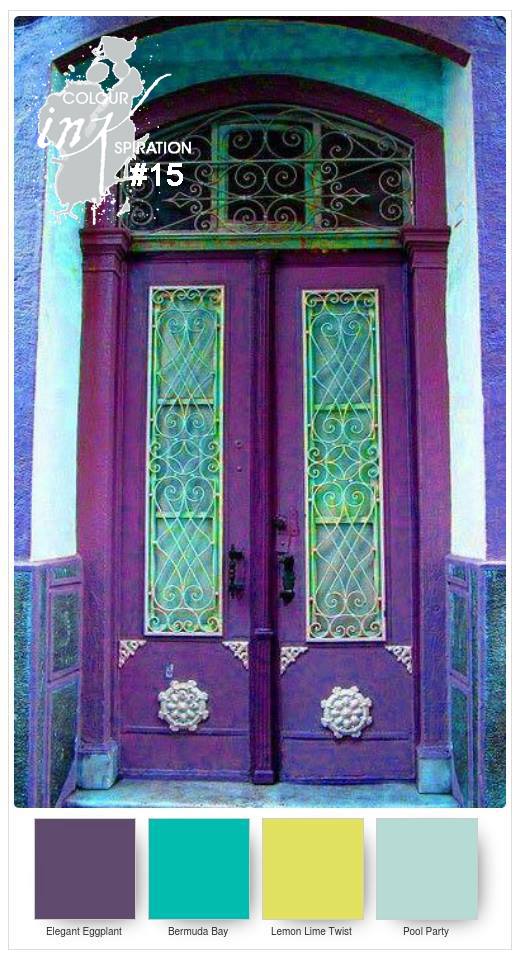 What another stunning colour combo – Elegant Egg Plant, Bermuda Bay, Lemon Lime Twist and Pool Party! Love their boldness as they contrast each other, and the fresh sense these colours create. Also thought the texture on the shutters was interesting.
I had lots of customers Thank You cards to make after having a stand at the recent New Zealand Craft and Design Show which was held here in Porirua about 10 days ago. If you follow CreativeJax on Facebook or Pinterest you will have seen some sneak peaks late last week as I was creating 50 cards! I decided this colour combo was perfect for these cards.
Here's the finished Thank You card …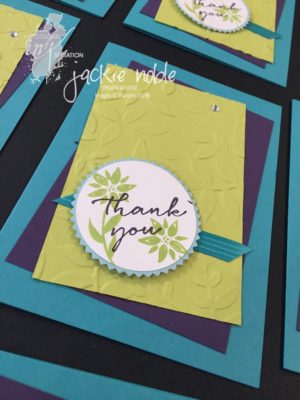 … and here's what several of them all lined up looks like!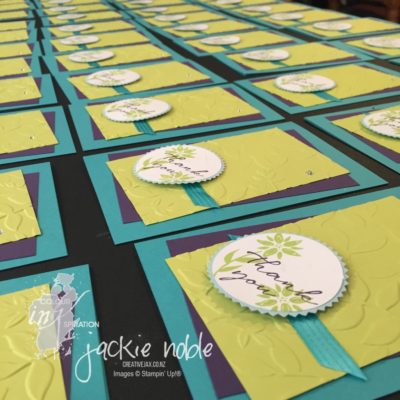 I thought I'd quickly step you through my "product line" – so here's a photo story of the process!
When I'm making multiples of a card I tend to break it into components, work on each part and then put them all together at the end.
I did the sentiments first. Words in Elegant Eggplant and flowers in Lemon Lime Twist onto Whisper White.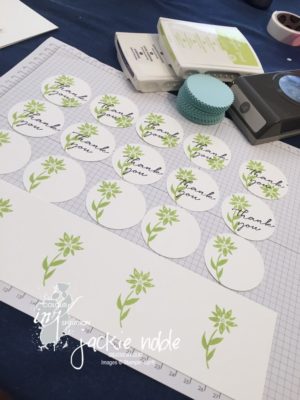 The stamps are from the Hostess Stamp Set Background Bits.
My "Thank you" is positioned a little differently than the original layout. I could have stamped in two parts by inking up one word, cleaning and inking the other – being careful to line things up. Instead, I cut the stamp in two!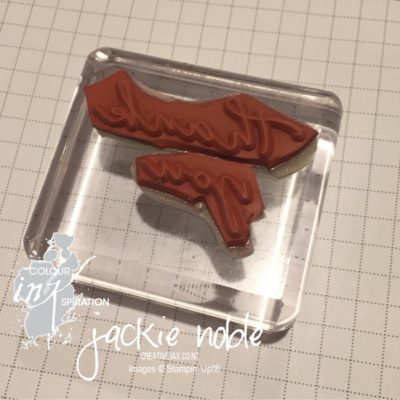 I can always stamp it as intended by placing them on the block in that configuration – but this gives me so many more options that I can use quickly!
Handy being able to flip the Circle punch over to see the sentiment and punch it out in the centre.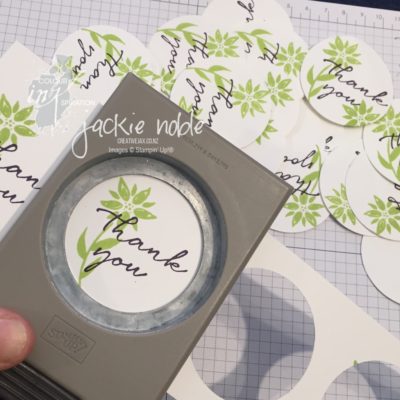 It was then time for layering the sentiments onto Pool Party – which had been punched out using the sunburst punch. I use the multipurpose glue so that I can move the layers and get them lined up evenly!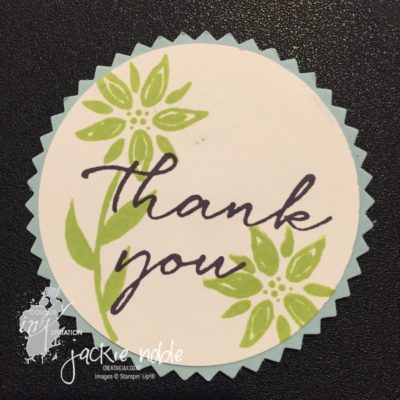 Here's a whole lot of Thanks!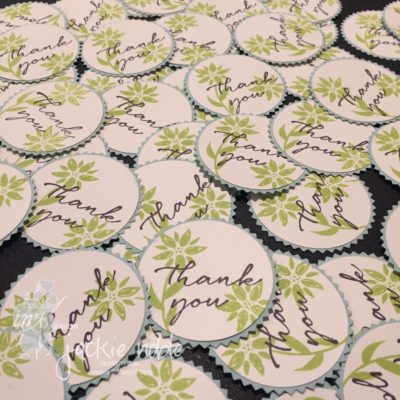 … and lots of dimensionals!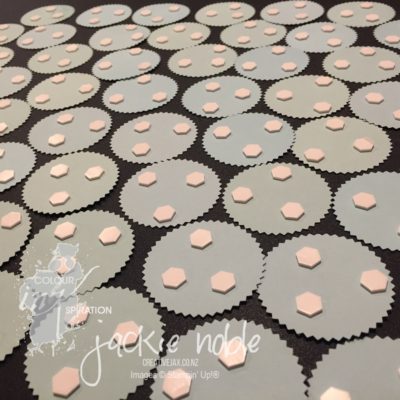 Plenty of cranks on the Big Shot to add some texture – love this folder – the Layered Leaves Dynamic Textured Impressions Embossing Folder!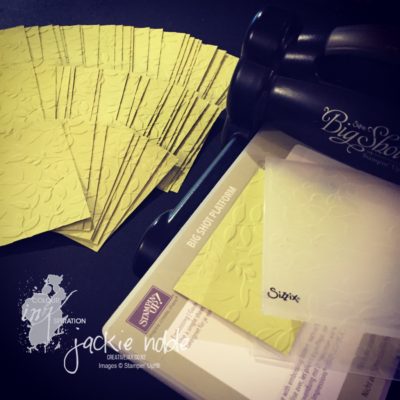 My details on the back before I put layers onto the card front makes for easier stamping.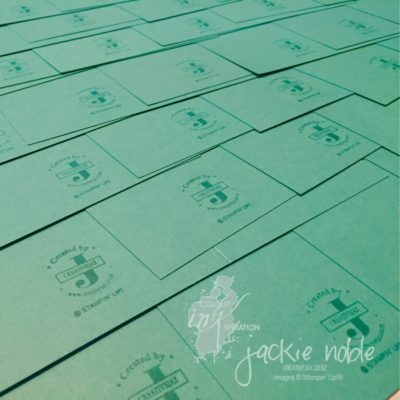 On the layers of Elegant Eggplant and Lemon Lime Twist go – a great contrast to the Bermuda Bay card base.
You can see that texture here.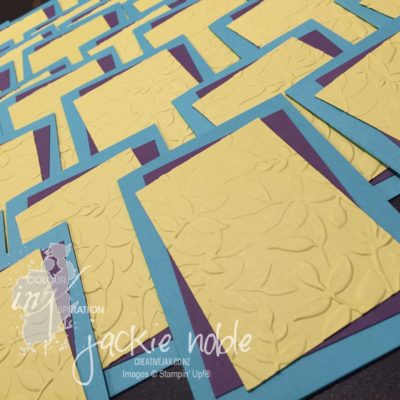 A piece of Bermuda Bay3/8″ Stitched Satin Ribbon for each
I really wanted these to be straight and in the same place for each – not so easy when the mats are at odd angles – so I used a strip of loose card to help me position them.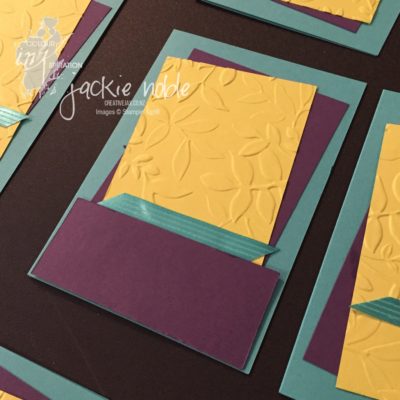 I placed the strip at the bottom of my card – then added Fast Fuse and then adhered the ribbon onto the Fast Fuse. Easy Peasy!
And last – but not least – remove the dimensional backings and stick the sentiment to the front of the card.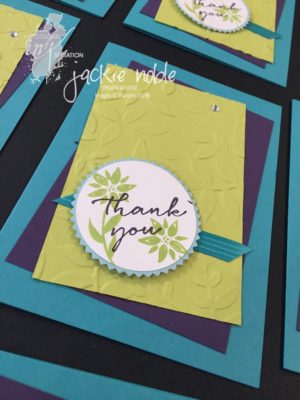 Usually, these go into envelopes but this month I'm using some of the confectionery bags from the Thailand Incentive Trip.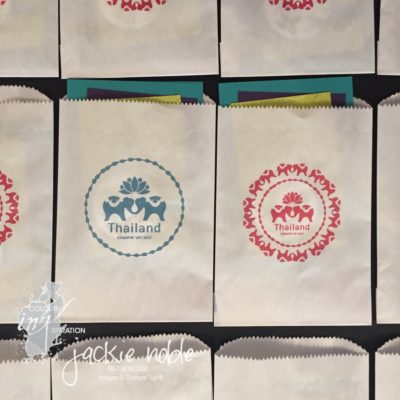 Are those cute! They were in the Hospitality Room every day – along with a range of treats! On the last day, we were told there were still lots, o take some home! I thought of thank you cards straight away!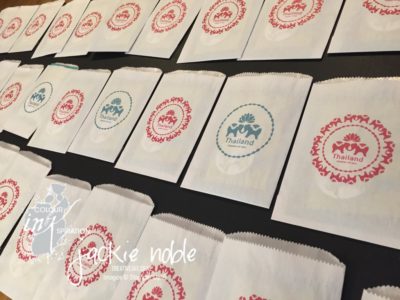 A great way to thank customers – without whom I would not have earned the Incentive Trip to Thailand! Of course, all these orders are not towards Thailand – but rather they are helping me Stamp my way to Alaska!
Of course, all these orders are not towards Thailand as I earned that last year. Rather they are helping me earn the 2018 Incentive – helping me Stamp my way to Alaska!
And as of the beginning of this week, I am super excited to say that I have met the criteria set by Stampin' Up! and have earned the 2018 Incentive Trip. So I will be cruising in Alaska in July next year!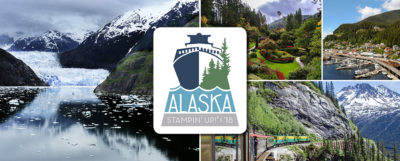 Now hop on over to the talented Jacque Williams – who has a gorgeous card to share!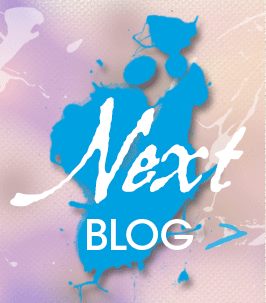 And don't forget – anyone can participate in the Colour INKspiration 'Challenge' by uploading photos of their projects and you can link back to your personal blog if you'd like to.
Make sure you click – Colour INKspiration – and ask to join. Then add the group to your favourites and share it with your crafty friends so they can join in with the challenges too. Hope to see you there!
If you would like any information about the products I've used in my project – as always – they're listed in the table below.
REMEMBER
If you live in New Zealand and would like a copy of the new catalogue, please contact me.
If you live in New Zealand and would like a demonstrator to order through – I'd love to have you join my group of crafty customers – let's journey together! – Shop Now or contact me.

If you live in New Zealand and would like to know more about becoming a demonstrator – Check out the info HERE – I'd love to have you join my thINK Creative Team!

Jackie
As always – if you wish to know anything more about info in this post, or to get a catalogue, or to join my thINK Creative Team, or to buy any of the items mentioned in the post, please contact me.
Please do use the hostess code to support creativeJax if you are ordering online!

Entering the Hostess code combines the value of online orders – which assists me to offer events and thank you's for my customers and support charities such as Ronald MacDonald House and local events where I donate product and/or classes.

The current Hostess Code can be found at the top right of my webpage.

If your order is over $300, please do not use this code as You become the hostess and get the Rewards!
If you would like to find out about joining my Stampin' Up! Team (thINK Creative) – Please do get in touch – I would love to chat to you about that.
You can receive my Blog Posts directly by email or join my monthly Newsletter group – you can subscribe using the buttons at the right of my page.
Product List