Hello and welcome to CASEing the Catty – Sunday Blog Hop. Tonight I have some lantern glitz for you!
This week the CTC Crew is CASE-ing pages 20 – 27 of the new 2017 Holiday Catalogue!
I settled on Night in Bethlehem.
These dies and stamps work together really well, but they also work superbly independently of each other. You can see that in the image below, which is on page 26 of the Holiday Catalogue.
For my Catty Launch Parties I CASE'd the two Landscape cards, and I didn't change a thing as I loved them just as they were!
Tonight, for our CTC146 Blog Hop, I decided to CASE the blue card again – this time turning it into a lantern.
Here are the two of them together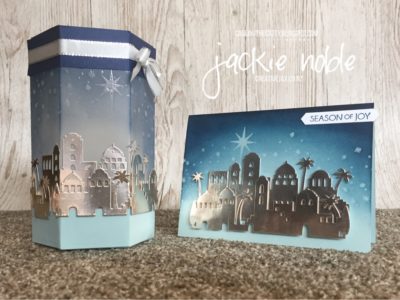 The Window Box Thinlits were used to make the base in Soft Sky and the top in Night of Navy.The top hexagon on the Soft Sky box and the bottom hexagon on the Night of Navy were cut away. Thus each box was open on one side to allow the middle section of the lantern to be added.
Taking vellum that was 15cm tall, I scored at 4.7cm intervals (which matched the dimension of each edge of the box) to make the lantern sides. The stars were heat embossed onto the vellum using Clear Embossing powder and then sponged Night of Navy. Mimicing the curved starry skyline on the card.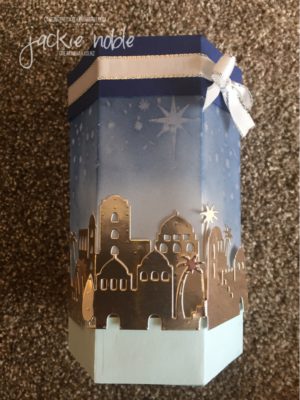 I cut two of each of the houses dies from the new Champagne Foil Sheets using the Bethlehem Edgelits. Two were adhered directly onto the vellum with Multipurpose Glue and the other two with Dimensionals. These were offset so they wrapped all the way around the lantern. You can see the front and back views in the photo below.
Rather than adding a sentiment, I attached the Silver Metallic Edged Ribbon around the top and tied a bow. This ribbon ties beautifully – making gorgeous bows!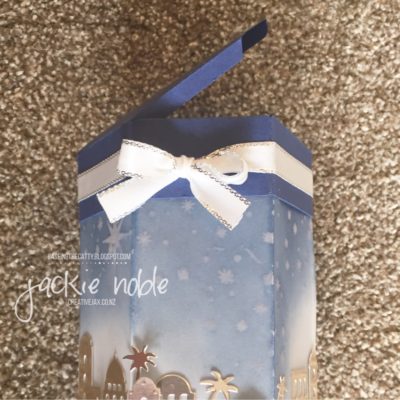 And the top of the box can be opened.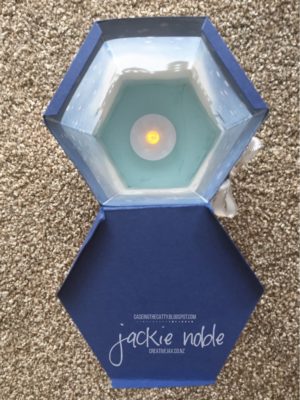 This means you can put a battery operated Tealight candle inside – which looks great turned on – even in the daylight …
… but so much better as soon as it start to get darker!
There are so many fab goodies in the new Holiday Catalogue. Great for cards of course – but also gift packaging, home decor items memory keeping and so much more!
If you click this catalogue image you'll find yourself in my Online Store where you can browse all the available products.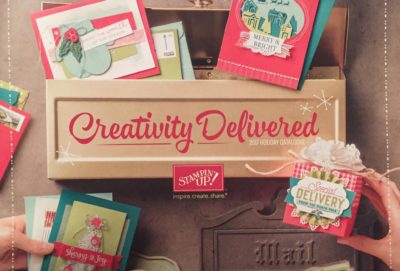 subscribe to my Newsletter!