Hello and welcome to CASEing the Catty – Sunday Blog Hop.
This week the CTC Crew is CASE-ing any of the Kits, or Memories & More projects – from either the Annual or the Holiday Catalogue!
As you know I love Memories & More and I love our Kits! So a tricky choice!
The photo below shows my card sitting on the relevant pages from the Holiday Catalogue – Pages 14 and 33.
I've CASE'd the kit card in the top right hand corner of page 33.
Here is my card on its own.
A super quick and easy card.
I usually use metric here in New Zealand – but imperial measurements worked well with the Memories & More cards as the card sizes are 4″x6″ and 4″x3″.
Here are the steps to construct the card:
Cut a card base in Kraft. I cut the base at 8×6″ so I could score and fold it in half so it would be the same size as one of the large Memories & More cards. I used the 12×12″ Kraft cardstock – which was an easy cut! If you were making several you could then get two 8×6″ bases and a 4×12″ – so 3 cards of 4×6″. The Kraft 12×12″ cardstock is available in the Merry Little Christmas cardstock pack – a mixed pack with Old Olive – great for Christmas projects
Adhere a 4×6″ card from the Merry Little Christmas pack to the card front. The one I used was the "Let's be Jolly" card – but the words get covered!
Trim the 3×4″ Lemon Lime Twist card to 2 1/2 x 3 1/2″ and adhere to front of card with glue or fast fuse.
Stamp the sentiment from the Watercolor Christmas stamp set on to another of the 3×4″ Merry Little Christmas cards
Adhere some Silver metallic ribbon to the back of the card and then adhere to the card front with dimensionals.
Add two or three of the ornament stickers from the Merry Little Christmas Card Pack! Two of mine were stuck straight onto the card. One I popped up on mini dimensionals.
Adhere one of the Lemon Lime Twist offcuts to the inside of the card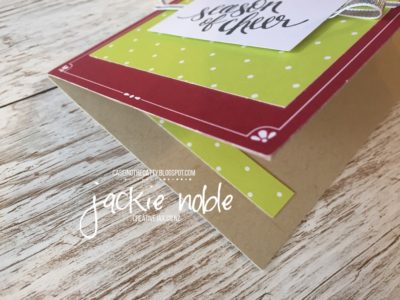 Gotta love how all these things work together to make quick and easy – but still gorgeous – cards!
Don't forget to check out the home of CASEing the Catty on Facebook. If you're not a member of the group – just ask to join and we will see you there! And if you wish to – you can join in the fun too!
STOP PRESS!!!!
It's October the 1st and Stampin' Up! have some fabulous promotions running!
First up …
It's World Card Making Day on the 7th of October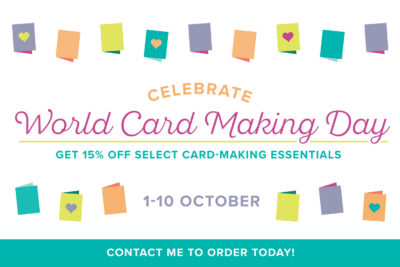 To celebrate we have some super specials running from 1st – 10th October. There's 15% off selected stamp sets and both Whisper White & Very Vanilla notecards/envelopes.
And if you buy a Fast Fuse – you will get two refills for FREE
Order online – or contact me. I order every Sunday evening.
Secondly …
For the whole month of October there is a great Designer Series Paper (DSP) Sale on selected DSPs!
Buy 3 and get one FREE!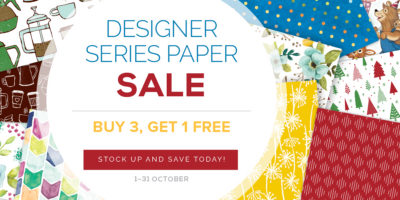 You could get together with a crafty friend or two and combine your wish lists – or you could get all them all for yourself!
Order online – or contact me. I order every Sunday evening.
And thirdly …
Something from me.
All orders received during September and October will go into a draw to receive a limited edition Hostess Stamp Set – Merry Patterns
Or you can earn this set and not take the chance on winning it. Place an order with products valued at $500 or over and it is yours – automatically! Get together with a group of friends and you could have a set to share among yourselves.
Order online – or contact me. I order every Sunday evening.
If you wish to subscribe to my Newsletter or follow my Blog – the links are on the right!