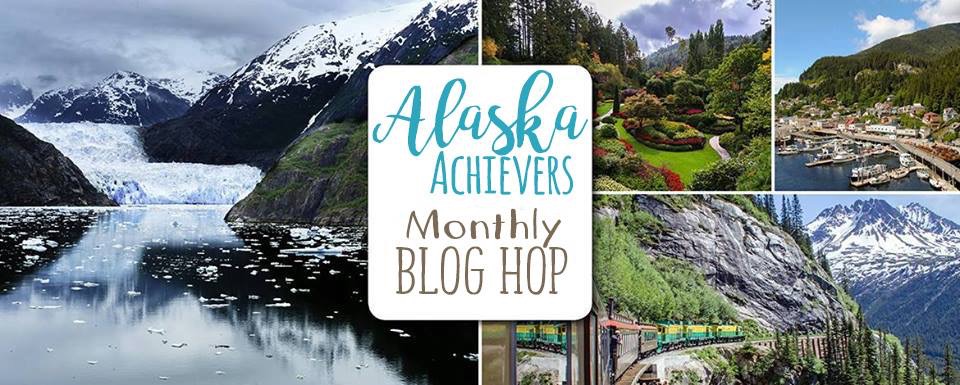 Hello!!
Thank you for joining us for this month's Alaska Achievers blog hop! Those hopping today are Stampin' Up!® Demonstrators from all around the world who have achieved the prestigious Stampin' Up! Incentive trip that only a limited number of demos (less than 1% of all demonstrators) reach the level required to earn the trip each year.. Here in New Zealand, only five demonstrators earned the Alaskan Incentive Trip – so I'm super excited to be part of that group and be heading to Alaska in July.
We will be hopping together once a month to show you ideas and designs using current Stampin' Up!® products.
Unfortunately, I missed the November Hop – the last couple of months have been wonderfully exciting – but very busy! In the October Achievers hop, I mentioned that hubby, Roy, and I were about to leave for America. We did a "little" road trip of the Southern USA states (about 5000kms by road!)  before I took the train to Salt Lake City (another 4500kms and 3 days!) to attend ON Stage Live in Utah. What an amazing trip! I was made to feel so welcome by everyone!
A highlight was getting to visit the home of Stampin' Up!in Riverton. If you follow my Facebook page there are some posted photos and videos. And I made most of my personal posts public to – so feel free to check it out!
It is now a week until the new Occasions Catalogue and SaleABration start (3rd January). So I've been busy with more swap-making! I can't share some as they haven't reached their final destination yet, but I can share the following project.
This first photo shows how I share a wee sneak peek of the projects if it's too early to post the complete project. And with swaps, we don't want to take away from the surprise of those involved when they received their swap.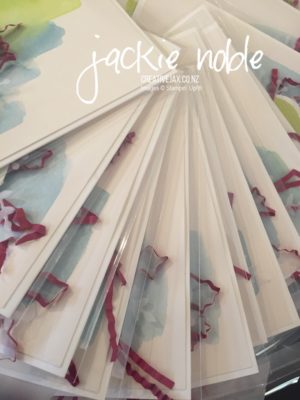 This swap was for the wider Creative Inkers Team that I am part of.
For those who are not sure what I'm talking about – a swap is where we make several (this time for 16 including me) of a particular project – all the same – and we take them along and swap each one with another person and get one of their swaps. So by the end, we have one of our own and 15 different projects from crafty friends!
Anyone that joins my team during January will be receiving one of these welcome cards in their welcome pack.
The stamps are from one of two hostess stamp sets in the new Occasions Catalogue – this set is called Cozy Cottage. If you're in New Zealand and have yet to receive a copy of the 2018 Occasions Catalogue – please contact me.
If you host a party – or put in a qualifying order (you can collect them from your friends and combine) you would be able to purchase this $42 value set for only $25 Stampin' Reward dollars. And during SAB there are extra Free Hostess rewards you can earn. Talk to me about how you can earn these Hostess sets.
The background is a watercolour wash in Marina Mist and Lemon Line Twist on Shimmery White card.
I've used several products from the Sweet Soiree suite on the card. The lacy tag is made with one of the dies from the Sweet Cakes framelits set.
Behind the Lemon Lime Twist circle stamped with the cute wee chairs, is some "Ready Shreddie"! What a Cool name!
The product is cool too! This crinkle cut shredded paper is perfect for filling boxes and bags – it is also a great product to add texture and interest to a card. As well as the Dark Pink I've used (very close to Berry Burst) , the Shreddie comes with silver and white, and all three colours come together in the bag when you purchase it.
There are also some vellum cutouts behind the sentiment which you can see more clearly in this closeup. I used another of the dies from the Sweet Cake Framelits.
I loved mixing and matching products from the suite with the Hostess stamp set. It's good to get lots of use out of your dies and stamps – so using them separately in ways other than intended gives you lots more options.
Now – sidetracking a little …
At On Stage in Salt Lake City last month, Stampin' Up! recognised demonstrators who had earned the Alaska Achievers Trip and it was super exciting to be a part of that. They also recognised the Top Achievers in each country – and globally. It was great to get to walk across the stage waving my Silver Fern flag – representing New Zealand. I was in the Top 5 demonstrators in New Zealand for all three categories being recognised – Sales, Recruiting an Leadership. I was also delighted to be in the Top 5 overall in New Zealand Lots of proud moments and flag waving. It was very special indeed to do this in Salt Lake City – the home of Stampin' Up!s head office! In front of more than 2000 demonstrators! It was also fabulous to see and recognise and celebrate so many other demos as well.
I didn't make it into the fifth category recognised at the event – the Global Top 100  – but I did make it into the Top 250. And that's out of around 50,000 demonstrators worldwide! There was one demonstrator from New Zealand in the Global Top 100 and two of us who made the Global Top 250
Anyone that made the top ranking in their country or the global 100 were told they would be receiving a special git from Stampin' Up!  An amazingly gorgeous carry on bag! We saw pictures of it and it looked pretty cool. But nothing prepared me for how stunning this bag is in real life. You can watch the video of me opening the box for the first time by clicking the link below
https://business.facebook.com/creativeJax/videos/828683673980961/
Here she is!
In the 3 weeks since this little beauty arrived, she has been on a road trip with me to Hawkes Bay for my monthly Memory Keeping in the Bay Day Class as well as visiting my Dad in Wairoa.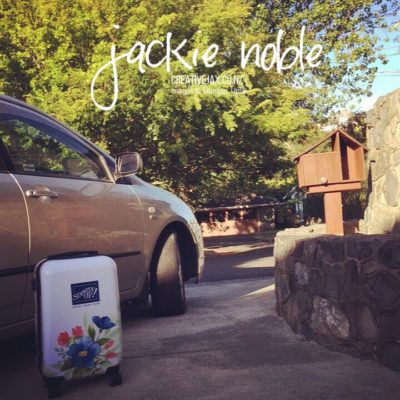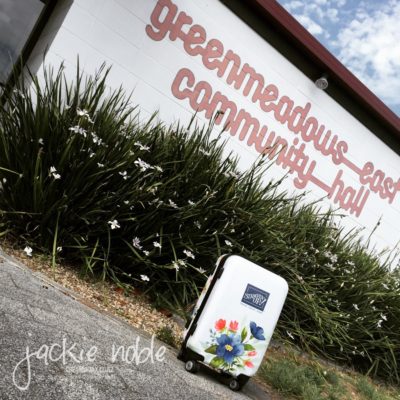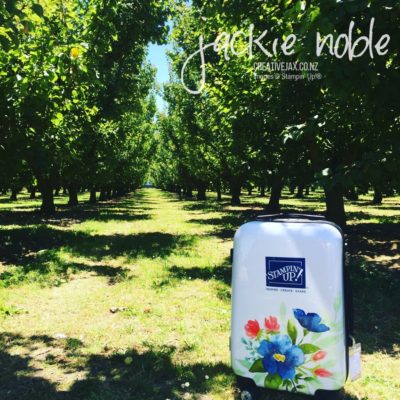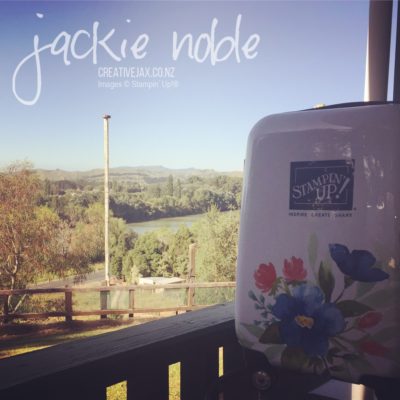 I've posted her travels so far on Instagram & Facebook and have been pondering a suitable name for her. I got several great suggestions in response to my posts and had a hard time choosing – but I have. And when she accompanied Roy and me on our Christmas Day sleepover at our "children's" place in central Wellington – I made my decision.
This little beauty is Belle.
Thanks for the suggestion Kay! Obviously, she is a beauty & Belle is French for beauty.  As we had holidayed in the Southern States of the USA before I went to On Stage in Salt Lake City and learned I was to get this gift – I also like the notion of a Southern Belle.
Who knows where she will appear next!
But you'll be able to find her wanderings with at least one of the following hastags:    #belleandjax  or   #travelswithbelle    or #mystampinupbelle.
Now – back to the task at hand!
Thank you for joining us today – we are so happy that you are taking part in our blog hop. Make sure that you don't miss out on one blog as there are some incredible designs you are going to see today to inspire you.

REMEMBER
If you live in New Zealand and would like a copy of the new catalogue, please contact me.
If you live in New Zealand and would like a demonstrator to order through – I'd love to have you join my group of crafty customers. Let's journey together! – Shop Now or contact me.

If you live in New Zealand and would like to know more about becoming a demonstrator – Check out the info HERE.  I'd love to have you join my thINK Creative Team!

As always – if you wish to know anything more about info in this post, or to get a catalogue, or to join my thINK Creative Team, or to buy any of the items mentioned in the post – please contact me.
Please do use the hostess code to support creativeJax if you are ordering online!  

Entering the Hostess code combines the value of online orders – which assists me to offer events and thank you's for my customers and support charities such as Ronald MacDonald House and local events where I donate product and/or classes.

The current Hostess Code can be found at the top right of my webpage.

If your order is over $300, please do not use this code as You become the hostess and get the Rewards!
If you would like to find out about joining my Stampin' Up! Team (thINK Creative) –  Please do get in touch – I would love to chat to you about that.
You can receive my Blog Posts directly by email or join my monthly Newsletter group –  you can subscribe using the buttons at the right of my page.