Rooted in Nature meets a wonderful new fancy fold!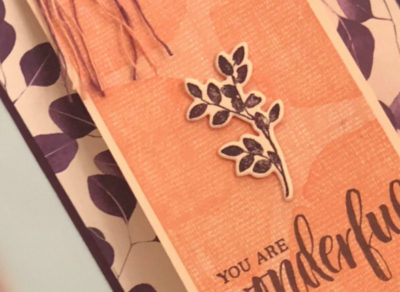 Hello from New Zealand and welcome to this month's All Star Tutorial Bundle Design Team blog hop!
The team is ready to help you create beautiful handmade projects featuring products from the Occasions Catalogue and we have a Tutorial Bundle and a Blog Hop for you!
All Star Tutorial Bundle
Our Design team has created a 'super bundle' of 13 tutorials using products from the Annual Catalogue and it's a super bundle again as we have a guest designer in addition to our regular design team of 12. It is exciting to have the lovely Kirsten Aitchison join us for June.
This month the bundle contains tutorials for traditional style cards, 3D packaging, fancy fold cards, and paper crafting techniques! It's full of fabulous projects you don't want to miss out on. Here's a Sneak Peak of what you will receive in the bundle.
The Tutorial Bundles are based on currently available supplies from Stampin' Up! and will have both metric and imperial (inches) measurements. So no matter where you live in the world, you can purchase these tutorials and use them to create great projects!
The Tutorial Bundle is $NZ20 – or place an order over $NZ50 this month with me to receive this month's tutorial for free. See the details at the end of the post to find out how you can get this exclusive bundle of tutorials.
All Star Tutorial Bundle Design Team Blog Hop
For our Blog hop to celebrate the release of the May Bundle, we will be showcasing a project using some of the same products or techniques that we used in our tutorial.
Remember, these Blog Hop projects are not the same projects as in our tutorial,
as the projects in the Tutorial Bundle are exclusive and not shown anywhere else.
Last month I was in Los Angeles on holiday with our daughter to celebrate the handing in of her completed Masters Thesis. We thoroughly enjoyed our theme park holiday! I was also lucky enough to spend a day with my dear friend Amy Combs and some of her friendly team of demonstrators – The Udderly
INKredible Design Team. I attended an amazing Team Training day and I was very taken with the style of one of the cards we made. I'm not sure if the fold has a particular name – but here is the card we made on the day.
I was taken with how only part of the card opened and used this fold for my tutorial in the June All Star Tutorial Bundle and in my blog hop today. Both showcase new products from the newly released 2018/2019 Stampin' Up! Annual Catalogue but from different product suites. Using different stamp sets and Designer Series Papers as well as changing the techniques used in the layers means the two cards look very different. I love a fold that is versatile – and this one sure is!.
For the Blog Hop today I've used the products from a stunning new Suite – Nature's Poem Suite. You can find it on pages 142 – 144 of the 2018 catalogue.
The suite's stamp set contains a beautiful collection of tree, wood and leaf images along with several versatile sentiments. All but one of the images also has a coordinating framelit. For the front of my card, I've stamped one of the leaf images on Petal Pink cardstock in Blackberry Bliss ink and cut it out with its matching framelit – so easy!
There are two patterns of DSP in this version of the card – one on the Blackberry Bliss card base, and one on the Petal Pink folded component. The "circular" pattern on the front DSP is an image of a tree trunk. While you can't see the detail of the image when it;s stamped onto the DSP as I have done – trust me – it is incredible – you can even see the rings of the tree trunk! That image was stamped in one of the new 2018-2020 InColors – Grapefruit Grove.
With 5 new InColors, 6 returning colours and 10 other new colours in the Stampin' Up! colour palette – I am having such fun choosing which colours to use.
Today's card features a new InColor (Grapefruit Grove), a returning colour (Blackberry Bliss) and a brand new colour added to the Subtles Collection (Petal Pink). The Nature's Poem Suite also includes Whisper White, Crumb Cake, Tranquil Tide, Cajun Craze, Mint Macaron and Soft Suede – a beautiful colour combination.
It's a bit hard to see how the fold works in the image above but you can on these two.
Did you notice the twine on the card? It's also in the Nature's Poem Suite and comes in a set of 4 colours – Blackberry Bliss, Grapefruit Grove, Mint Macaron and Soft Suede. You can see them below.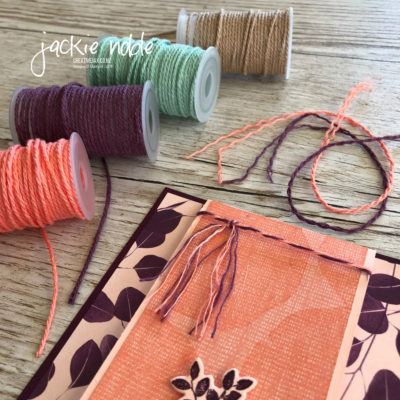 The twine is a thick baker's twine. It is made up of three groups of three threads. I've untwisted a length of Blackberry Bliss and Grapefruit Grove, and used one of the three triple strands from each colour on my card. you can see the remaining two groups of triple threads above the card in the photo. Splitting threads and ribbon means you get even more options and different textures.
As a bonus – here is another card made with other products from the Nature's Poem Suite. The folded part on this card is slightly narrower than the one above and there is another of the images from the Rooted in Nature stamp set cut out with its coordinating framelit!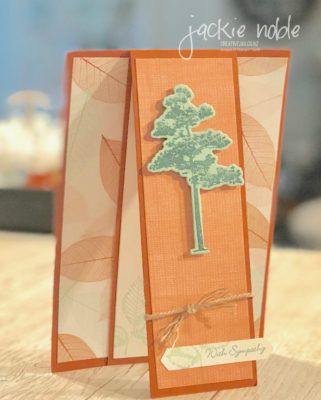 As you can see – this fold has become a favourite! I give a step-by-step guide to making this style of fold in my June All Star Tutorial.
Here's a little Sneak peek of my tutorial project.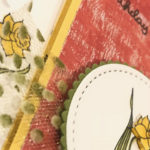 How to get the All Star Tutorial Bundle
There are three ways you can receive the April 2018 All Star Tutorial Bundle:
SHOP WITH ME
If you live in New Zealand, you can shop with me, and as part of my customer loyalty rewards program, you will receive this month's tutorial Bundle absolutely FREE with an order of $50 or more with me during April.
That can be as simple as placing an order in my
New Zealand Online Stop
and using the current hostess code – see the top right for the current code. Your order will be delivered directly to your door.
BUY THE TUTORIAL BUNDLE
Purchase the June 2018 All Star Tutorial Bundle for $NZ20
All currencies accepted, PayPal will do the conversion for you
Note: the tutorial will be sent to the email address listed on your PayPal account within 48 hours
If you'd like to see the previous All Star Tutorial Bundles I have been part of please check them all out HERE
BE a thINK CREATIVE TEAM MEMBER
If you are in my New Zealand Team of Stampin' Up! Demonstrators, you will receive all the tutorial bundles for FREE!
Keep an eye out in your inbox!
If you'd like to be part of my thINK Creative Team, I'd love to have you join us.
Now, it's time to enjoy the other fabulous creations by the All Star Design Team.
REMEMBER
If you live in New Zealand and would like a copy of the new catalogue, please contact me.
If you live in New Zealand and would like a demonstrator to order through – I'd love to have you join my group of crafty customers. Let's journey together! – Shop Now or contact me.

If you live in New Zealand and would like to know more about becoming a demonstrator – Check out the info HERE. I'd love to have you join my thINK Creative Team!


As always – if you wish to know anything more about info in this post, or to get a catalogue, or to join my thINK Creative Team, or to buy any of the items mentioned in the post – please contact me.
Or you can shop 24/7 at my online Stampin' Up! shop – the table below shows you what products I used. Just click on each to see more information.
Please do use the hostess code to support creativeJax if you are ordering online!

Entering the Hostess code combines the value of online orders – which assists me to offer events and thank you's for my customers and support charities such as Ronald MacDonald House and local events where I donate product and/or classes.

The current Hostess Code can be found at the top right of my webpage.

If your order is over $300, please do not use this code as You become the hostess and get the Rewards!
If you would like to find out about joining my Stampin' Up! Team (thINK Creative) – Please do get in touch – I would love to chat with you about that.
Product List