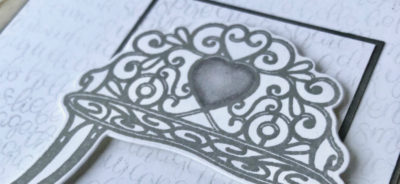 Three shades of grey, two stamp sets and a pair of scissors teamed up for this versatile park bench card!

Welcome to Colour INKspiration Challenge number 35.
With the launch of the new 2018-2019 Annual Catalogue, Stampin' Up! ® has just had a major colour revamp – 16 new colours -10 brand new and 6 returning favourites).
So, to start off the new catalogue year here at Colour INKspiration, we've decided to feature a Colour Collection for the first challenge each month (2nd Wednesday) until we have showcased them all! The second challenge in the month (4th Wednesday) will be a Pinterest inspired pic as per usual just to mix it up a bit.
This month we are starting off with the NEUTRALS COLLECTION and you can choose any 3 colours from that range for your challenge project. We are also changing the rules about what else you can add to the mix; essentially just the Basics – Whisper White, Very Vanilla and Basic Black as well as metallics.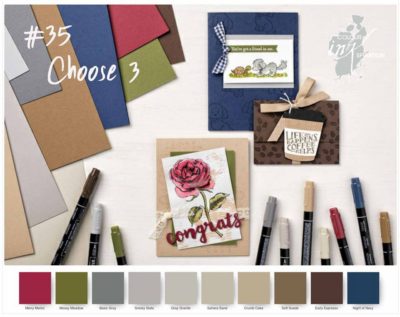 You can see all the Neutral Collection products HERE
The crew is kicking off with a Blog Hop this evening and it is great to have Erin Gunsen join us as a guest designer.
If you have been hoppin' along – you will have come from the awesome Kim Badelt – WOW what a beauty of a project – lots of wonderful details!
My project uses the three shades of grey that are in the Neutrals Collection. From lightest to darkest they are – Smoky Slate, Gray Granite and Basic Gray. The only other colour is the Whisper White cardstock. There are also two stamps sets – Words and Sitting Pretty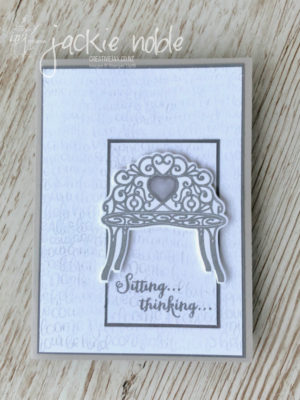 The card base is Gray Granite. I'm loving this brand new colour. While gray, it has a slight browny tone which gives it more warmth than the cooler Smoky Slate.
The two narrow mats are in Basic Gray to give contrast between the Gray Granite and Whisper White. The chair is stamped in Basic Gray onto Whisper White and cut out using the framelits from the Sitting Pretty Bundle. I've coloured the heart with the light and dark Smoky Slate Blends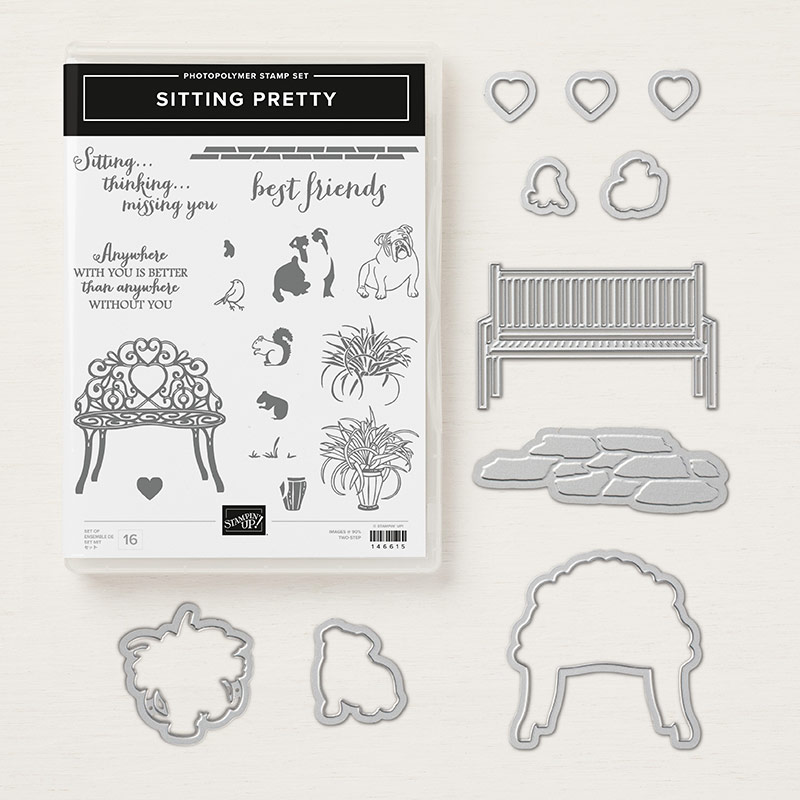 I've only used the chair and one of the sentiments, but there are lots of images in the stamp set – including some two-step stamping ones. The video below demonstrates lots of the other stamps in the set – the framelits too!
As I said – I used one of the sentiments – well I actually only used the "Sitting… thinking…" part of the sentiment. Often I will use my Stampin' Write Markers to add ink to just the part of a stamp set I want to stamp. Sometimes though, I know it's really unlikely that I will use a sentiment as it is made. When that happens well, then I get a bit more radical!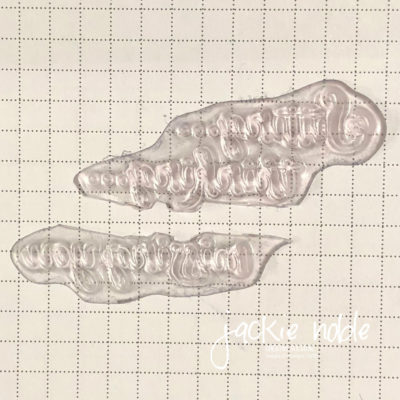 Yup – I cut the stamp with my Paper Snips!!!
Here they are on a block so you can read them.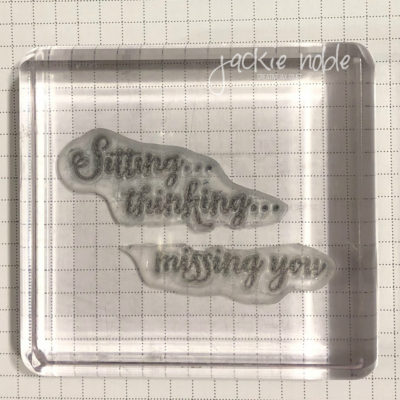 I'm sure I will get more use out this stamp now that it is two stamps! I can always put them back together, or align them if I want them both.
Here's a closer view of the partial sentiment which was also stamped in Basic Gray.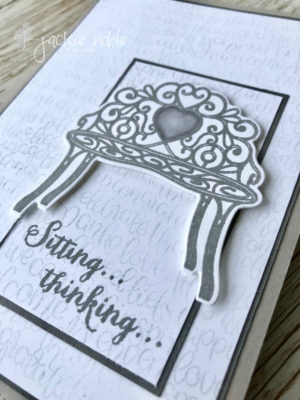 In the background is the other stamp set I used in this project – Handwritten.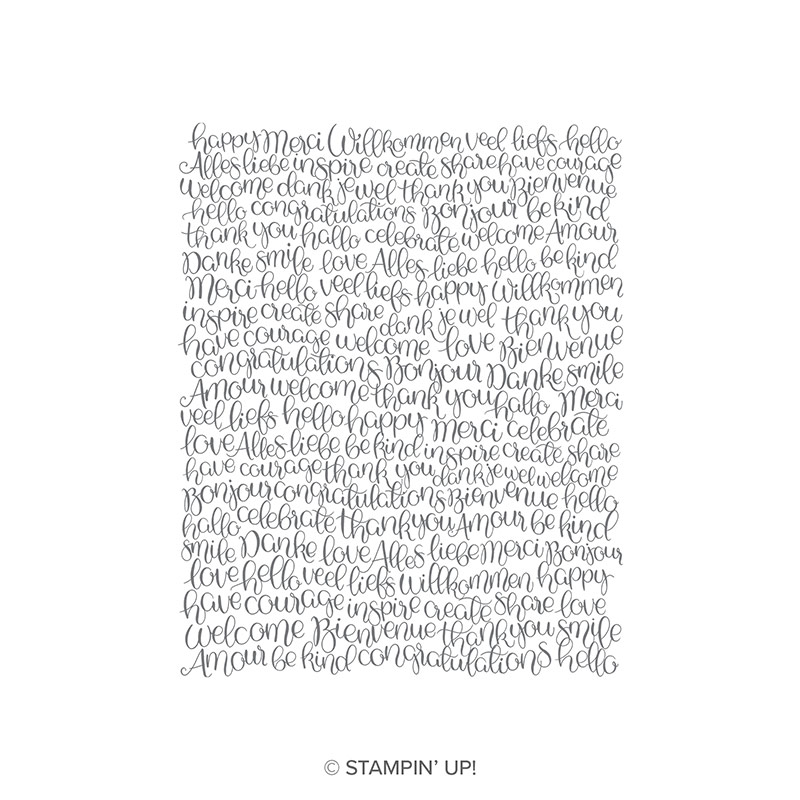 This was one of the first stamps on my wish list of items "needed" from the new catalogue – I think it may appear in my projects frequently!
The images are stamped in Smoky Slate and while this is the lightest of the grey shades, it was still too dark for what I wanted – a very pale background image – a bit like a watermark. So I "stamped off" twice before stamping on the whisper white. That means I inked up my stamp, then I stamped it once, then stamped again with re-inking, and stamped a third time without re-inking.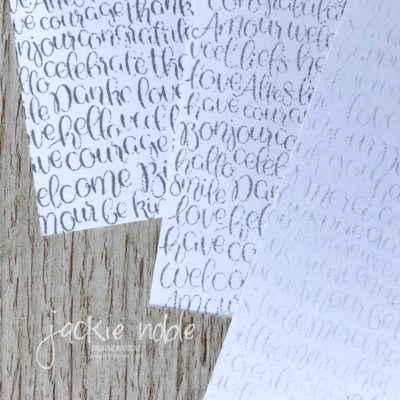 The darkest image is a "1st generation" image, the middle one is a "2nd generation" image and the palest is a "3rd generation" image. In other words – I stamped off twice before using the third image for my background. Stamping off can be used in lots of ways – this time it was used simply to get a paler image.
I also did the same for the inside of my card. As the image is so pale my writing will still be able to be read.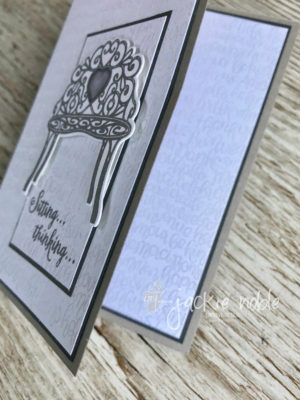 A reminder that if you are not part of the Colour INKspiration Facebook Group please do join the group. It's a place where crafters from throughout the world can share their creativity all inspired by Colour Swatch generated from a photo!.
Next up is Mel Pagano – with a great card – and a great sentiment too!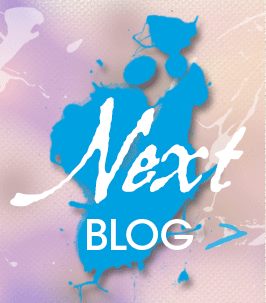 Thanks for taking part in our blog hop, there are so many amazing ideas and inspiration you don't want to miss. Remember that currently, you are at my blog Jackie Noble | creativeJax
subscribe to my Newsletter!
REMEMBER
If you live in New Zealand and would like a copy of the new catalogue, please contact me.
If you live in New Zealand and would like a demonstrator to order through – I'd love to have you join my group of crafty customers. Let's journey together! – Shop Now or contact me.

If you live in New Zealand and would like to know more about becoming a demonstrator – Check out the info HERE. I'd love to have you join my thINK Creative Team!


As always – if you wish to know anything more about info in this post, or to get a catalogue, or to join my thINK Creative Team, or to buy any of the items mentioned in the post – please contact me.
Please do use the hostess code to support creativeJax if you are ordering online!

Entering the Hostess code combines the value of online orders – which assists me to offer events and thank you's for my customers and support charities such as Ronald MacDonald House and local events where I donate product and/or classes.

The current Hostess Code can be found at the top right of my webpage.

If your order is over $300, please do not use this code as You become the hostess and get the Rewards!
If you would like to find out about joining my Stampin' Up! Team (thINK Creative) – Please do get in touch – I would love to chat to you about that.
You can receive my Blog Posts directly by email or join my monthly Newsletter group – you can subscribe using the buttons at the right of my page.
Product List