Well, how exciting is this? A new Blog Hop by the Scrapbooking Global – Stampin' Up! Facebook Group. If you are not part of the Group – check it out! It's a fabulous group for sharing Memory Keeping ideas with a focus on Stampin' Up!.
This Hop is the first in a newly planned monthly Blog Hop Challenge for members of the Group. July theme is the following sketch.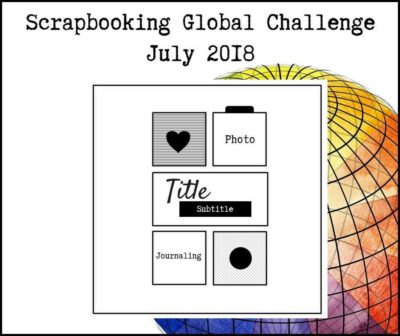 I can't wait to see what the 29 other hoppers have created! There is a list of all the participants towards the bottom of the post.
I used the sketch to create a colourful layout of a Cooking Class I attended in Phuket last year while I was there for the Stampin' Up! Incentive Trip.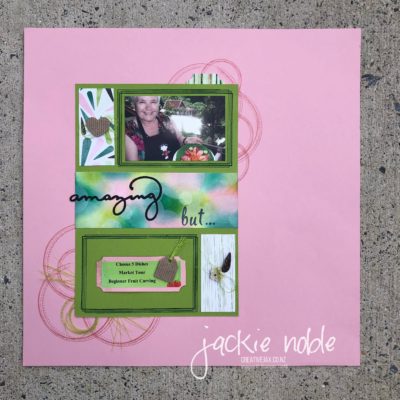 It is very timely – as I am flying out today for this year's Incentive Trip – an Alaskan Cruise! It is also why my post is short and sweet today – it's been a busy few weeks and I'm literally at the airport finishing the post and checking it goes live!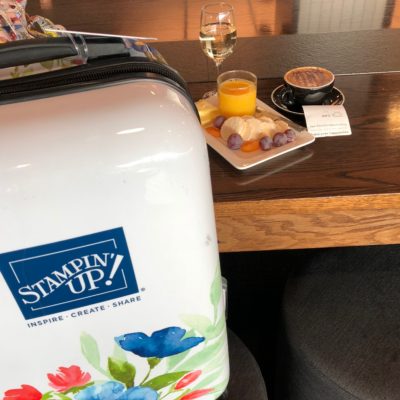 Belle and I are currently waiting for our first of 3 flights. A coffee was in order and if you check my order tab you'll see a hashtag I'll be using during the trip – on Facebook and Instagram
The sketch was lots of fun to work with and the Tropical Escape Designer Series Paper was perfect for the photos from Thailand. This is one o the papers available in the Buy 3, Get 1 Free promotion running until 31st July. Here's a few closeups.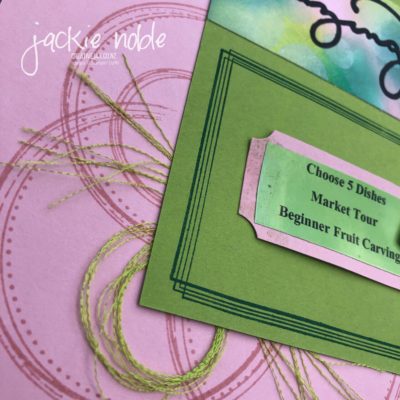 The Swirly Frames Stamp set is perfect for framing of course – but also makes a versatile background stamp! The thread under the corner (and in other elements on the page) is made from the Granny Apple Green Textured Weave Ribbon. I cut the ribbon in half lengthwise and pulled the threads out – love the wrinkle effect,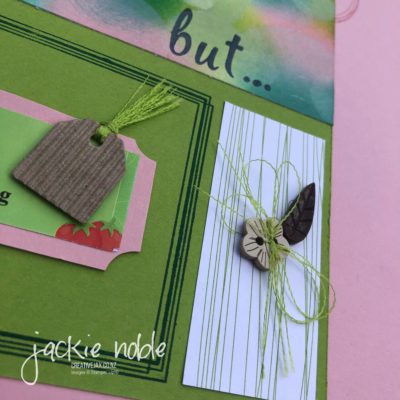 The Tropical Elements are a great addition to the layout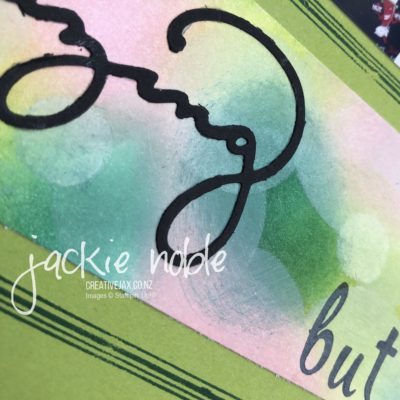 The middle portion shows the Bokeh Effect – love it with these vibrant colours !
Thanks so much for hopping by today – do check out the amazing project by the other hoppers!
Here are all the details about the two promotions Stampin' Up! is running in July! Designer Series Paper Promotion

Yes – that's right! Stampin' Up! is running this popular promotion for the month of July.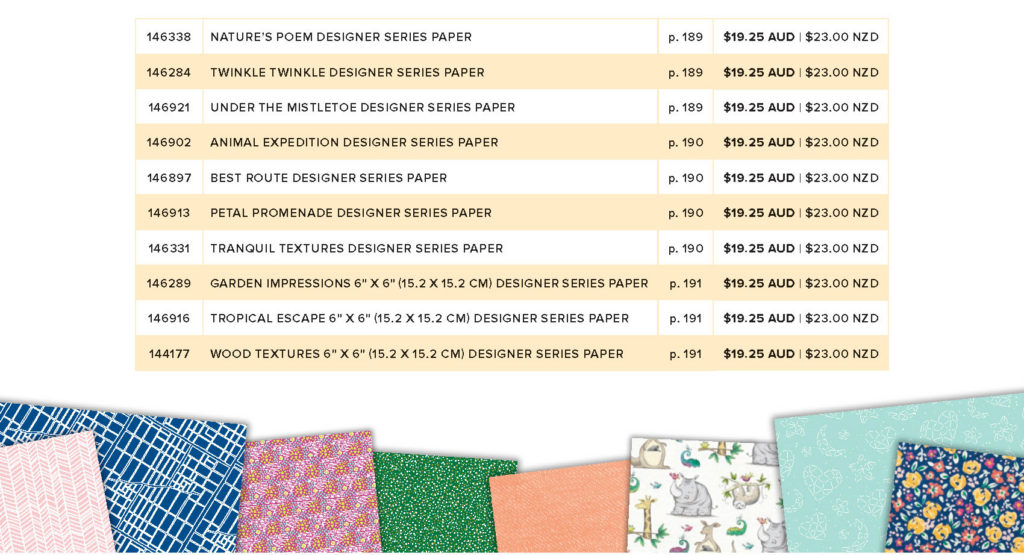 Just click on the image and you'll be in my Online Store where you can see each of the papers in more details and you can place an order there.
The other fabulous promotion running in July is the amazing opportunity to get 10 Ink Pads for FREE! and that's in addition to the other FREE product you get when you purchase a Stampin' Up! Starter Kit for $189 (New Zealand)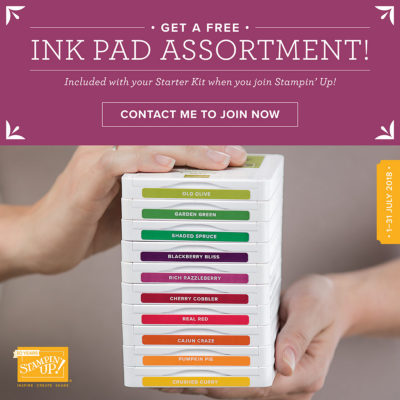 Click on the picture to find out more! Or if you are ready to purchase a Starter Kit and join my thINK Creative Team – just click the Join Now button below!
Thanks for taking part in our blog hop, there are so many amazing ideas and inspiration you don't want to miss. Remember that currently, you are at my blog Jackie Noble | creativeJax
REMEMBER
If you live in New Zealand and would like a copy of the new catalogue, please contact me.
If you live in New Zealand and would like a demonstrator to order through – I'd love to have you join my group of crafty customers. Let's journey together! – Shop Now or contact me.

If you live in New Zealand and would like to know more about becoming a demonstrator – Check out the info HERE. I'd love to have you join my thINK Creative Team!


As always – if you wish to know anything more about info in this post, or to get a catalogue, or to join my thINK Creative Team, or to buy any of the items mentioned in the post – please contact me.
Please do use the hostess code to support creativeJax if you are ordering online!

Entering the Hostess code combines the value of online orders. This assists me to offer events and thank you's for my customers. It also helps me support charities such as Ronald MacDonald House and local events where I donate product and/or classes.

Please do use the hostess code to support creativeJax if you are ordering online!

The current Hostess Code can be found at the top right of my webpage.

If your order is over $300, please do not use this code as You become the hostess and get the Rewards!
If you would like to find out about joining my Stampin' Up! Team (thINK Creative) – Please do get in touch. I would love to chat to you about that.
You can receive my Blog Posts directly by email or join my monthly Newsletter group. Subscribe using the buttons at the right of my page.