Welcome to this month's Design it with Designer Series Paper Blog Hop.
Our Design Team is made up of 11 Stampin' Up! Demonstrators from throughout the world – one from each of the countries/markets that Stampin' Up! has a presence in. We have come together to share projects focusing on the beautiful Designer Series Paper in the Stampin' Up! Catalogue.
Each month we will be featuring a different paper and our Designer Series Paper (DSP) for August is Nature's Poem. This month 9 of us are hopping together.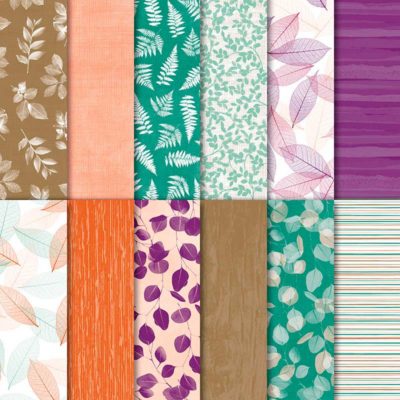 Last weekend I had the pleasure of presenting a workshop at the National Library of New Zealand for the Porirua Branch of the New Zealand Genealogy National Society. August is Family History Month and the branch had organized a day focusing on documenting family histories. I was asked to do a workshop on documenting using Creative Memory Keeping. I jumped at the chance and had a thoroughly enjoyable afternoon!
Attendees received an 8×6″ pocket page album and pack of Pocket Pages along with cardstock for the pockets and a range of embellishments and pre-punched labels.
I had put together an almost complete sample album which documented my Mum's early life – from birth to her wedding day. The album was almost entirely in neutral tone. The last page of the album was a wedding photo of Mum & Dad and I wanted that to have some colour.
The fern pattern reminded me of the New Zealand Silver fern so perfect as a background for a Kiwi Wedding. And it works in so well with the garden setting of the photos.
I added a sponged Pearlised Doilie under the corner of the matted photo for a little texture. I thought the sponging worked in well with the older photo.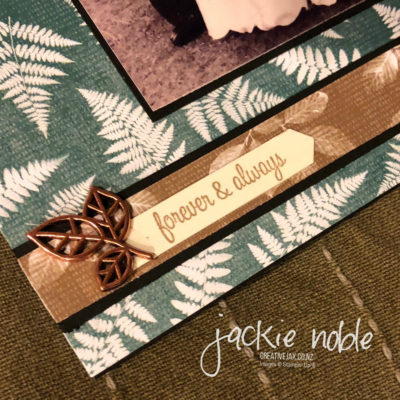 I've also matted a strip of one of the other papers from the Nature's Poem DSP – it is in Soft Suede but almost looks like a sepia tone. The sentiment is from Itty Bitty Greetings and is punched out with the Classic Label Punch.
And that Copper leaf is one of the Leaves Trinkets which coordinate with the Nature's Poem Suite.
I am so happy with how the page turned out and the Nature's Poem DSP was perfect to display such a precious photo on.
And here's a peek at what the outside and an inside page of the album looked like.
Now it's time to see what the rest of the Design Team has made using the Nature's Poem DSP. What a great global collection of demos! Make sure to visit everyone to see all the fun things you can do with this paper.

REMEMBER
If you live in New Zealand and would like a copy of the new catalogue, please contact me.
If you live in New Zealand and would like a demonstrator to order through – I'd love to have you join my group of crafty customers. Let's journey together! – Shop Now or contact me.

Anyone who purchases of $NZ50 of Stampin' Up! product from me in a month will receive the Tutorial Bundle for Free. This Bundle contains 13 pdf tutorials from demonstrators throughout the world and will be emailed directly to you.
If you live in New Zealand and would like to know more about becoming a demonstrator – Check out the info HERE. I'd love to have you join my thINK Creative Team!


As always – if you wish to know anything more about info in this post, or to get a catalogue, or to join my thINK Creative Team, or to buy any of the items mentioned in the post – please contact me.
Please do use the hostess code to support creativeJax if you are ordering online!

Entering the Hostess code combines the value of online orders – which assists me to offer events and thank you's for my customers and support charities such as Ronald MacDonald House and local events where I donate product and/or classes.

The current Hostess Code can be found at the top right of my webpage.

If your order is over $300, please do not use this code as You become the hostess and get the Rewards!
If you would like to find out about joining my Stampin' Up! Team (thINK Creative) – Please do get in touch – I would love to chat to you about that.
You can receive my Blog Posts directly by email or join my monthly Newsletter group – you can subscribe using the buttons at the right of my page.