Timeless Tulips
Hello and Welcome to the January  Home Decor Stampin' Up! Style Blog Hop.
Those hopping today are Stampin' Up!® Demonstrators from all around the world who enjoy making home decor items using current Stampin' Up! Products and this month's theme was open for the hop participants to choose themselves.
I'm featuring the Timeless Tulips Bundle in a clean and simple project today.
Vase of Timeless Tulips
I have created a vase of tulips using both InColor Collections.
This project was kept really simple – as this was a quick project to have as part of my displays at my catalogue launches over the weekend.
Crafting time has been limited in the leadup to these launches which were postponed from earlier in the month due to my Dad passing away. So while I would have usually added ribbons and some other embellishments, I decided the quick simple look actually highlighted the tulips. And I got lots of comments and questions about them at the launches – so I'm really pleased I left them as in and included them in my displays.
Project Details
(Note: see the Product List below for images & links to more information about the items)
Stamp sets: Timeless Tulips
Paper/card:   2018-2020 InColors,  2019-2021 In Colors
Ink: 2018-2020 InColors, 2019-2021 In Colors, Highland Heather
Tools: Tulip Builder Punch
Non-Stampin' Up! Items: Mini Terracotta Pot, Florist Wire, Florist Foam, Planting Moss
 Additional Project Photos
Here's a couple of closer shots so you can see that each tulip is made up of six punched tulip shapes which have been stamped.
To construct these,  I cut and stamped six petals for each flower. Then I folded them in half, applied Tombow Multipurpose glue. and stuck them together – wrong sides together. I did two sets of three petals, then put a piece of Tear & Tape on one half to secure the stem (Florist wire).
There are two stamped leaves attached with glue dots on each stem.
The Mini pot had some florist foam placed inside. The tulip stems were pushed into the foam and then some planting moss was spread around the surface.
Even the Purple Posy Tulip is stamped. You may be wondering how I did that as the Purple Posy Ink Pad and Refill have been discontinued. Easy Peasy – you can use Highlander Heather – just stamp it off on scrap paper to lighten the colour before stamping your project.
The colour and lighting are not great – but if you look in the photo below of my launch party display you may notice there are no leaves on the tulips! I didn't get time to add them before the launches this weekend – but I another launch party coming up in Napier and several other events – so I've added them now!
Now it's time to see what projects the other blog hop participants have shared today.
And if you'd like to see another of my Home Decor items – check out my Parisian Memory Box Here
Until next time
Jackie aka CreativeJax
The New 2020  Mini Catalogue is now Live.  Click on the photo below to see all the fabulous items now available. If you live in New Zealand and don't have a catalogue – contact me now.
Shop online or contact me to place your order.
SaleABration – Join
You can earn a FREE product every time your spend reaches a set threshold during Sale-A-Bration.
There will be two thresholds.
Most of the FREE product can be earned at the Level 1 threshold of $110 (NZD),  with a couple at the higher Level 2 threshold of $220 (NZD)
| | |
| --- | --- |
| LEVEL 1 | LEVEL 2 |
| $110 | $220 |
You will have flexibility in what you would be able to choose.
For example, if you spend $330 (NZD), you can then choose three level 1's, or one level 1 and one level 2.
SaleABration – Join
Joining Stampin' Up! by purchasing the Starter Kit is always a great idea and a fabulous deal – but during Sale-A-Bration the deal is even sweeter than usual!
More FREE product is included in each fully customisable Starter Kit – for $189 you will be able to choose the usual $285 worth of Stampin' Up! product.
You will also get:
a FREE Mini Guillotine Trimmer
FREE 6×6″ Designer Series Paper (a pack of 48 sheets)
one FREE Stamp Set of your choice (excludes SAB & Hostess Sets)
I'd love to have you as part of the Team!
SaleABration – Host
Whenever an order reaches $300, you begin to earn Stampin' Rewards.
For example, if your order totals $330 during Sale-A-Bration (SAB), you will earn both regular Stampin' Rewards of $33 (10% of $330) – and you'll also earn the equivalent of three FREE Level 1 SAB items as outlined above.
But during SAB there is the chance to earn a gorgeous exclusive Stamp Set – Little Ladybug as an additional Host reward when an order totals $575 or more.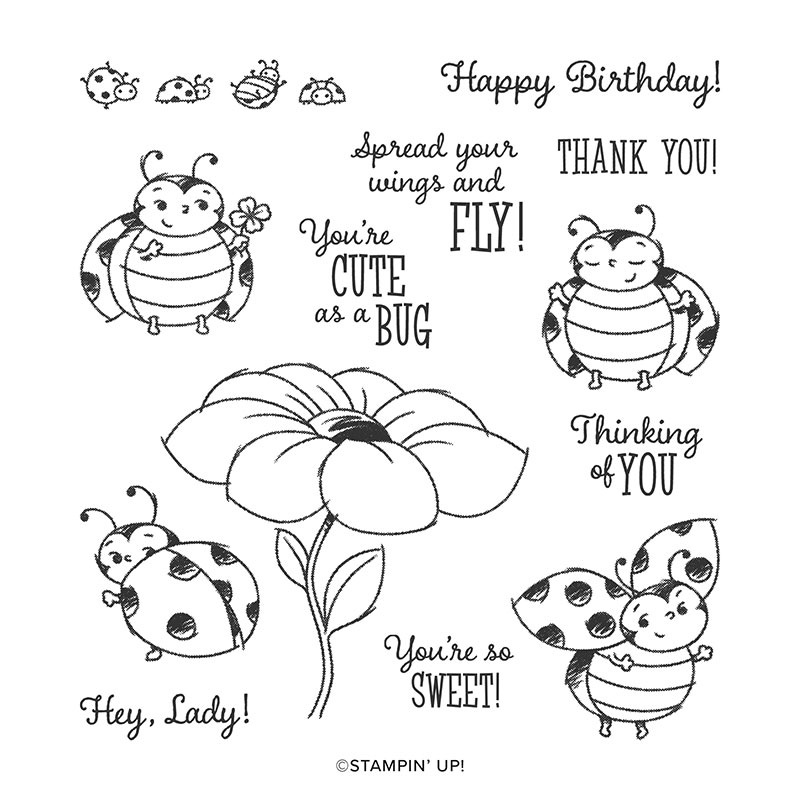 An order this size also qualifies for $69 in Stampin' Rewards which you can spend on any Stampin' Up! product – including Host Stamps – but not SaleABrations sets. But the order could have earned up to 5 SaleABration items already!
You could earn this set (and all the resulting Stampin' Rewards) if your personal order qualifies, or if you host a party and total sales from your party qualify, or if your gather orders from your friends which combined reach the qualifying amount.
Talk to me about hosting during SaleABration!
If you live in New Zealand and would like a copy of the new catalogue, please contact me.
If you live in New Zealand and would like a demonstrator to order through – I'd love to have you join my group of crafty customers. Let's journey together! – Shop Now or contact me.
If you live in New Zealand and would like to know more about becoming a demonstrator – Check out the info HERE.  I'd love to have you join my thINK Creative Team!
As always – if you wish to know anything more about info in this post, or to get a catalogue, or to join my thINK Creative Team, or to buy any of the items mentioned in the post – please contact me. 
Or you can shop 24/7 at my online Stampin' Up! shop – the table below shows you what products I used. Just click on each to see more information.
Product List
If you are ordering online please use the current Hostess Code to support creativeJax 
Entering the Hostess code combines the value of online orders – which assists me to offer events and thank you's for my customers and support charities and local events where I donate product and/or classes.
You can find the Current Hostess Code in the box at the top right of my webpage.
If your order is over $300 though please DO NOT use the Hostess Code as you become the hostess and get the Rewards with your order!
If you would like to find out about joining my Stampin' Up! Team (thINK Creative) –
Please do get in touch – I would love to chat with you about that.