Hearts of Friendship
"Follow your heart: it will take you to incredible places" – Team New Year card
Welcome to January's Stampin' Creative Global Blog Hop. 
Our Design Team is made up of Stampin' Up! Demonstrators from throughout the world and we love blogging together each month to share new Creative projects with you all. You're currently with Jackie Noble – aka CreativeJax – in Porirua, New Zealand.
This month's theme is Hearts of Friendship.
There is lots of inspiration and many products in the 2020 January – June Mini Catalogue that work with this theme.
The "From my Heart Suite"  is a gorgeous suite based all around hearts – but there are many others in the catalogue that fit the theme perfectly too. I did some mixing and matching with sentiments from other stamp sets to create a card for all my Team members to see in the New Year.
Follow your Heart New Year Team Card
Project Details
Note: see the Product List at the bottom of my post for images & links to more information about the item(s)
Stamp sets: Parisian Beauty, Music from the Heart
Paper/card:
Flirty Flamingo  –  Card Base 21cm x 14.8cm scored at 7.4cm on the short side
Whisper White – Sentiment 9cm x 2cm
Flirty Flamingo – Mat for sentiment 9.3cm x 2.3cm
From My Heart Specialty Designer Series Paper (DSP) – heart punched from DSP with the scalloped edged punch
From My Heart Specialty Designer Series Paper (DSP)- 5cm x 3.7cm
Real Red – Mat for DSP 15.3cm x 4cm
Whisper White – Inside card 20.6cm x 7cm
Ink: Real Red
Accessories: Clear Epoxy Hearts
Tools: Heart Punch Pack
 Additional Project Photos

Inside the card was a sentiment from the Music from the Heart stamp set which I know I'm going to get a lot of use from!
I used two different patterns of DSP on the card fronts and there were two different coloured hearts to punch out. Apart from that – all the team cards were the same.
Second Project
I've used the same design to make a Valentine Day Card – can you guess who it's for?
A perfect sentiment for one music lover from another music lover.
Now it's time to see what projects the other members of the Design Team have shared today in our Hearts of Friendship Hop!

Until next time
Jackie aka CreativeJax
The New 2020  Mini Catalogue is now Live.
Click on the photo below to see all the fabulous items now available.
If you live in New Zealand and don't have a catalogue – contact me now.
Shop online or contact me to place your order.
SaleABration – Join
You can earn a FREE product every time your spend reaches a set threshold during Sale-A-Bration.
There will be two thresholds.
Most of the FREE product can be earned at the Level 1 threshold of $110 (NZD),  with a couple at the higher Level 2 threshold of $220 (NZD)
| | |
| --- | --- |
| LEVEL 1 | LEVEL 2 |
| $110 | $220 |
You will have flexibility in what you would be able to choose.
For example, if you spend $330 (NZD), you can then choose three level 1's, or one level 1 and one level 2.
SaleABration – Join
Joining Stampin' Up! by purchasing the Starter Kit is always a great idea and a fabulous deal – but during Sale-A-Bration the deal is even sweeter than usual!
More FREE product is included in each fully customisable Starter Kit – for $189 you will be able to choose the usual $285 worth of Stampin' Up! product.
You will also get:
a FREE Mini Guillotine Trimmer
FREE 6×6″ Designer Series Paper (a pack of 48 sheets)
one FREE Stamp Set of your choice (excludes SAB & Hostess Sets)
I'd love to have you as part of the Team!
SaleABration – Host
Whenever an order reaches $300, you begin to earn Stampin' Rewards.
For example, if your order totals $330 during Sale-A-Bration (SAB), you will earn both regular Stampin' Rewards of $33 (10% of $330) – and you'll also earn the equivalent of three FREE Level 1 SAB items as outlined above.
But during SAB there is the chance to earn a gorgeous exclusive Stamp Set – Little Ladybug as an additional Host reward when an order totals $575 or more.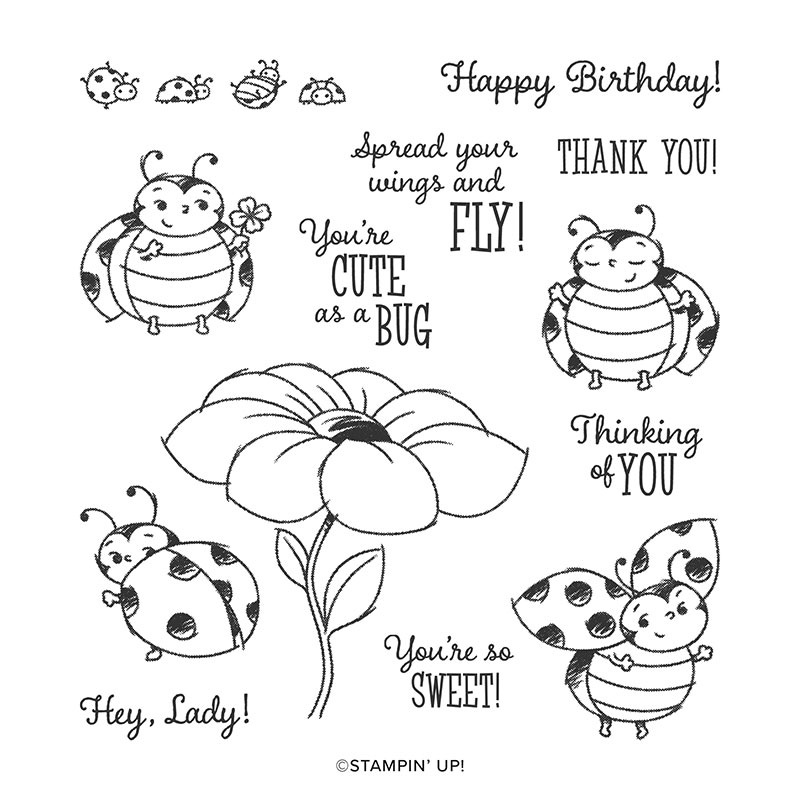 An order this size also qualifies for $69 in Stampin' Rewards which you can spend on any Stampin' Up! product – including Host Stamps – but not SaleABrations sets. But the order could have earned up to 5 SaleABration items already!
You could earn this set (and all the resulting Stampin' Rewards) if your personal order qualifies, or if you host a party and total sales from your party qualify, or if your gather orders from your friends which combined reach the qualifying amount.
Talk to me about hosting during SaleABration!
Christmastime is Here Suite of Products
If you missed getting this amazing suite before Christmas – don't panic – it is still available!
Here's a look at all the elements in the suite
Contact me to order – or
purchase online
and bonus – these products now earn you FREE SaleABration product too!
REMEMBER
If you live in New Zealand and would like a copy of the new catalogue, please contact me.
If you live in New Zealand and would like a demonstrator to order through – I'd love to have you join my group of crafty customers. Let's journey together! – Shop Now or contact me.
If you live in New Zealand and would like to know more about becoming a demonstrator – Check out the info HERE.  I'd love to have you join my thINK Creative Team!
As always – if you wish to know anything more about info in this post, or to get a catalogue, or to join my thINK Creative Team, or to buy any of the items mentioned in the post – please contact me. 
Or you can shop 24/7 at my online Stampin' Up! shop – the table below shows you what products I used. Just click on each to see more information.
Product List
If you are ordering online please use the current Hostess Code to support creativeJax 
Entering the Hostess code combines the value of online orders – which assists me to offer events and thank you's for my customers and support charities and local events where I donate product and/or classes.
You can find the Current Hostess Code in the box at the top right of my webpage.
If your order is over $300 though please DO NOT use the Hostess Code as you become the hostess and get the Rewards with your order!
If you would like to find out about joining my Stampin' Up! Team (thINK Creative) –
Please do get in touch – I would love to chat with you about that.