Simple Stamping doesn't have to be boring! Check out this 3D effect.
Hello and Welcome to the Totally Techniques Blog Hop!  I'm Jackie Noble from Porirua in New Zealand.
I'm super excited to join this International Design Team. I felt so honoured when Zoe Tant talked to me about it while we were in Germany at OnStage Live last November. I've followed the Totally Techniques Blog Hop for several years and have got heaps of inspiration from the projects shared over that time by many amazing Demonstrators from around the world!
This month, our featured technique is Simple Stamping. While it is the theme for our January Blog Hop – because of the time difference – it's already February here in New Zealand!
Beautifully Braided meets Simple Stamping
I love several of the images in the Beautifully Braided Stamp set and have chosen two ( plus a sentiment) to be the focus on my #simplestamping project – the large botanical image and the long narrow strip pattern.
The long narrow stamp is used to create a frame for the botanical image. I've also done some offset stamping of the botanical image to give the illusion of a 3D effect. Photopolymer stamps make it so easy to do this,
Project Details
(Note: see the Product List below for images & links to more information about the items)
Stamp sets: Beautifully Braided
Paper/card:   Mint Macaron, Very Vanilla
Ink: Mint Macaron, Early Espresso, Soft Seafoam
Accessories: Basic Adhesive-Backed Sequins
Non-Stampin' Up! Items: Post-it notes
Additional Project Photos
I stamped the large image in Mint Macaron (above) and then again in Soft Seafoam (below). When I stamped it, I offset the Soft Seafoam image a little to give a 3D look.
I wanted to make frame around the top part of the botanical image.
To work out how much of the stamp I needed to ink up to go across the top of the frame,  I used the image on the clear sheet that the stamps come on. By positioning this sheet across the stamped image on my Very Vanilla, I could see how many of the pattern pieces I needed to ink up. So using Early Espresso, I inked up five patterns which I then stamped the along the top of my cardstock. Next I Inked up six patterns which were stamped down the sides and lastly the bottom of the frame. For the bottom part of my frame I only needed one of the patterns on one side, and two on the other.
The sentiment is stamped in Early Espresso and then in Soft Sea Foam that is again offset slightly.. Once the stamping was finished, the Very Vanilla was stuck to the front of the card base.
As usual – I like carrying elements from the front of my card through to the inside.  This time I stamped the image I'd used for the frame onto the bottom right corner.
Now it's time to see what projects the other blog hop participants have shared today.
You are invited to the Inlinkz link party!
Until next time
Jackie aka CreativeJax
The New 2020  Mini Catalogue is now Live.  Click on the photo below to see all the fabulous items now available. If you live in New Zealand and don't have a catalogue – contact me now.
Shop online or contact me to place your order.
SaleABration – Join
You can earn a FREE product every time your spend reaches a set threshold during Sale-A-Bration.
There will be two thresholds.
Most of the FREE product can be earned at the Level 1 threshold of $110 (NZD),  with a couple at the higher Level 2 threshold of $220 (NZD)
| | |
| --- | --- |
| LEVEL 1 | LEVEL 2 |
| $110 | $220 |
You will have flexibility in what you would be able to choose.
For example, if you spend $330 (NZD), you can then choose three level 1's, or one level 1 and one level 2.
SaleABration – Join
Joining Stampin' Up! by purchasing the Starter Kit is always a great idea and a fabulous deal – but during Sale-A-Bration the deal is even sweeter than usual!
More FREE product is included in each fully customisable Starter Kit – for $189 you will be able to choose the usual $285 worth of Stampin' Up! product.
You will also get:
a FREE Mini Guillotine Trimmer
FREE 6×6″ Designer Series Paper (a pack of 48 sheets)
one FREE Stamp Set of your choice (excludes SAB & Hostess Sets)
I'd love to have you as part of the Team!
SaleABration – Host
Whenever an order reaches $300, you begin to earn Stampin' Rewards.
For example, if your order totals $330 during Sale-A-Bration (SAB), you will earn both regular Stampin' Rewards of $33 (10% of $330) – and you'll also earn the equivalent of three FREE Level 1 SAB items as outlined above.
But during SAB there is the chance to earn a gorgeous exclusive Stamp Set – Little Ladybug as an additional Host reward when an order totals $575 or more.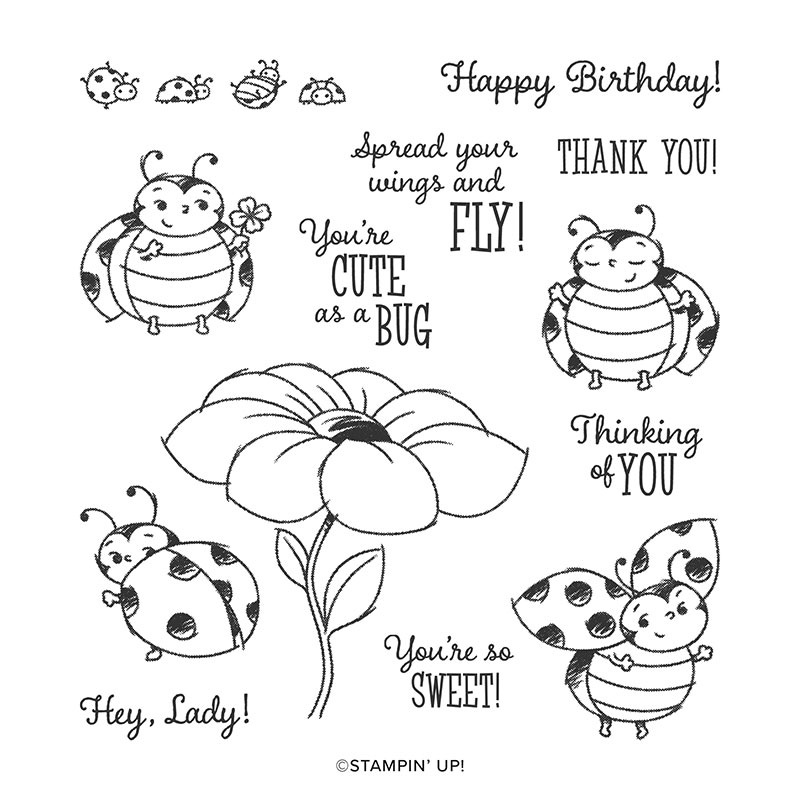 An order this size also qualifies for $69 in Stampin' Rewards which you can spend on any Stampin' Up! product – including Host Stamps – but not SaleABrations sets. But the order could have earned up to 5 SaleABration items already!
You could earn this set (and all the resulting Stampin' Rewards) if your personal order qualifies, or if you host a party and total sales from your party qualify, or if your gather orders from your friends which combined reach the qualifying amount.
Talk to me about hosting during SaleABration!
If you live in New Zealand and would like a copy of the new catalogue, please contact me.
If you live in New Zealand and would like a demonstrator to order through – I'd love to have you join my group of crafty customers. Let's journey together! – Shop Now or contact me.
If you live in New Zealand and would like to know more about becoming a demonstrator – Check out the info HERE.  I'd love to have you join my thINK Creative Team!
As always – if you wish to know anything more about info in this post, or to get a catalogue, or to join my thINK Creative Team, or to buy any of the items mentioned in the post – please contact me. 
Or you can shop 24/7 at my online Stampin' Up! shop – the table below shows you what products I used. Just click on each to see more information.
Product List
If you are ordering online please use the current Hostess Code to support creativeJax 
Entering the Hostess code combines the value of online orders – which assists me to offer events and thank you's for my customers and support charities and local events where I donate product and/or classes.
You can find the Current Hostess Code in the box at the top right of my webpage.
If your order is over $300 though please DO NOT use the Hostess Code as you become the hostess and get the Rewards with your order!
If you would like to find out about joining my Stampin' Up! Team (thINK Creative) –
Please do get in touch – I would love to chat with you about that.