Lots of circles – stamped and die-cut – create an Eclectic Birthday Card for Colour INKspiration #28.
Welcome!

This week we have a fabulous Pinterest-inspired colour palette to work with, courtesy of the talented Kelly Kent.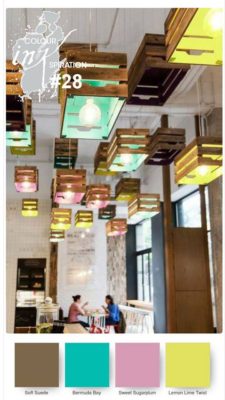 I love how that, at first glance, this image appears upside down!
The crew is kicking off with a Blog Hop this evening and it is great to have Cathy Pinchbeck join us as a guest designer.
If you have been hoppin' along – you will have come from the awesome Rebecca Scurr. What a beauty of a project – Awesome!
A reminder that if you are not part of the Colour INKspiration Facebook Group please do join the group. It's a place where crafters from throughout the world can share their creativity all inspired by a Pinterest Inspired Colour Swatch.
I took some inspiration from the image itself – as well as the Colour Palette – those round bulbs caught my eye!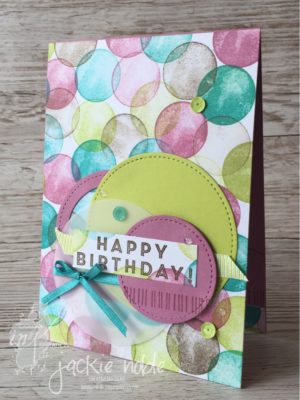 Using the circle image from the Eclectic Expressions stamp set, I've randomly stamped all over a 10.5cmx14.8cm piece of Whisper White – the front panel of the card. Eclectic Expression is a new SaleABration stamp set which was released on 16th February. Just when you thought SAB couldn't get any better – Stampin' Up! introduced some new FREE items that you can earn. This set has some great background and abstract images.
The stamped Whisper White cardstock was adhered to the Sweet Sugarplum card base.
Several circles, cut using the Stitched Framelits and the Layering Circle Dies, were then arranged onto the front. I tied some Bermuda Bay Ribbon (SAB) around the Vellum circle and also added a piece of Lemon Lime Twist Mini Striped Ribbon.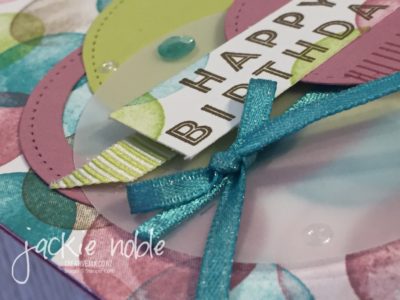 The sentiment is stamped in Soft Suede and attached to the Sweet Sugarplum circle. The last touches were to add some Tutti-Fruitti Sequins. The Lemon Lime Twist one was a great match, and I coloured a pale blue one with the Bermuda Blends to also coordinate. And the little Glitter Expoxy Shapes add a little sparkle!
As always – I've decorated the inside of the card.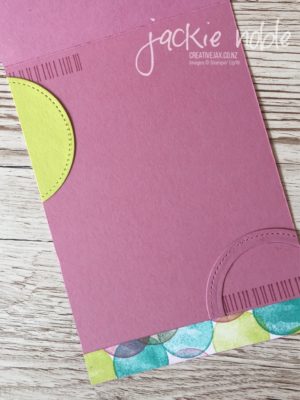 More circle and a few lines! Hubby Roy reckoned he'd like this as a card front too!
I did have fun making this eclectic birthday card – hope you've enjoyed learning about it.
If you'd like to make this – or other projects – you can purchase products at my Online Store and earn the Eclectic Expressions set for FREE. Don't forget to use the current Hostess code which you can find over there on the top right of the page.
I was lucky enough to spend the past weekend with our next Blogger – Jacque Williams – at her annual Team Stamp Camp in Rotorua. Always a great weekend with my Stampin' Up! Family! Belle came along too and meet some of her family as there were other team members who earned the luggage reward from Stampin' Up!
Emma Parkin-Wilson, our Demonstrator Development Manager also joined us for the weekend at camp. It was a fun and inspiration filled couple of days!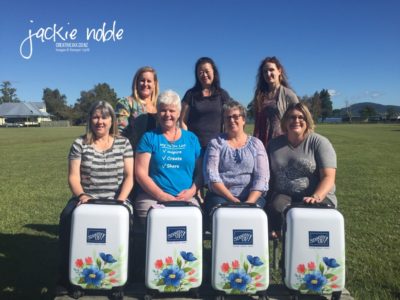 This photo contains three generations of the four uplines that sit between me and Stampin' Up! – so there are four out of five generations of the family present! Myself, Kristine, Rachael and Jacque. Missing is Patrice. And these five generations hold the Top Five Overall Rankings in New Zealand – what a lineage! And two of my more distant Stampin' Up! relatives, Karen and Paula are ranked 6th and 8th!
As an aside – I missed the last colour INKspiration Blog Hop as I was away – but I had made a project before I left – just didn't get to post it. So here it is:
Now, it's time to hop on over to Jacque William's blog and check out her gorgeous card.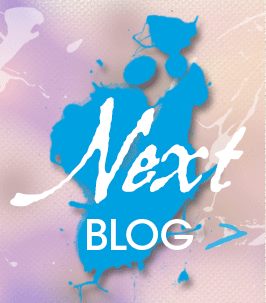 Thanks for taking part in our blog hop, there are so many amazing ideas and inspiration you don't want to miss. Remember that currently, you are at my blog Jackie Noble | creativeJax
subscribe to my Newsletter!
REMEMBER
If you live in New Zealand and would like a copy of the new catalogue, please contact me.
If you live in New Zealand and would like a demonstrator to order through – I'd love to have you join my group of crafty customers. Let's journey together! – Shop Now or contact me.

If you live in New Zealand and would like to know more about becoming a demonstrator – Check out the info HERE. I'd love to have you join my thINK Creative Team!


As always – if you wish to know anything more about info in this post, or to get a catalogue, or to join my thINK Creative Team, or to buy any of the items mentioned in the post – please contact me.
Please do use the hostess code to support creativeJax if you are ordering online!

Entering the Hostess code combines the value of online orders – which assists me to offer events and thank you's for my customers and support charities such as Ronald MacDonald House and local events where I donate product and/or classes.

The current Hostess Code can be found at the top right of my webpage.

If your order is over $300, please do not use this code as You become the hostess and get the Rewards!
If you would like to find out about joining my Stampin' Up! Team (thINK Creative) – Please do get in touch – I would love to chat to you about that.
You can receive my Blog Posts directly by email and/or join my Newsletter group.