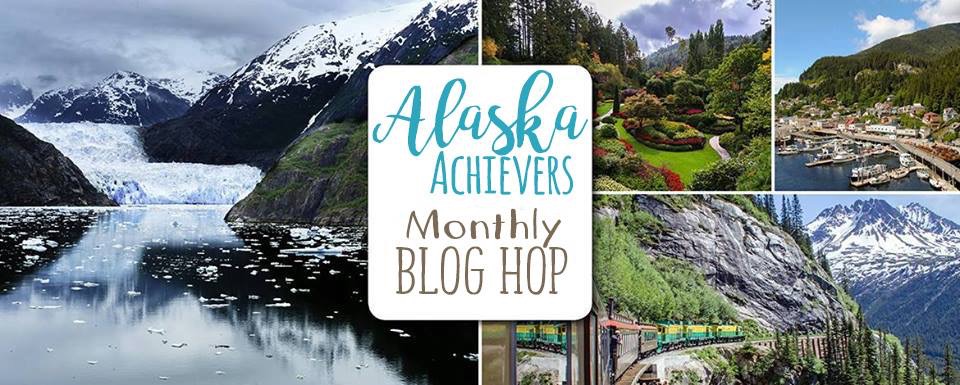 Hello!!
Thank you for joining us for this month's Alaska Achievers blog hop! Those hopping today are all Stampin' Up!® Demonstrators from all around the world who have met the requirements, and earned the amazing Stampin' Up! Incentive trip – while everyone can try, only a limited number of demos (less than 1% of all demonstrators) reach the level required to earn the trip each year.
We hop together once a month to show you ideas and designs using current Stampin' Up!® products. I missed the January Hop as I was on Vacation in Canada and the USA – but did get to hop through blogs and found so much creative inspiration!
I'm sharing my swap I made for our Team Stamp Camp held last weekend.
The swap features the "Black Ice" Technique by Melissa Kerman. I'm such a fan of copper that I used the Copper Foil Sheets in my project and teamed it with the images from Petal Pallete and some Copper Trim.
Here's a close up.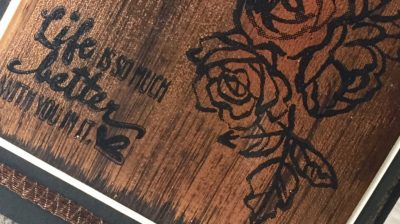 And the inside of my card.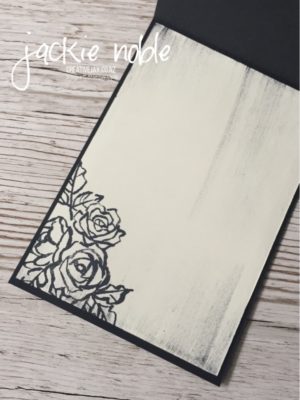 The Petal Passion Suite is a real stunner – one of my favoutirtes from the Occasions Catalogue. You can check it out the suite HERE. And remember during SaleABration you earn FREE Stampin' Up! product with qualifying purchases so it's a perfect time to shop!
While I was making the greeting card, I knew it would look great as a filler pocket card with some of the photos I'd taken at the Grand Canyon on our recent trip. So I've also made a 12×12″ pocket page to share today.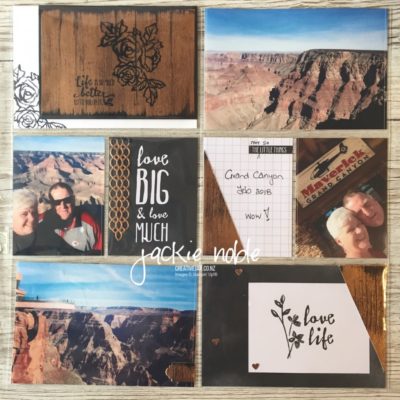 The coordinating Petal Passion Memories and More Card Pack had cards that worked really well not only with the card I'd made – but also with our memories from our time at the Grand Canyon.
I made some of the embellisments using the Petals and More Framelit Dies – you can see some in these closeups.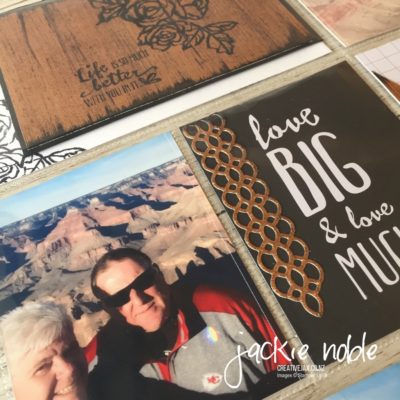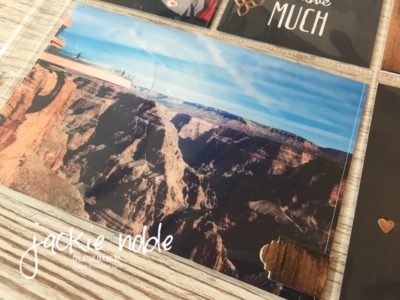 If you read my post in the December Achievers' Blog Hop, you may remember Belle (my beautiful suitcase I received from Stampin' Up!) Well … Belle came on vacation with us to North America. Here are a few of the places she made it in front of the camera lens!
Zion
Kanab – with Josh and in the rubber offcuts at the playground!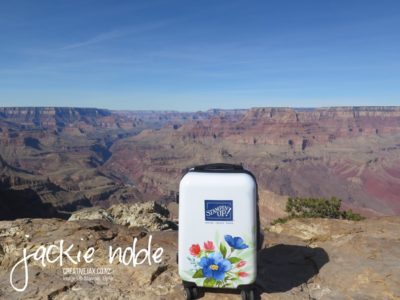 Grand Canyon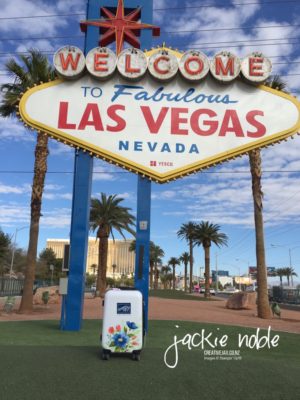 Las Vegas
She also made the road trip to Stamp Camp in Rotorua this past weekend! Stamp Camp is an annual event for members of Jacque Williams' team and any of their downline – so one big Stampin' Up! family!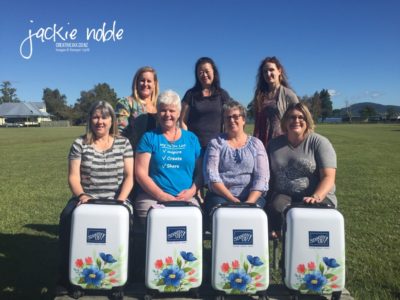 Our Stampin' Up! Demonstrator Development Manager, Emma Parkin-Wilson joined us for the weekend camp. The photo is of Emma with those members of the team who earned one of the stunning pieces of luggage that Stampin' Up! rewarded Achievers with late last year. What a crew!
Belle was super excited that she got to meet several of her fellow family members!
Thank you for joining us today – we are so happy that you are taking part in our blog hop. Make sure that you don't miss out on one blog as there are some incredible designs you are going to see today to inspire you.

REMEMBER
If you live in New Zealand and would like a copy of the new catalogue, please contact me.
If you live in New Zealand and would like a demonstrator to order through – I'd love to have you join my group of crafty customers. Let's journey together! – Shop Now or contact me.

If you live in New Zealand and would like to know more about becoming a demonstrator – Check out the info HERE.  I'd love to have you join my thINK Creative Team!

As always – if you wish to know anything more about info in this post, or to get a catalogue, or to join my thINK Creative Team, or to buy any of the items mentioned in the post – please contact me.
Please do use the hostess code to support creativeJax if you are ordering online!  

Entering the Hostess code combines the value of online orders – which assists me to offer events and thank you's for my customers and support charities such as Ronald MacDonald House and local events where I donate product and/or classes.

The current Hostess Code can be found at the top right of my webpage.

If your order is over $300, please do not use this code as You become the hostess and get the Rewards!
If you would like to find out about joining my Stampin' Up! Team (thINK Creative) –  Please do get in touch – I would love to chat to you about that.
You can receive my Blog Posts directly by email or join my monthly Newsletter group –  you can subscribe using the buttons at the right of my page.