A reflection card seems appropriate as SaleABration comes to an end, and I reflect on the fabulousness of Stampin' Up! This waterfront card is full of symbolism!

Hello and welcome to CASEing the Catty Blog Hop and Sunday Challenge.
Whether you're joining the Hop here at CreativeJax with Jackie Noble, or if you've hopped on over from Sandra Collett – a big WELCOME!
CTC171 – SaleABration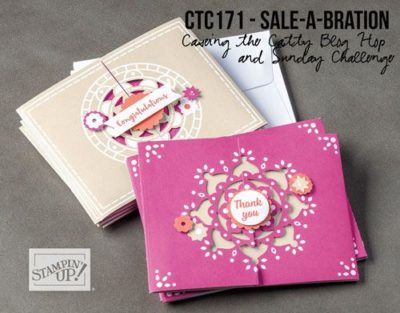 This week the CTC Crew are CASE-ing SaleABration (SAB) projects for the last time as we are in the final days of SaleABration.
SaleABration finishes in less than a week – on 31st March! It's a great time to stock up and earn FREE things!
(If you're not sure what CASEing the Catty (CTC) is all about, there is more information about the challenge group further down in my post.)
SaleABration? Well that's Stampin' Up!'s Annual sales event where we all can earn FREE – exclusive – products.
Running from early January to the end of March it is a SAle with a difference.
During SAB – Stampin' Up!'s high-quality products are not actually discounted – rather, you earn additional – FREE – products with qualifying purchases. Here in New Zealand, a qualifying order is $NZ110.
Stampin' Up! also shook things up a little this year during SAB as there were more expensive items which could be earned at a higher qualifying level – $NZ220.
They also gave everyone the opportunity to earn a selected range of current products. What a great range of options!
An aside – some Reflections
Maybe it's because we are coming to the end of the financial year here in New Zealand – but as I mentioned above – I've been reflecting on my Stampin' Up! business a little.
Those SAB numbers got me thinking. Maybe at first glance, they seem quite a high level to qualify for a FREE item.
But as I reflected on what drew me to Stampin' Up! in the first place I decided, no … they are reasonable.
After all – it was the really high-quality products at prices that weren't priced out of this world – definitely not cheap – but not exorbitant – that appealed to me. Products and colours that work together so well!
I loved it that the stamps made beautiful images and that they lasted – I considered them an investment!
The backup service and the access to a wonderful demonstrator – aka personal crafting coach – was what kept me buying Stampin' Up! products.
I guess becoming a Demo grew out of those features – and also from
the desire
to be part of the ethical company that Stampin' Up! is.
Those characteristics haven't changed – a Stampin' Up! product is a high-quality product backed by an ethical company.
Visiting the manufacturing plant in Kanab (Utah, USA) last month, and seeing the contribution that the company makes to the community where the company started, as well as the way it treats its global demonstrators and service it gives to all its customers, has really reinforced my support for the values that Stampin' Up! has at the core of its business model!
The company motto is called the "Statement of the Heart" and it really does give an insight into what drives the company – and demonstrators around the globe!
… so much more than just a stamp or a die or a pack of cardstock.
I guess visiting the home of Stampin' Up! made me reflect on my "whys" – and I wanted to share some of that with you all!
Details of my Waterfront CASE
Right – back to CTC171 – I've CASE'd the following card – found on page four of the original SaleABration Brochure.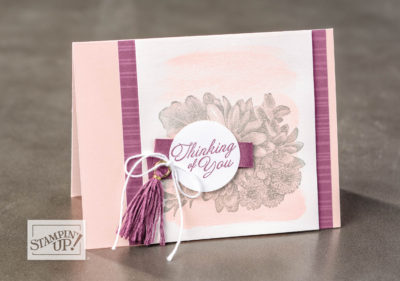 Here's my card – featuring the Waterfront stamp set, and the reflection technique.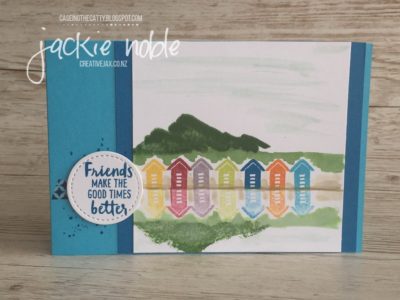 As you can see I've kept the layout the same as I loved the offset of the original.
I've used the Waterfront Stamp set from the Occasions catalogue.
It is such a versatile stamp set and there is a huge number of cards that have been posted using it!
If you search "Stampin' Up! Waterfront" on Pinterest you'll find all sorts of cards and different techniques. Many cards made with the Waterfront images are truly works of art!
Making my card
Firstly, on a piece of Whisper White, I drew a thin line with my Crumb Cake Stampin' Marker where I wanted the "line of refection" to be. The images above this line would be reflected in the water below.
I then used the little house from the Waterfront set to make the colourful boatsheds. As the images are almost symmetrical, I could stamp once, then rotate through 180 degrees and stamp again without reinking to get the reflection.
The hill was stamped onto the Whisper White, reinked and stamped onto a piece of Window Sheet. I then flipped that over and "stamped" this reversed image onto the Whisper White to create the reflection. Some watercolouring with the Agua painter filled in other parts of the landscape, sky, and water.
There is a great speckly image in the Waterfront set which quickly adds texture to a background. I used this image to do a little background stamping on the card base and added a strip of Washi Tape for putting the card together.
The Whisper White was mounted onto a Pacific Point mat which was positioned onto the Tempting Turquoise card base.
The sentiment is stamped in Pacific Point on Whisper White cardstock before cutting it out with a circle from the Stitched Shapes Framelits. And what a fabulous sentiment too!
A few more Reflections
And if you can forgive a little more reflection – there's a whole lot of symbolism in this card.
The image depicts some colorful little boat sheds that I see most days.
These are on the edge of Pauatahanui Inlet where I live.
I love seeing them – they remind of the beautiful country and world in which I live.
They also represent the love of water that is so ingrained in the Kiwi (New Zealand) culture. While some of the sheds are more elaborate than others – they also represent the "can-do" attitude, simplicity and love of the outdoors shared by Kiwis.
The area where I live is known for its winds – strong winds – and days when the Inlet is calm enough to produce these amazing reflections are priceless.
They remind me to be grateful for opportunities and experiences that come my way – to stop, to be thankful and to enjoy the moments we are given.
I made this card for a swap for one of my monthly team meetings.
That in itself represents what an amazingly positive impact that Stampin' Up! has had on my life.
Almost all the wonderful people in my team were unknown to me before I became a demonstrator!
I will always be so grateful that these people have come into my life and we are able to share our creative interests, and so much more.
And then the stamp set – Waterfront.
A set inspired by Connie Helsey in recognition of her reaching her Million Sale Achievement. This set will always hold a special place for me as it represents some of the amazing experiences I have had, and incredible friends I've made because I am a Stampin' Up! Demonstrator and part of a global community.
When I attended On Stage Live (the Stampin' Up! equivalent of a convention) – in Salt Lake City, Utah late last year – I was fortunate to spend time with old friends and make new friends too.
I was welcomed as an Honourary Pink Stamper by Robyn and her team.
I roomed with Tamra from the USA and Jennifer, from Australia.
I spent lots of time with other international demos – including a group dinner including Connie.
I am very grateful that I can share what I love with others – demos and customers! That's definitely something to celebrate!
And of course, that gratitude extends to being part of the CASEing the Catty Crew! And what a great Challenge Group that everyonr can participate in. Hope you'll join us!
CASEing the Catty (CTC) Blog Hop and Sunday Challenge
The All Star Tutorial Bundle
March is my second month as part of the All Star Tutorial Bundle Design Team (say that quickly!).
The tutorial bundle is a pdf of 13 exclusive projects and all the directions you need to make the project. Both Metric and Imperial dimensions are included in each tutorial – so it doesn't matter if you're an Inches or a Centimeters sort of crafter! Design team members do not post these projects anywhere else – so they are exclusive to the bundle.
See a sneak peek of the projects in the bundle on my Tutorial Page HERE.
There are 3 ways you can get the Tutorial Bundle
You can purchase the bundle for $NZ20 from anywhere in the world (PayPal does the conversion for you)
If you spend $50 or more in my New Zealand Online Store it will be yours for FREE!
You will have access for FREE if you are part of my thINK Creative Stampin' Up! team
REMEMBER
If you live in New Zealand and would like a copy of the new catalogue, please contact me.
If you live in New Zealand and would like a demonstrator to order through – I'd love to have you join my group of crafty customers. Let's journey together! – Shop Now or contact me.
SaleABration finishes on 31st March! Don't miss out!

All orders over $50 placed at my online store using the current Hostess code will receive the current month's All Star Tutorial Bundle for FREE.
The All Star Tutorial Bundles can also be purchase – see details HERE.
If you live in New Zealand and would like to know more about becoming a demonstrator – Check out the info HERE. I'd love to have you join my thINK Creative Team!


As always – if you wish to know anything more about info in this post, or to get a catalogue, or to join my thINK Creative Team, or to buy any of the items mentioned in the post – please contact me.
Please do use the hostess code to support creativeJax if you are ordering online!

Entering the Hostess code combines the value of online orders. This assists me to offer events and thank you's for my customers. It also helps me support charities such as Ronald MacDonald House and local events where I donate product and/or classes.

Please do use the hostess code to support creativeJax if you are ordering online!

The current Hostess Code can be found at the top right of my webpage.

If your order is over $300, please do not use this code as You become the hostess and get the Rewards!
If you would like to find out about joining my Stampin' Up! Team (thINK Creative) – Please do get in touch. I would love to chat to you about that.
You can receive my Blog Posts directly by email or join my monthly Newsletter group. Subscribe using the buttons at the right of my page.
Product List