Hello and welcome to CASEing the Catty – Sunday Blog Hop.
This week the CTC Crew is CASE-ing pages 142 – 153 of the Annual Catalogue which starts with the fabulous Nature's Poem Suite and continues with an array of gorgeous stamp sets.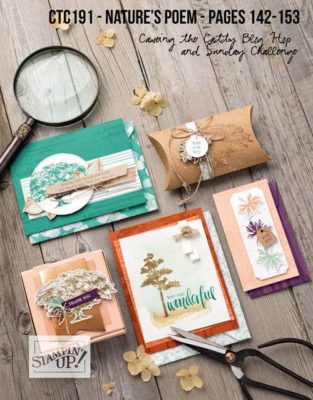 I have CASEd a card from page 149.
I was taken with the striking simplicity of the card in the middle of the page and have created my version.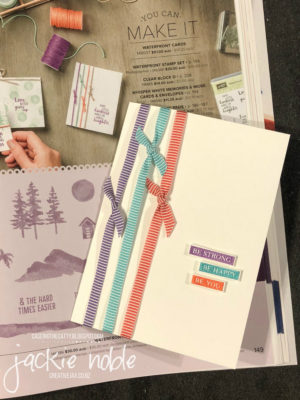 As I've used the 1/4″ Mini Striped Ribbon which is thicker than the original cards Baker's Twine, I've only put three ribbons. They also tie in with the three phrases of my sentiment
Be Strong
Be Happy
Be You
Here's the card on its own.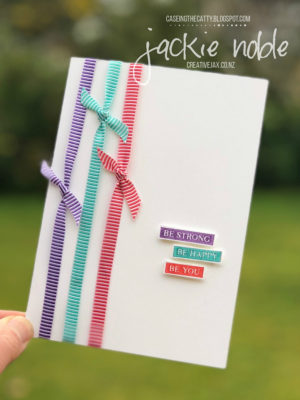 The mini striped ribbon is available in three colours – Gorgeous Grape, Bermuda Bay and Poppy Parade. I love how these three colours from the Brights Colour Collection go so well together.
The card base is a standard A6. That's 21cm x 14.8cm scored at 10.5cm – so half an A4 scored in half.
The clean and simple sentiment is from the Rooted in Nature stamp set. Aren't there some stunning images in this set? I've used the one with three lines of text that are "reversed".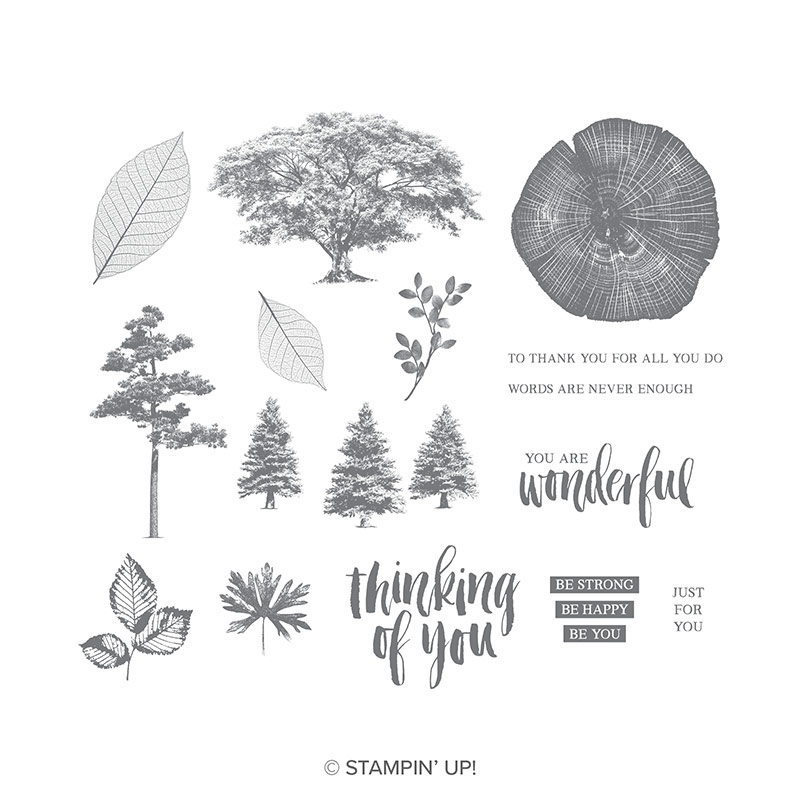 I stamped the sentiment three times – once in each of the ribbon colours and then grabbed my Paper Snips to fussy cut each one into the individual lines of text. Once they were cut apart I could use a line of each colour on my card – attaching them Mini Dimensionals.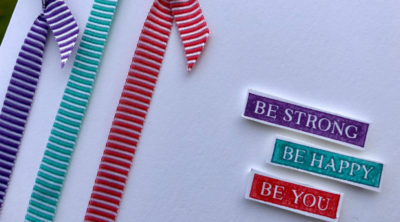 Don't forget to check out the home of CASEing the Catty on Facebook. If you're not a member of the group – just ask to join and we will see you there! And if you wish to – you can join in the fun too!
You have almost a week to create and join in. Just add your photo to the Facebook group before 7pm next Sunday to be included in the challenge.
Now, hop on over to the next blog with the fabulous
Peta
Thanks for taking part in our blog hop, there are so many amazing ideas and inspiration you don't want to miss. Remember that currently, you are at my blog Jackie Noble | creativeJax
Don't forget – the Colour Your Season Suite of products are only available until the end of August.
Don't miss out on my favourite – the Stitched Season Framelits!
And of course, any order of $110 will earn you a Bonus Coupon for $11 which you can redeemed n September.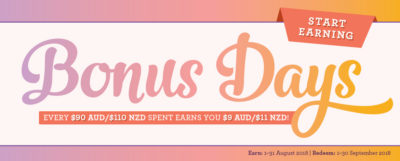 REMEMBER
If you live in New Zealand and would like a copy of the new catalogue, please contact me.
If you live in New Zealand and would like a demonstrator to order through – I'd love to have you join my group of crafty customers. Let's journey together! – Shop Now or contact me.

If you live in New Zealand and would like to know more about becoming a demonstrator – Check out the info HERE. I'd love to have you join my thINK Creative Team!


As always – if you wish to know anything more about info in this post, or to get a catalogue, or to join my thINK Creative Team, or to buy any of the items mentioned in the post – please contact me.
Please do use the hostess code to support creativeJax if you are ordering online!

Entering the Hostess code combines the value of online orders. This assists me to offer events and thank you's for my customers. It also helps me support charities such as Ronald MacDonald House and local events where I donate product and/or classes.

Please do use the hostess code to support creativeJax if you are ordering online!

You can find the current Hostess Code at the top right of my webpage.

If your order is over $300, please do not use this code as You become the hostess and get the Rewards!
If you would like to find out about joining my Stampin' Up! Team (thINK Creative) – Please do get in touch. I would love to chat to you about that.
You can receive my Blog Posts directly by email or join my monthly Newsletter group. Subscribe using the buttons at the right of my page.
Product List