Embossed Stitched Seasons meets Varied Vases
Hello from New Zealand and welcome to this month's Tutorial Bundle Design Team blog hop!

The team is ready to help you create beautiful handmade projects featuring Stampin' Up! products. We have a Tutorial Bundle and a Blog Hop for you.
All Star Tutorial Bundle
Our Design team has created a bundle of 12 tutorials using Stampin' Up! products.
This month the bundle contains tutorials for traditional style cards, 3D packaging, fancy fold cards, and paper crafting techniques! It's full of fabulous projects you don't want to miss out on. Here's a Sneak Peak of what you will receive in the bundle.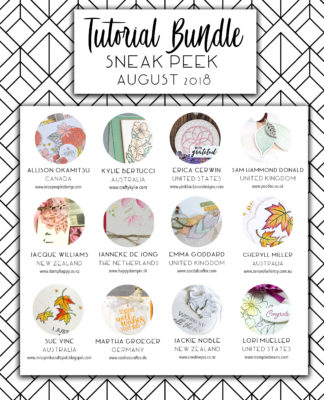 The Tutorial Bundles are based on currently available supplies from Stampin' Up! and will have both metric and imperial (inches) measurements. So no matter where you live in the world, you can purchase these tutorials and use them to create great projects!
The Tutorial Bundle is $NZ20 – or place an order over $NZ50 this month with me to receive this month's tutorial for free. See the details at the end of the post to find out how you can get this exclusive bundle of tutorials.
All Star Tutorial Bundle Design Team Blog Hop
To celebrate the release of the August Bundle, the Design Team is holding a Blog Hop.
Remember, these Blog Hop projects are not the same projects as in our tutorial, as the projects in the Tutorial Bundle are exclusive and not shown anywhere else.
These cards were my July Thank You cards for my InColor Club.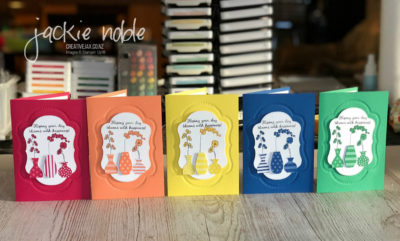 Here's a closer look at the Lovely Lipstick card.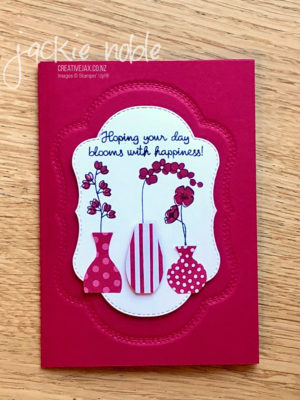 The front of the card was embossed using the Big Shot Embossing Mats and the largest of the Stitched Seasons Framelits.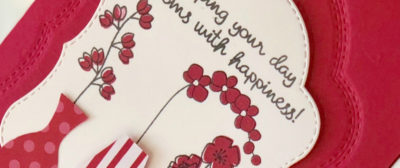 The framelits are part of a limited-time suite of products – Colour Your Season. (if you click on the picture you'll be able to check out all the details).
These products are only available until the end of August – or while supplies last. So get in quick!
Of course, a purchase of the Blended Seasons Bundle, or the stamp set or the Stitched Seasons Framelits will qualify you for the August Tutorial Bundle for FREE! And five projects in the Tutorial Bundle use products from the Colour Your Seasons Suite – Bonus!!
My favourite products in the suite are the framelits!
In particular – I just love the cutting edges on the three decorative panels.
On the inside of the card I stamped one of the flower sprigs. You can see that on the Grapefruit Grove card below.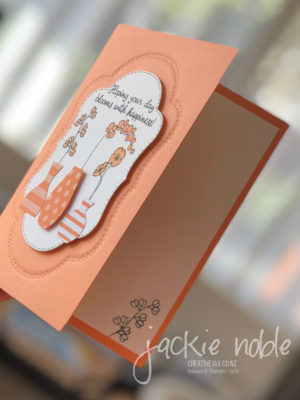 And just in case you're not convinced how stunning these Stitched Season Framlits are – here's a close-up that shows them both cut and embossed!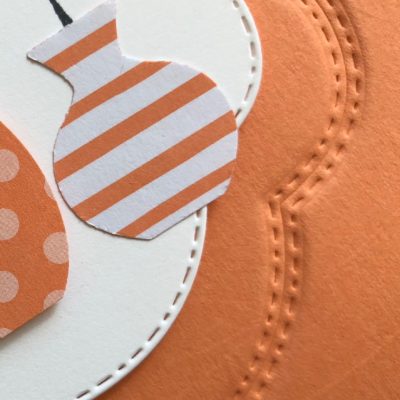 And having the three sizes is perfect for different sized images and sentiments – ad for layering!
Can you tell I've totally fallen for these!
Moving on though … Here's a Sneak peek of my tutorial project which contains all the details on how to use the Embossing mats with these dies for the embossing rather than the cut.
Now, it's time to enjoy the other fabulous creations by the All Star Design Team.
Please visit each of the incredible All Star Designers:
How to get the Tutorial Bundle
There are three ways you can receive the August 2018 All Star Tutorial Bundle:
SHOP WITH ME
If you live in New Zealand, you can shop with me, and as part of my customer loyalty rewards program, you will receive this month's tutorial Bundle absolutely FREE with an order of $50 or more with me during August.
That can be as simple as placing an order in my
New Zealand Online Stop
and using the current hostess code – see the top right for the current code. Your order will be delivered directly to your door.
BUY THE TUTORIAL BUNDLE
Purchase the Tutorial Bundle for $NZ20
All currencies accepted, PayPal will do the conversion for you.
During August you can also purchase a 6 month subscription for $100
Pay for 5 tutorials and get the 6th for FREE!
BE a thINK CREATIVE TEAM MEMBER
If you are in my New Zealand Team of Stampin' Up! Demonstrators, you'll be receiving all of the tutorial bundles for FREE!
Keep an eye out in your inbox!
If you'd like to be part of my thINK Creative Team, I'd love to have you join us.
Thank you for stopping by.
REMEMBER
If you live in New Zealand and would like a copy of the new catalogue, please contact me.
If you live in New Zealand and would like a demonstrator to order through – I'd love to have you join my group of crafty customers. Let's journey together! – Shop Now or contact me.

If you live in New Zealand and would like to know more about becoming a demonstrator – Check out the info HERE. I'd love to have you join my thINK Creative Team!


As always – if you wish to know anything more about info in this post, or to get a catalogue, or to join my thINK Creative Team, or to buy any of the items mentioned in the post – please contact me.
Or you can shop 24/7 at my online Stampin' Up! shop – the table below shows you what products I used. Just click on each to see more information.
Please do use the hostess code to support creativeJax if you are ordering online!

Entering the Hostess code combines the value of online orders – which assists me to offer events and thank you's for my customers and support charities such as Ronald MacDonald House and local events where I donate product and/or classes.

The current Hostess Code can be found at the top right of my webpage.

If your order is over $300, please do not use this code as You become the hostess and get the Rewards!
If you would like to find out about joining my Stampin' Up! Team (thINK Creative) – Please do get in touch – I would love to chat with you about that.