… just sitting here – in monochrome – thinking of you!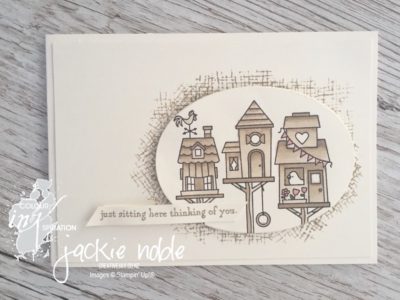 Welcome to Colour INKspiration Challenge number 29and this week we have a gorgeous Pinterest inspired colour palette to work with courtesy of Bronwyn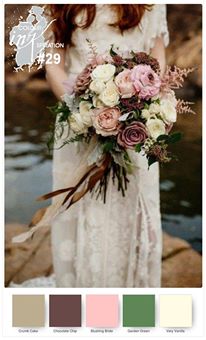 Colour Palette: Crumb Cake, Chocolate Chip, Blushing Bride, Garden Green and Very Vanilla
The crew is kicking off with a Blog Hop this evening and it is great to have Shirley Jones join us as a guest designer.
If you have been hoppin' along – you will have come from my very talented friend – Jacque Williams. What a beautiful project – and a gorgeous wee subject!
Colour INKspiration Project CI29
It's quite amazing how different a project can be – even when we have the same palette. My project is a monochromatic card – well almost!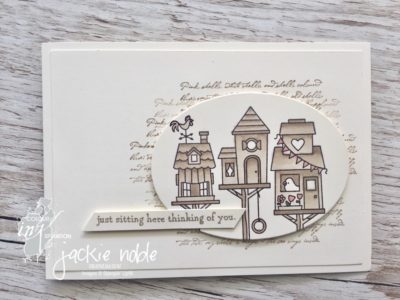 I've made Very Vanilla the featured colour and done the stamping and most of the colouring in Crumb Cake and Chocolate Chip.
Here are the steps:
Card Base – Very Vanilla Thick Cardstock – A4 cut in half lengthwise then scored and folded in half to make a landscape card with the fold on the left hand side.
Mat – Very Vanilla Cardstock – 14.3cm x 10cm – The word image from By the Tide (retired) was stamped in Crumb Cake as a background.
Oval – Very Vanilla Thick cardstock – started as ~10.5cm x 8cm The main image is from Flying Home.
Before stamping the image, wipe cardstock with your Embossing Buddy, ink the stamp first in Versamark, then in Chocolate Chip Classic Ink. THEN stamp onto the Very Vanilla thick cardstock, sprinkle with Clear Embossing powder and heat emboss with the Heat Tool.
On the Big Shot, cut out the image Shot with the largest Layering Oval die.
Colour most of the image with the Light and Dark Crumb Cake Blends. Add touches of Blushing Bride and Garden Green with the Stampin' Write Markers.
Attach the image to the card front with dimensionals.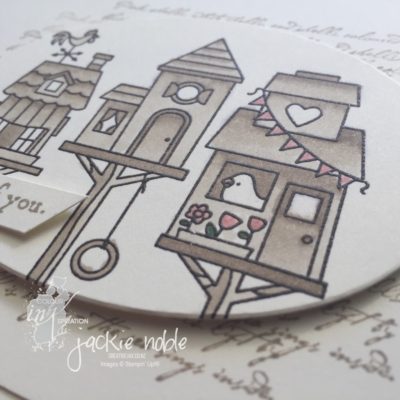 Can you find the hint of Blushing Bride and Garden Green that I added with the markers?
Banner – Very Vanilla 0.8cm x 8cm – stamp sentiment from Sitting Here in Crumb Cake, flag the ends and pop up on dimensionals.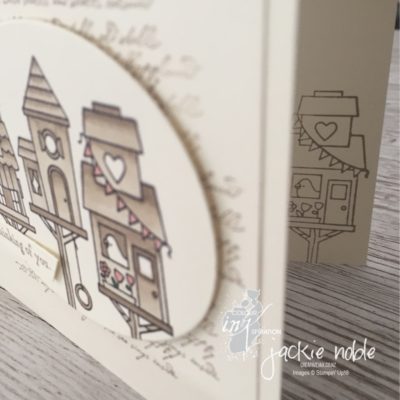 Inside of card – Colour only the part of the image you wish to stamp on the inside of the card using the Crumb Cake Stampin' Write Marker. Stamp onto card inside.
Note:
I chose the background stamp from By the Tide which was happily sitting in my stamp cupboard, and it wasn't until writing up my post that I realised this set has retired.
I try not to use retired stamps in my posts – not because I don't love them and use them in my own projects – but because if you don't have it and you fall in love with that retired set, you may not be easily able to lay your hands on it! Somehow I'd missed this set in my last reshuffle and it hadn't been transferred to my retired-but-love-it-so-much-I-can't-part-with-it cupboard!
Here's a redone version using the background stamp from Best Birds.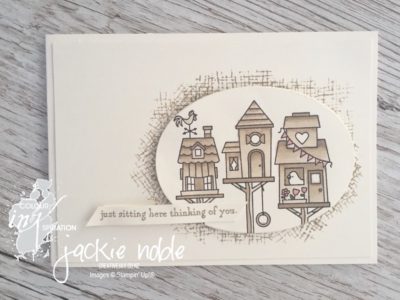 As in the original card- the background image is stamped in Crumb Cake. You can't see too much of the stamp in this card – it's just to add an e=lent of "texture"
If you'd like to see what that background stamp looks like copper embossed – check out this post – Copper Embossed Love & Sympathy Card – which I did for CASEing the Catty (CTC84) almost two years ago!
A reminder that if you are not part of the Colour INKspiration Facebook Group please do join the group. It's a place where crafters from throughout the world can share their creativity all inspired by a Pinterest Inspired Colour Swatch.
I'm the last on the Blog Hop today – but you can hop on over to the very talented Kelly Kent at the beginning of the hop and make sure you've seen everyone's INKspirational projects!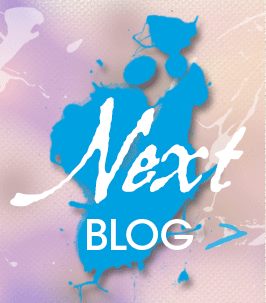 Thanks for taking part in our blog hop, there are so many amazing ideas and inspiration you don't want to miss. Remember that currently, you are at my blog Jackie Noble | creativeJax
NEW SALE-A-BRATION ITEMS
With only 2 1/2 weeks of SAB to go Stampin' Up! has added 14 extra items to those that everyone can earn for FREE with qualifying purchases!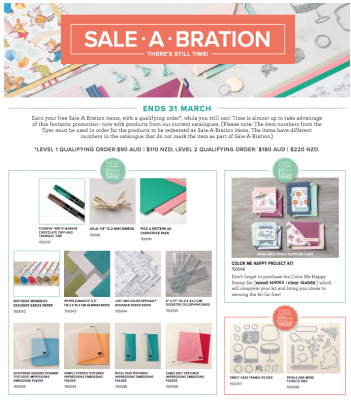 You can download a pdf of the flyer HERE
All Star Tutorial Bundle
Any purchase of Stampin' Up! product over $NZ50 before the end of the month (New Zealand Only) will also qualify you to receive the March All Star Tutorial Bundle! Here's a Sneek peak of the 13 exclusive projects that you will receive full tutorials for (metric & imperial measurements supplied).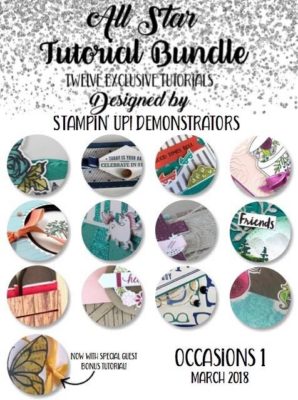 Or you can purchase the Bundle for $NZ20 on my Tutorial Page HERE from anywhere in the world.
REMEMBER
If you live in New Zealand and would like a copy of the new catalogue, please contact me.
If you live in New Zealand and would like a demonstrator to order through – I'd love to have you join my group of crafty customers. Let's journey together! – Shop Now or contact me.

If you live in New Zealand and would like to know more about becoming a demonstrator – Check out the info HERE. I'd love to have you join my thINK Creative Team!


As always – if you wish to know anything more about info in this post, or to get a catalogue, or to join my thINK Creative Team, or to buy any of the items mentioned in the post – please contact me.
Please do use the hostess code to support creativeJax if you are ordering online!

Entering the Hostess code combines the value of online orders – which assists me to offer events and thank you's for my customers and support charities such as Ronald MacDonald House and local events where I donate product and/or classes.

The current Hostess Code can be found at the top right of my webpage.

If your order is over $300, please do not use this code as You become the hostess and get the Rewards!
If you would like to find out about joining my Stampin' Up! Team (thINK Creative) – Please do get in touch – I would love to chat to you about that.
You can receive my Blog Posts directly by email or join my monthly Newsletter group – you can